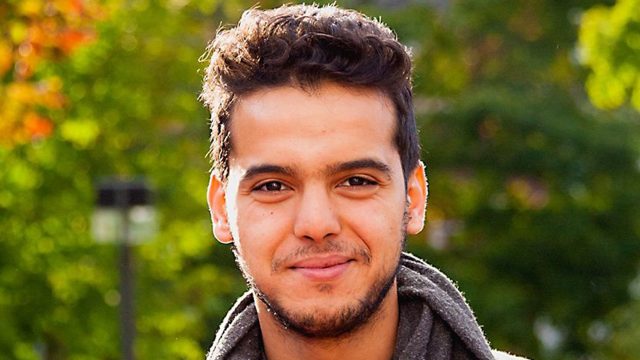 Mutaz Alnaas '17 (Al Khums, Libya) pretended to fly a plane last summer—one of the highlights of his internship at Sun Country Airlines. Alnaas was one of two Macalester students to obtain a paid internship through UpTurnships, a local nonprofit that pairs motivated, under-resourced college students with employers, then trains and supports them during their experiences.
Alnaas worked as a business analyst intern for Sun Country, conducting data analysis for the airline's domestic military charter division. He worked under the direction of Mac alumnus Rex Boutelle' 78, who was the one that arranged for Alnass to spend an unforgettable lunch break flying an airplane simulator.
Boutelle, Alnaas's supervisor, told him to think of the simulator as a "million-dollar video game." Boutelle and Alnaas also shared an office and carpooled together between St. Paul and Sun Country's headquarters in suburban Mendota Heights.
Another highlight of Alnaas's summer was the final presentation he gave to Sun Country's CEO and senior executives about the findings he made from his internship. He calculated how the company could better prepare themselves to bid against other airlines to win a contract to fly military troops and equipment.
"The airline with the lowest bid wins the contract," says Alnaas. "I was looking at data that showed each airline's winning bid and then tried to figure out how they came up with their pricing so Sun Country could underprice them in the future and win more business."
An economics and math double major, Alnaas was able to successfully analyze Sun Country's data by using Stata, a statistical software program he learned at Macalester—one never before used at Sun Country.
UpTurnships began just two years ago but has been growing rapidly ever since. It partners with employers such as Sun Country, Breakthrough Twin Cities, Twin Cities Habitat for Humanity, Bellisio Foods, and Chick-Fil-A to provide paid internships and other career training for college students.