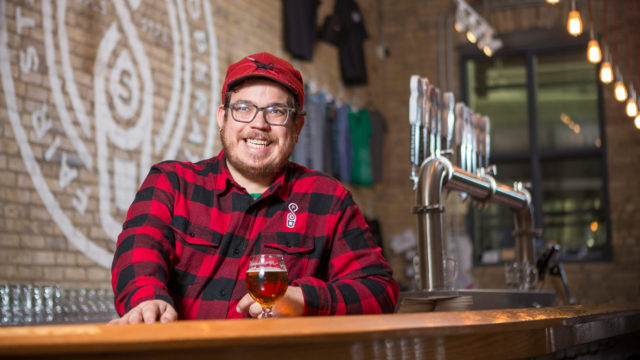 In the spring, a new 200-kilowatt solar garden will come to life on the roof of Shiloh Temple in North Minneapolis, bringing affordable renewable energy and jobs to the predominantly African American neighborhood.
A former Wall Street trading analyst founded a Senegal-based fashion company that showcases their collections in New York and Paris during Fashion Week.
A nonprofit manager brought together two other home brewing fans to start Fair State Brewery. Their 700 members are brewing at maximum capacity, selling what they make, and developing a name for their sour beer.
What do these successful entrepreneurs have in common? A Macalester diploma and the knowledge and skills it represents.
700 Brewers
Launching a cooperative brewery with two of your best friends sounds like a brewer's dream come true. It's that—plus months of long hours, according to Matthew Hauck '06.
The three co-founders met playing college rugby and went on to spend many hours home brewing together. Hauck went on to work in employment consulting and management with Goodwill/Easter Seals, where he coordinated services for western Wisconsin. In 2011 the friends met up in Austin, Texas, for South by Southwest. There they visited Black Star Co-op, the country's first cooperative brewery, and hatched the idea of starting a brewing co-op in Minnesota.
Hauck, who majored in anthropology and religious studies, has a master's degree in public policy and several years' experience in nonprofit management. "The opportunity to run a brewery was about the only thing that would have taken me out of that field." His role at the brewery is that of chief operating officer.
Fair State Brewing Cooperative, the Upper Midwest's first cooperatively owned brewery, was incorporated in January 2013 and raised capital for well over a year, opening in October 2014. The industry site RateBeer.com named 3-year-old Fair State one of the top 10 new breweries in the world.
"For a year and a half it was like having two full-time jobs. I had my day job, and then spent almost as many hours working on the start-up, especially once construction started. We tried to do as much of the work as we could ourselves, which was great from a financial perspective, but very exhausting." Although he left his job with Goodwill when they opened, he says, "A year in, the business is still pretty much my life."
Working with friends brought its own challenges—developing a sense of who is responsible for what, when is a collective decision needed, and what is best left to the board.
"The writing and public speaking skills I learned at Mac were a big help in attracting investors," says Hauck. "The critical thinking and problem-solving skills have been important in managing the endeavor, and the values Macalester taught have shaped how we try to run the business."
Energy Entrepreneur
Timothy DenHerder-Thomas '09 is general manager of Minneapolis's Cooperative Energy Futures, the solar developer launching the solar garden project. As a Macalester student and environmental studies major, he was a leader in developing contests to save energy and a revolving fund for energy-saving initiatives, and in securing the college's commitment to carbon neutrality.
DenHerder-Thomas was still a student when the Summer of Solutions was created to provide leadership training for young people interested in addressing climate change. Financed primarily by local grants and grassroots fundraising, Grand Aspirations, the organization built around the program, has assisted local chapters in training some 1600 youth in 30 cities to be leaders in a variety of green economy projects.
"We didn't intend to go national when we started in 2008," admits DenHerder-Thomas. "We invited people to the Twin Cities for the training and some of them wanted to start leadership training programs in other cities. Grand Aspirations is like an incubator. We help people get projects off the ground."
Cooperative Energy Futures, where DenHerder-Thomas is GM, is "a for-profit co-op that builds people-powered solutions to the energy crisis and global warming." The organization arose out of a 2007 meeting that, as DenHerder-Thomas puts it, asked, "How do we use energy efficiently and keep the money local, especially in low-income communities?"
Initially, the co-op focused on helping people make their homes more energy efficient through bulk buying of insulation and residential improvements such as low-flow shower heads, caulking, and plastic window coverings. In the last two years, they have expanded to both residential (43 residences so far) and community-based solar, such as the project at Shiloh Temple.
But DenHerder-Thomas may be most proud of Minneapolis's Clean Energy Partnership, which gives the people of the city a voice in how their energy is provided. To his knowledge, this is the first such partnership in the country and it has been recognized by the White House and the Vatican as a powerful strategy for fighting climate change. He credits the city's influence, at least in part, for Xcel Energy's October 2 announcement that by 2030, they will cut carbon emissions by 60 percent from 2005 levels.
"What people often believe is efficient hasn't caught up with reality," says DenHerder-Thomas. "One kilowatt-hour from wind power is now cheaper than one from coal. The cost of solar has dropped 60 percent in the last four to five years.
"I have no doubt that we will move to 100 percent renewable energy. The question is will it happen fast enough?"
http://cooperativeenergyfutures.com/
http://mplscleanenergypartnership.org/
Global Entrepreneurship
The golden handcuffs of financial incentives can make it difficult to walk away from the thrill and reward of Wall Street, but Diarra Bousso '11 did just that. An economics and math major, she originally expected to retire from a career in finance, then pursue a second career in the fashion industry. But a personal moment of clarity led her to make a move sooner, rather than later.
Bousso left her job at Credit Suisse and launched the Senegal-based company Dakar Boutique with a fabulous party on a private island, following it in June 2013 with a traveling fashion show called African Voyage. Dakar Boutique includes Diarra Bousso (leather accessories) and Diarrablu (clothing), both luxury labels that celebrate African artisans and contribute to the region's economic development. The leather bags are distributed privately and carry the distinctive 18-carat-gold db logo. Celebrities Senegalese American rapper Akon and Thione Niang, founder of Give 1 Project, are customers. Diarrablu features striking womenswear in geometric cuts and is sold online and in stores in Dakar and New York. The New York Times, the Huffington Post and other media have featured her designs.
"The biggest challenge for me was being taken seriously as a young woman entrepreneur in Senegal," says Bousso. "Another challenge is learning to balance being a creative director and a manager." If her presence as a panelist on Harvard's Africa Business Conference is any indication, she's ably meeting these challenges.
Having lived the startup life, these alums offered some concrete advice:
Timothy DenHerder-Thomas: There is a creative tension between innovation and pragmatism, how to stay visionary and still move from X to Y to Z. You can't move in 1,000 directions at once. You have to think big about the possibilities, then focus on one until you have learned something. You have to be both experimental and disciplined.
Diarra Bousso: Don't wait for all the opportunities to line up. Entrepreneurship is a journey, not a destination. You need to understand the why for what you are doing and surround yourself with great mentors.
Matt Hauck: Be persistent. It's a lot of work getting a business open, and even more work after that. But it is very rewarding. I love seeing the direct results of my efforts on an organizational level. So, simply, go for it!