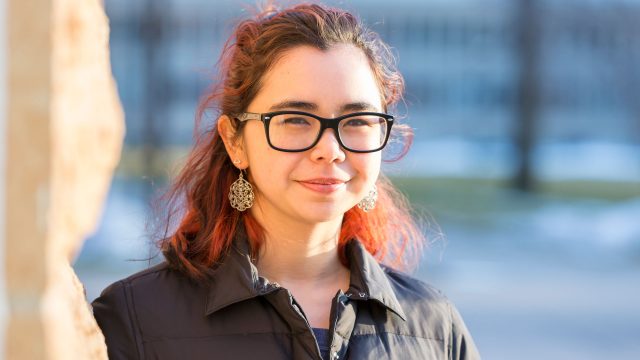 For most of a year, Evelyn Pugh '19 and nine other students from San Francisco-area high schools spent each Monday night reading, sharing, discussing, and arguing about articles you probably haven't read, written by authors you probably haven't heard of.
These weekly workshops culminated in an anthology called The Best American Nonrequired Reading 2015, the latest edition of an annual publication featuring works by lesser-known authors.
After author Dave Eggers founded McSweeney's publishing company in San Francisco in 1998, he decided to produce an anthology of works by underappreciated authors, modeled after other popular anthologies such as The Best American Short Stories. After determining that BANR should be edited by local high school students, the first edition appeared in 2002.
Pugh became part of the BANR editorial group her junior year, when the 2014 edition was in the works. She was recommended for the team after taking part in a writing workshop at the nearby youth writing organization 826 Valencia (also founded by Dave Eggers). That year, the lead editor was Daniel Handler, better known as Lemony Snicket, author of the children's books A Series of Unfortunate Events. In 2015 the lead editor was Adam Johnson, author of The Orphan Master's Son.
 At each meeting, students brought in fiction, nonfiction, comics, and poems to suggest to the group. They'd spend half the first half of the evening reading submissions and the second half discussing them, deciding which pieces would make it into the final edition and which relegated to honorable mention. "There were always a couple of pieces that polarized the group, where you either loved it or hated it," Pugh says. "Those were the most interesting discussions."
Pugh's favorite piece in the 2015 edition is "Sky Burial," a nonfiction article that tells the story of a body farm in Texas alongside the stories of three people whose bodies were donated there. "I just loved it so much," says Pugh, "Because it's scientific, but there's also a lot of the human element to it."
Although Pugh has yet to declare a major, she's leaning toward chemistry. That may not seem to have much to do with publishing, but she contends that her experience working on BANR gave her some valuable skills for college. "It's helped a lot with my ability to discuss readings in class and be able to trust myself more and not doubt what I'm saying," she says. This spring she is considering becoming involved with the Hegemonocle, Macalester's humor magazine.
BANR also opened Pugh's eyes to many authors and works that she would have otherwise never have read—or even heard of. "It's important to read not just what you're supposed to, or what's right in front of you, or what everybody else is reading," she says.
But the most valuable part of the experience, says Pugh, was getting to know students from all over the Bay Area. "Even more than getting to read cool articles, that's why I went every week," she says, "to talk to people and share ideas and share the things I had found."