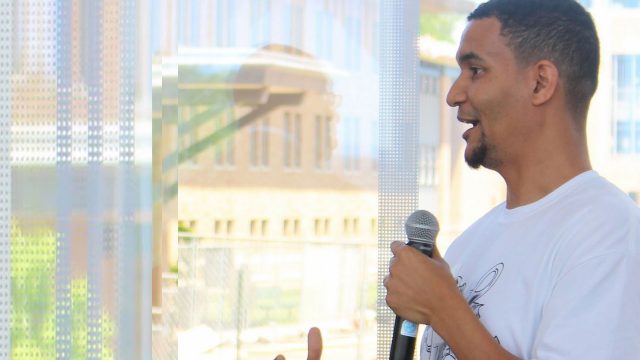 How can you empower racially, ethnically, and linguistically marginalized kids? By teaching them how to research compelling questions in their own communities, says educational studies professor Brian Lozenski.
For five years, Lozenski has been working with youth at a community organization called Network for the Development of Children of African Descent. Each year through a NdCAD program called the Uhuru Youth Scholars Program, about a dozen high school juniors and seniors receive academic credit for conducting research on issues prevalent in their communities.
This semester, for instance, the high school researchers—along with several Macalester Bonner scholars—are exploring ethnic studies programs in Twin Cities schools. Past projects have included policy briefs sent to school districts detailing ways in which they could educate guidance counselors about historically black colleges, and a youth summit looking at the experiences of African American students in Twin Cities schools.
"We're trying to understand this: If we offer these kids different ways to participate in education, how will that play out for them?" asks Lozenski. "What we've found is that the ways in which they identify themselves are impacted. They start calling themselves researchers and they feel more confident about their scholarly abilities and their capacity to understand complicated community issues."
Lozenski started the program as part of his dissertation research at the University of Minnesota. Now that it's up and running, and he's working full time at Macalester, he serves as its program coordinator, hiring graduate students to handle the daily details.
The son of two Philadelphia public school teachers, Lozenski himself taught school in Philadelphia and St. Paul for nine years before earning his PhD. "I think it's important for teacher educators to have experience in the classroom," he says. "It definitely informs the way I approach my teaching here at Mac and my work with this program."
The Uhuru Youth Scholars Program, he says, confirms his deeply held belief that "an action-oriented approach to education is important."
"The work they do in this program is about changing something—their neighborhood, their school, a district policy. Most importantly, it impacts how they understand their own identity—they begin to see themselves as change agents rather than as powerless victims."