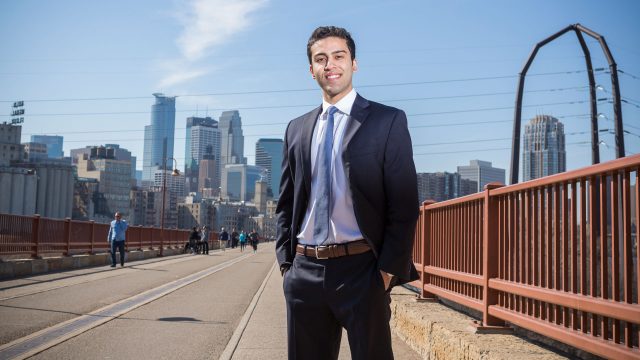 Coming from a small liberal arts college, I was very fortunate to be helped by so many Macalester alumni and friends—I can probably list about 20 people who played a role in my getting a job. In order to get a job in finance, obtaining a finance internship after your junior year is very important. After an interview process that spanned a semester, I got an internship in Investment Banking with Wells Fargo in New York City.
During fall break of my junior year, I went on a networking trip to New York City. I connected with Margarit Ivanov '06, who was a big help in my interview process. Margarit told me he thought well of me and would help me with the internship process. I was a bit weak on investment banking technical questions, so Margarit recommended some books to me and told me to start mock interviewing with people. I spent the next few months reading these books and mock interviewing, and every now and then Margarit would check in with me.
During finals week of the first semester of my junior year, I flew to Charlotte, North Carolina, for Wells Fargo's Super Day, a two-day interview event where I had eight interviews. I think I was a unique candidate because not only was I well prepared, I had also talked to about 10 Wells Fargo employees to learn more about the firm. Derrick Fernando '06, who works at Wells Fargo in Charlotte, set up these informational interviews for me. I heard that I had an internship offer during my last final make-up exam.
As an intern, I worked in the technology, media, and telecom (TMT) group. My responsibilities included building financial models in Excel, putting together client presentations, and performing in-depth industry research. The biggest deal I worked on was in fact the biggest IPO of the year—a $3 billion transaction that was all over the Wall Street Journal. The internship is basically a 10-week long interview and I was careful to remind myself of that each day.
Mac gives you all the tools you need to succeed at your job. You develop this multidimensional thinking; you always approach a problem from different angles. I wasn't only an economics or math or computer science student; I'd taken creative writing, politics and music classes, and I think that played in my favor. I got a call on the last day and they told me they really liked what I was doing and that I was one of the most personable interns.
Wells Fargo offered me a job and I start in their Investment Banking division in New York in August. I can't wait to begin this next phase of my life.