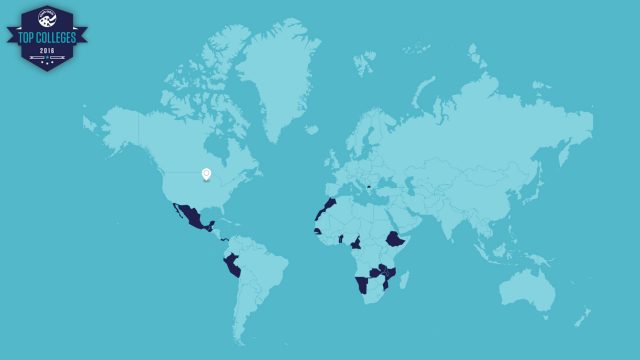 "The Peace Corps is a good match for the kind of students we produce here at Macalester."
—Professor Bill Moseley
Macalester is a top Peace Corps producing school. This year, for the second time in three years, Mac was number three among small colleges sending the most volunteers on Peace Corps assignments.
Indeed, Macalester has been climbing up the Peace Corps list consistently over the last decade. Why does Mac produce so many volunteers? "Probably because it is so closely aligned with two pillars of the college," says geography professor Bill Moseley, "Internationalism and civic engagement."
 Moseley himself has something to do with it, as well, say recent Peace Corps volunteers Brianna Besch '13 and Jesse Yourish '13. In the late 1980s, Moseley spent two years in Mali as a Peace Corps volunteer, an experience he calls "transformational."
The geography professor "talked a lot about his time as Peace Corps volunteer," says Besch, "and encouraged any student thinking about going into international development to join. Peace Corps volunteers are on the ground and can really get to understand the difficult problems that international development projects are up against." She is a second-generation volunteer: her parents met as Peace Corps volunteers in Swaziland.
Like Moseley, geography major Besch was assigned to agricultural work in Africa—in her case, Ethiopia. She has created watershed land use maps, conducted perma-gardening training for rural farmers, and helped create more than two dozen highly productive vegetable gardens. She also has run English, computer, and life skills clubs for schoolchildren. Her assignment ends this spring.
Her classmate Yourish, a geography and math major, was also sent to Africa. He recently returned from two years in Mozambique, where he worked as a secondary school math teacher. He, too, credits Moseley with influencing his decision to join the Peace Corps. "Bill was my adviser and a great resource for me," says Yourish. "I was able to talk to him about what to expect and about the experiences he had."
Moseley confirms that dozens of Mac students speak with him each year about the Peace Corps and he estimates that he knows about two-thirds of Mac grads currently in the field. It's a perfect launching ground for any student interested in going into international work, he says. "You usually need a master's degree plus two years of grassroots experience to get these international development jobs," he says. "The Peace Corps is one of the best ways to get that experience. You learn a lot of valuable lessons that can serve you well later on."
Although other colleges may send more technically trained graduates into the field, says Moseley, he believes that liberal arts majors often make better Peace Corps volunteers. "People with more technical backgrounds, such as agronomy, have more fixed notions of what farming should look like and can get frustrated with the local people," he says. "Liberal arts grads in general are well rounded and able to look at the world from multiple perspectives. They're good at identifying problems, teaching themselves what they need to know, and collaborating on solutions.
"In other words, the Peace Corps is a good match for the kind of students we produce here at Macalester."