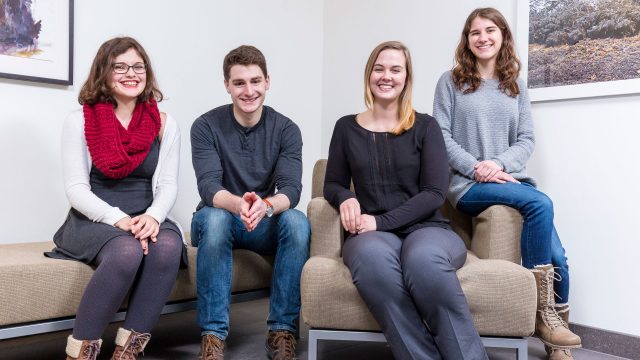 Working with local cultural organizations is one of the great benefits of attending an urban school like Macalester. One such enriching alliance is the one that Russian Studies professor Julia Chadaga has formed with Minneapolis's Museum of Russian Art (TMORA). Since Chadaga began taking her students to the museum seven years ago, the college's involvement with the museum has been on the rise.
This relationship reached a new peak last month, when Macalester students made up almost half of those presenting papers in the MRA's annual student research symposium. This year's symposium focused on World War I and included the work of 11 students—five of whom were from Macalester—from four area colleges.
Macalester students presented on topics ranging from the environmental effects of World War I to Russian folk songs of the period. They began their research last fall when they visited the MRA's exhibit "Faces of War: Russia in World War I" for inspiration and background information. In December they began the individual research that would lead to their presentations.
History professor Julia Fein recruited and mentored the Mac students who participated in the symposium. Notably, their months of preparation were not done for class credit but purely for the intrinsic value of learning something new.
Maggie Weber '18 (Delafield, Wis.) and Greg Zacharia '18 (Edmonds, Wash.) were the first Mac students to present at the symposium. Weber has always been interested in Eastern European history, particularly that of the early 20th century. After visiting TMORA, she decided to research the relationships among England's George V, Russia's Czar Nicholas II, and Germany's Kaiser Wilhelm II. A history major, Weber believes in the importance of taking an in-depth look at the past. "It's hard to solve problems in the present if you don't know the context behind it," she says.  
Zacharia, also a history major, has a particular interest in Russia's past because his family emigrated from present-day Lithuania when it was still part of the Russian Empire. He researched and presented a paper on Czar Nicholas II's involvement and leadership in World War I. Zacharia says he appreciates the symposium as one of the ways that the Russian Museum of Art collects information to share with the public.
The symposium is great way for students to develop their own knowledge, and also to share what they learned with others, according to Chadaga. "It connects to community engagement so well," she says.
Macalester students Annie Shapiro '16 (Los Angeles), Anna Ivanov '18 (Grinnell, Iowa), and Abigail Stowe-Thurston '16 (Northampton, Mass.) also presented at the conference. Following the student presentations, professors from local colleges, including Fein and Chadaga, led panels and question and answer sessions.