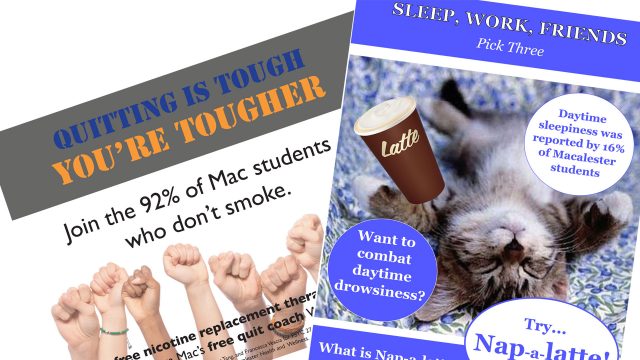 Getting real-world experience through a class is invaluable. Last fall, students in Professor Jaine Strauss's Health Psychology class got just that when they created their own health ad campaigns. Collaborating with the Health and Wellness Center and associate director Lisa Broek, the class worked in teams to create campaigns related to sleep, tobacco use, alcohol use, and sexual violence/consent.
Then the Health Promotions staff selected one winning campaign from among the eight projects. However, the projects were so good that the staff ending up choosing two winners—one on smoking and one on sleep. "Both captured the messaging that we've been working on," Broek says, adding that the top campaigns were perfect to use on campus.
One of the winning groups—made up of Franny Vescia '18 (San Carlos, Calif.), Iris Parshley '18 (Portland, Ore.), and Hongyi "Delores" Tang '17 (Hangzhou, China)—designed their campaign to help students quit smoking. Their tagline, "Quitting is tough; you're tougher," was just what Health Promotions was looking for. Now posters with that slogan can be found all over campus. "People already know that smoking is bad," Parshley says. "We were trying to encourage self-efficacy in people to quit smoking."
The campaign targets students who are already interested in quitting smoking. Vescia came up with the slogan and the group immediately recognized it was what they were looking for. "That phrase just seems so empowering," Strauss says.
The other winning team focused on sleep. Health Promotions will use their campaign during finals week, when many students choose studying or socializing over getting a good night's rest. That campaign—called Pick Three—was designed by Jonathan Melms '16 (Wauwatosa, Wis.), Jesse Meisenhelter '16 (Portland, Ore.), Jocelyn Martin '17 (Pittsburgh, Penn.), and Maren Bettermann (Waite Park, Minn.). Both winning teams did a top-notch job, says Strauss: "I'm thrilled for the students who did this to get the credit."
All the student teams used what they learned in class to build their campaigns. Health Psychology assumes that much of a person's health is based on behaviors, so changing a person's behaviors should change their health. In planning their campaigns, students examined data about Macalester student behaviors, met with staff members from Health Promotions, and read studies on their topics. After groups had created drafts of their campaigns, they presented them to their classmates for critique. "The campaign was an opportunity to think about advertising, and really motivate people to make changes in their behavior, at the broad community level," Strauss says.
Strauss is pleased that this class project allows students to inspire changes in their peers' behavior and to help the whole campus community. Strauss and Broek plan to collaborate again the next time the class is offered. Says Broek, "We are definitely going to do this again next fall."