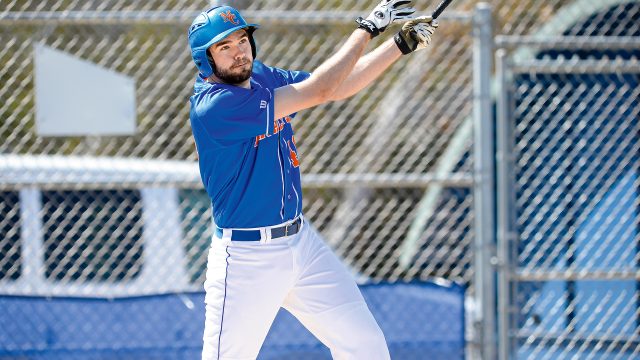 WITH 40 BASEBALL GAMES scheduled between mid-March and early May, versatile athlete Nick McMullen '18 (Payson, Ariz.) will spend plenty of time this spring in left field, at first base, and even on the pitcher's mound for the Scots. But for five hours each week, you'll find McMullen on the other side of campus, volunteering as a math tutor with middle school students at Laura Jeffrey Academy, a charter school for girls. In his sophomore year, he has already discovered a passion for teaching.
First, though, McMullen found a home in the math department while taking his first-year course, Statistical Modeling. After declaring an applied math and statistics major, he became intrigued by pedagogical details such as how professors construct a syllabus. "I started thinking about the professors' teaching styles as much as the material," he says.
To pursue that interest, McMullen landed a job last summer teaching math and debate in San Francisco through Breakthrough Collaborative, a program for low-income middle-schoolers. He admits to having faced quite a learning curve during his first weeks in the classroom. "Because math is so structured, I tried to keep that structure in my teaching—and it didn't work," McMullen says. "The kids got bored. I had to change how I delivered the material, change up the dynamic. Then, when the kids are asking to learn, you know you're doing something right."
McMullen's volunteer work at Laura Jeffrey Academy is a requirement for an Educational Studies course called Community Youth Development. All the students in the course volunteer at local youth organizations, then share their experiences through discussions and blog posts. "The goal is to learn both through your own placement and through the placements of others," he says.
Meanwhile, he'll be playing ball. With plenty of talent on this year's roster, says McMullen, it could be an exciting season. Between games and practices, classes, and tutoring, McMullen's schedule is packed. But he likes it that way—and his coaches appreciate what he brings to the program. "Nick is proof that an athlete can excel at many things yet remain committed to his sport and teammates," says coach Matt Parrington. "He embodies what Macalester is all about, both on and off the field."