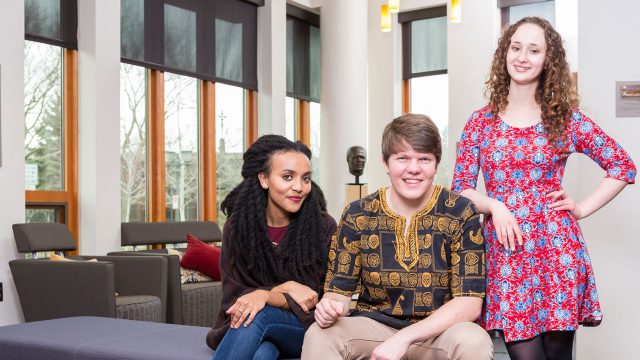 It's a point of pride that Macalester was among the first colleges in the nation to fly the flag of the United Nations. The college's historic commitment to global understanding lives on in its commitment to global citizenship.
Each year several students are presented with Global Citizenship Student Awards in recognition of their deep commitment to the ideals and practice of high academic performance, internationalism, multiculturalism, and civic engagement.
This year three graduating seniors were chosen to receive this high honor and to speak at the Global Citizens Celebration on April 21. 
Mariah Carray of Oakland, Calif., is an international studies major with a minor in anthropology. Her international work has taken place in a wide variety of areas, including health equity—where she worked with the World Health Organization and the government of Ghana—refugee and immigration issues, and climate change, what she calls "one of the most far-reaching inequities of our time." She represented the U.S. at the International Environmental Youth Congress in Cochabamba, Bolivia, where she spoke with child miners from polluted communities. In 2014 she attended COP20, the U.N. climate change conference, in Lima, Peru, and last year took part in COP21 in Paris. That experience led Carray to create an online forum called "Global Health Action in the Face of Climate Change," which launched last month. "The world needs increasingly holistic solutions," writes Carray. "My passion is to create partnerships that address root causes of global inequities."
Hawi Tilahune of Addis Ababa, Ethiopia, is an international studies and political science major and African studies concentrator. She spent three years serving as the international humanitarian law coordinator for the Minneapolis Red Cross, working to reconnect family members displaced by war and natural disasters. She also has served as co-chair of Mac's AfriKa! student organization, for which she planned several panels on cultural/intellectual retrieval and colonization and Christianity. The daughter of an Oromo refugee, Tilahune worked during her Netherlands study abroad term to collect interviews from that country's Oromo diaspora community. She also has served as a music teacher with youth in Ethiopia. She describes her volunteer and international work as rooted in "humble service."
Justin Rasmussen is a psychology major, religious studies minor, and African studies concentrator who grew up in Tanzania and Kenya. While staying very involved with activities on campus, such as the Macalester Christian Fellowship and his work as a residential assistant, Rasmussen has remained focused on the continent that was for so long his home. He spent four months in Tanzania last year as a Taylor Research Fellow, working on a public mental health project, and over this past J term completed a Live It! Project, also in Tanzania, in which proposed and planned a health-related transport mapping project in the Mwanza area in an effort to improve health map data and access. As he puts it, "My continued work in global mental health is, to paraphrase theologian Frederick Buechner, the place where my deep gladness and the world's deep hunger meet."