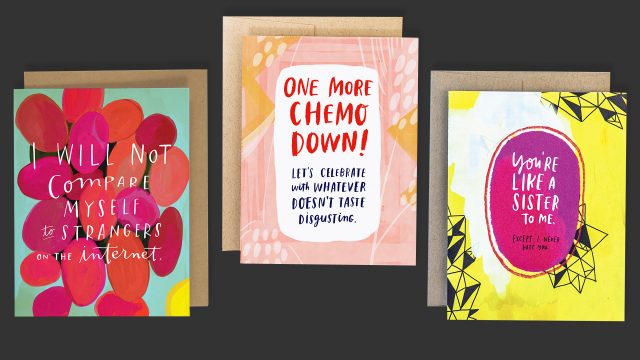 I will not compare myself to strangers on the Internet
Please let me be the first to punch the next person who tells you everything happens for a reason.
You're like a sister to me. Except I never hate you.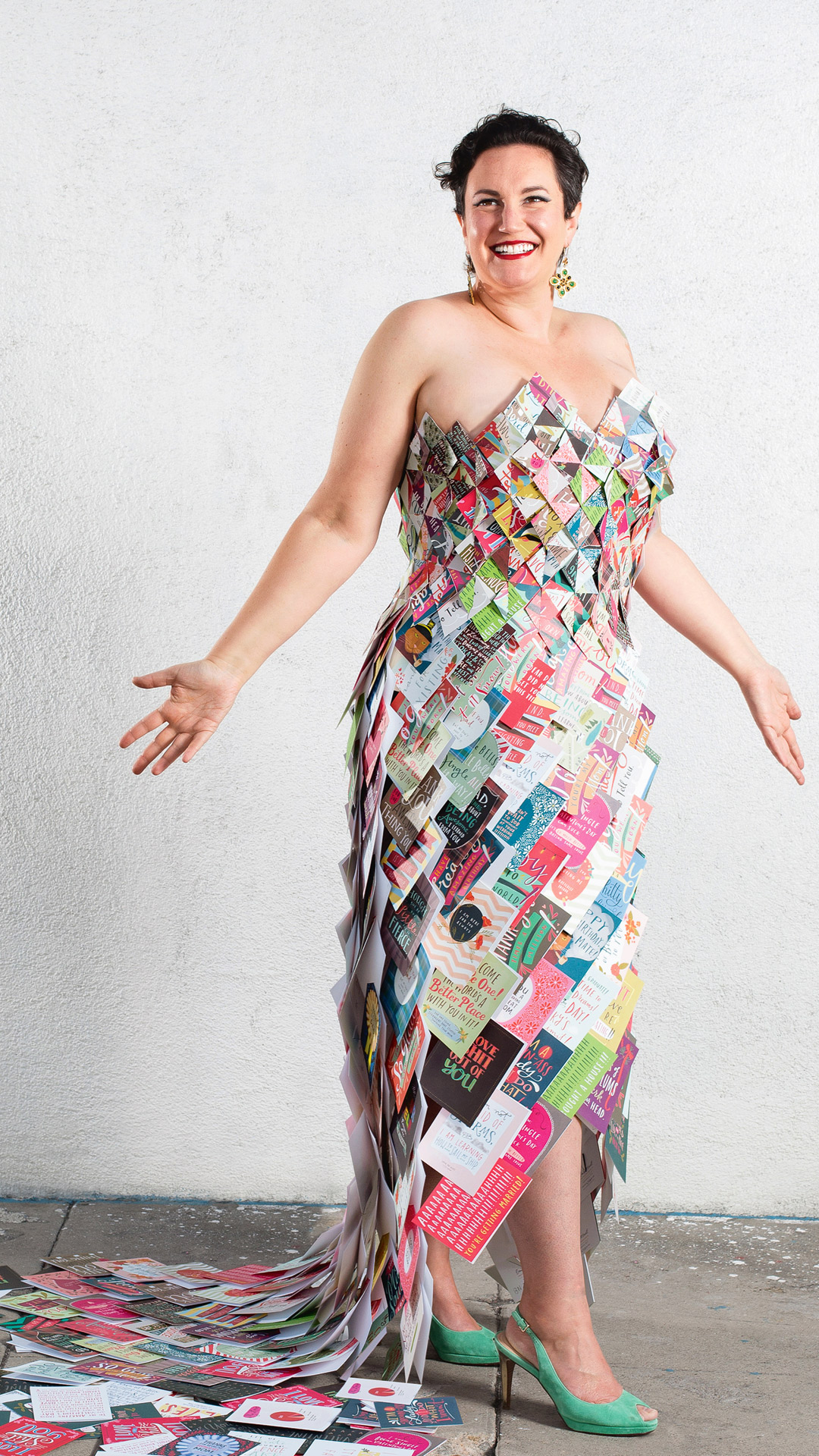 HALLMARK SENTIMENTS THEY'RE NOT. But that's the beauty of the cards coming out of Emily McDowell Studio: they're real.
While working as a freelance creative director five years ago, McDowell—an English major and art minor at Mac—opened an Etsy shop to sell prints of her illustrations. She "wanted to go back to doing what I loved to do as a kid," McDowell says—drawing and writing. Thanks to a then-new site called Pinterest, her work was getting shared—a lot.
Then in January 2013 she came up with her Awkward Dating card:
I know we're not, like, together or anything but it felt weird to just not say anything so I got you this card. It's not a big deal. It doesn't really mean anything. There isn't even a heart on it. So basically it's a card saying hi. Forget it.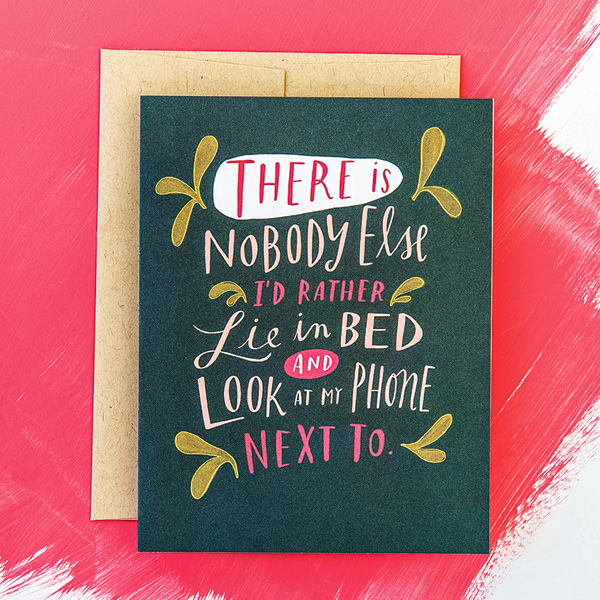 Clearly there are plenty of people who define their relationship status as "it's complicated," because the Awkward Dating card was a huge hit, selling 1,700 in a week. Says McDowell, "That's when I realized there was a concept for creating cards for the relationships we actually have, instead of the ones we wish we had."
Four months later she'd left her day job and was running Emily McDowell Studio full time.
The big launch took place at the National Stationery Show, held each May in New York City. A greeting card sales rep had advised Mc- Dowell that to make her business work she'd need to rent a booth at the show, produce a catalog, and have at least 45 cards in her line.
Unfortunately, the show was just two and a half months away.
There is nobody else I'd rather lie in bed and look at my phone next to.
The cards she could do, but the booth was a problem. Then fortune struck. McDowell had earlier reached out to Mac friend Allison Chapman '95, "the one person I knew in the stationery business." The two had worked together briefly at the Minnesota Center for Book Arts and now Chapman, founder of Ohio's Igloo Letterpress, was a National Stationery Show veteran. At the last minute, Chapman was offered a bigger booth at the show, and she in turn gave McDowell a wall in that booth. "That was a huge deal," says McDowell, who remains friends with Chapman.
McDowell was doing well for a first-timer at the show, having written orders for about 35 boutiques. Then on the last day, she hit pay dirt: Urban Outfitters placed an order for 15,000 cards. The catch? They needed them in three weeks.
"I had no cards printed yet, only samples," remembers McDowell. Not only did she have to get the cards printed, she had to get them hand-assembled, packaging each with an envelope in a clear film cover, labeled specially for Urban Outfitters. And then there was finding a large enough space in which to work.
Luckily, another friend came through, offering space in a downtown Los Angeles building, and so did social media, which allowed McDowell to quickly find 10 people to assemble and ship the cards to Urban Outfitters.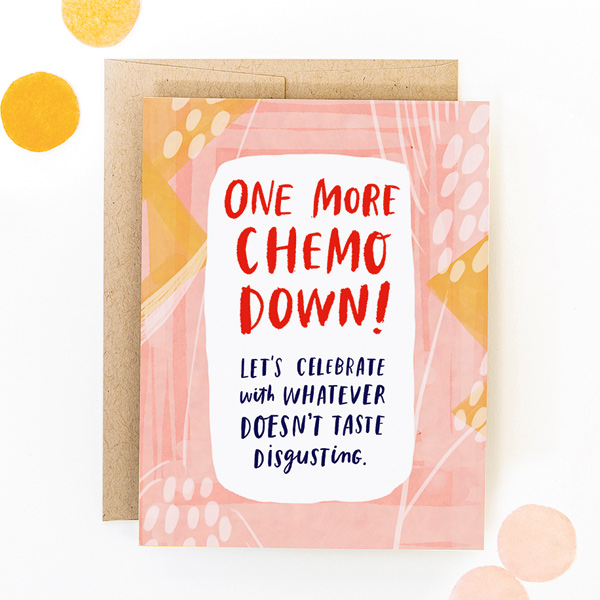 One More Chemo Down. Let's Celebrate With Whatever Doesn't Taste Disgusting.
Fast forward two years to last spring. By then most of the staff of Emily McDowell Studio was made up of former card packagers who had moved on to performing more challenging jobs in sales and operations. The company's cards were in a thousand retail stores and selling steadily online.
Then Emily—who does all the artwork and most of the writing for her eponymous company—introduced a line of "Empathy Cards™" inspired by her own experience with cancer. And the Internet—followed by the mainstream media—went wild. Within a few weeks Emily McDowell Studio and its cards were featured on Good Morning America, the NBC Nightly News, NPR, Huffington Post, The New York Times, and dozens of other media outlets. The brand's number of stores jumped 30 percent in one quarter.
"Those cards just went insanely viral," says Mc- Dowell. "We never did any paid marketing. If you make products that people want to share, you can leverage social media to create ambassadors for your brand. It's been fun and crazy."
The idea for her line of empathy cards had a less than fun start, however. McDowell was diagnosed with Hodgkins lymphoma at age 24. "I was the first person with cancer that most of my friends had known. They had no experience with anyone but a grandparent being that sick."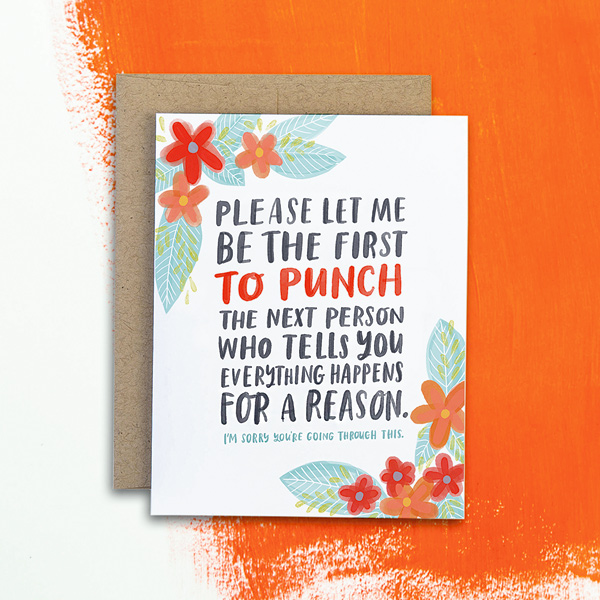 One of the hardest parts of the experience, she says, was the isolation she felt. "People didn't know what to say. They were scared and lots of them turned away. I ended up feeling really alone."
Get well soon cards just don't cut it with cancer. "Those only make sense when someone has a broken ankle or something," says McDowell. Then there are sympathy cards: "Sad and weird—they make you feel like you're already dead."
The devastating 2011 cancer diagnosis and death of her college roommate, Amy Ostermeier '98, revived McDowell's commitment to creating an alternative. "Amy being sick brought it all back to me," she says. "Nobody knew what to do, and I became the de facto cancer translator. People were asking me, 'Can I say this?'"
Just as the company's sales were exploding, it was also moving its fulfillment operations in-house, to a newly leased Las Vegas warehouse. "There were a hundred moving parts," says McDowell. "It was incredibly challenging logistically."
A year later, things have calmed down considerably, and McDowell is able to devote a larger percentage of her time to the creative side of the business, including co-writing and illustrating a forthcoming book on how to help people in crisis called There Is No Good Card For This: What to Say and Do When Life Is Scary, Awful, and Unfair to People You Love (HarperOne, January 2017).
But she doesn't regret having spent time on the financial, manufacturing, and marketing sides as well. "I tell everyone that I have an MBA from Google," she says. "As an entrepreneur you have to be willing to embrace the things you don't necessarily love doing, because you'll be the only one doing them for awhile. And you have to be willing to take risks—in a calculated way."
Although she has cancelled her last four vacations, McDowell wouldn't have her life—or work—any other way. "Our brand is about being real and talking about the things that many people don't talk about," she says. "The phrase 'me too' is really powerful. Admitting that something has been a burden to you, finding out that there are others like you, a lot of our work speaks to that."
And that work, in turn, is clearly speaking to many others.