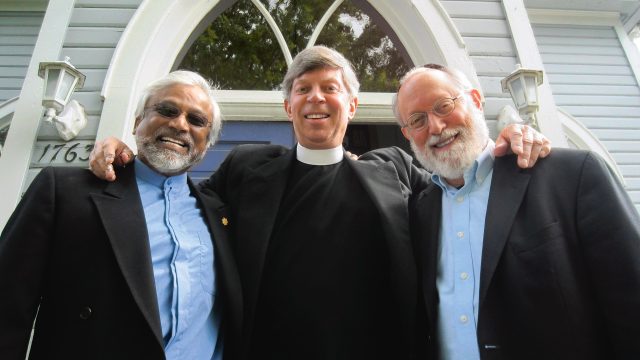 A pastor, a rabbi, and an imam walk into a bar. Or a Texas town. Or a Seattle mega-church. And they try to change worldviews.
A skeptical reaction to such a scenario is unsurprising. Yet a pastor, Don Mackenzie '66; a rabbi, Ted Falcon; and an imam, Jamal Rahman, do frequently walk into towns and religious centers together as the Interfaith Amigos, a trio they started soon after the 9/11 attacks. And though their work is no joke, they do encourage laughter. Indeed, they mingle finetuned comic timing with spiritual wisdom in presentations that spread hope for overcoming sectarian conflict and violence.
Humor was a force in forging this team. Early on, they realized that they needed to leaven their mission with humor. "We three as talking heads was not going to do it," says Mackenzie. "Humor can lift something that seems irreconcilably broken into something that is not."
Music, too, can foster a sense of unity. They end their programs with a three-verse song about oneness, in which together they sing lines in Hebrew, Arabic, and English.
Coming together
For decades, each clergyman had been involved in interfaith efforts on his own while leading separate congregations. Then around 14 years ago in Seattle, their lives began to intersect. They discovered not only that they made each other laugh but that they shared basic beliefs in the same God and the unity of the three Abrahamic faiths.
Within a year of 9/11, the trio had bonded— and not just intellectually, says Falcon. "It became clear that we could support each other through difficult passages in our own lives. We became each other's clergy." Says Rahman, "We realized we were confiding in each other in very personal and vulnerable ways."
Reaching across religions in friendship, they believe, is the first stage of interfaith dialogue. Without that foundation, attempts to explore interfaith often founder at subsequent stages, as core concepts of faiths are shared or, even more precariously, as participants discuss areas where their faiths conflict.
The Amigos' own friendship was tested over issues of Israel and Palestine. Rahman had described the security wall between Jerusalem and Bethlehem in a way that Falcon took as placing all responsibility for violence on Israel. Falcon objected to including that interpretation in the trio's first book. "I was sensitive because the press in my own community had criticized me [for views considered insufficiently supportive of Israel]," he says. "Then Don, in his characteristic way, remarked, 'This is really important; this is an opportunity,' and we started talking about it." Each imagined himself as the other, and in so doing managed to resolve their disagreement.
They came to their interfaith mission with an abiding sense that their three religions overlap and intersect, and that all religions encourage believers to awaken to a universal force, open their hearts, and transcend their egos to become more complete human beings.
The trio's third book, due out later this year (see below), discusses the relationship between spiritual practices and social/environmental activism. "Each religion has practices to deal with anger and fear. Each has practices cultivating forgiveness and compassion," says Rahman. "We can engage in meditation, silence, prayer, and other contemplative practices. These reduce tension and allow people to think clearly."
Working globally
Over the years, the Interfaith Amigos have spread their message in many ways, including joint presentations given in venues ranging from college campuses to the Parliament of World Religions. They have spoken mostly in the U.S. and Canada, but also in Japan, Israel, and the Palestinian Territories. They've had police protection in Houston and challenges from individuals in various places, but have never felt personally threatened.
They have also done local TEDx talks that are accessible on their website (interfaithamigos.com); several books; their own radio show; and interviews with many media outlets, including The New York Times and CBS and BBC news.
Although they receive no outside funding except for honoraria, all three have done this work nearly full time in recent years.
Early influences
Each of the Amigos developed an early belief in the importance of interfaith connections. At age 5, Mackenzie absorbed the horrors of the Holocaust through the stories of an uncle who had interrogated German prisoners of war. The child connected the stories to a Jewish family he knew. Later Mackenzie worked with Muslim colleagues at the Cairo Hilton while on a Macalester work abroad project, and his coworkers' devotion to Islam left a deep impression on him. After earning a divinity degree, Mackenzie ministered to several congregations, retiring from a Seattle Congregational church in 2008 to give more time to interfaith. Although he now lives in Minneapolis, he continues to work closely with his Seattle colleagues.
Falcon witnessed the anguish produced by interfaith misunderstandings while growing up in neighborhoods where his family was in the minority. He has taught Jewish traditions of Kabbalah and meditation, as well as founding the first meditative Reform congregation in Los Angeles. In Seattle he founded and led a meditative synagogue, but now focuses on interfaith and a spiritual counseling practice.
Rahman is the son of Bangladeshi diplomats who ensured that their son visited other houses of worship while grounding him in the tenets of his own faith. Rahman is cofounder and Muslim Sufi Minister at the Interfaith Community Sanctuary in Seattle and an adjunct faculty member at Seattle University. He, too, has a spiritual counseling practice.
Growing interest in interfaith
The Interfaith Amigos have noticed considerable growth in interfaith efforts in the U.S. since 9/11. "The fear of terrorism has increased interfaith collaboration," says Rahman. "Houses of worship, especially churches, are taking the lead in initiating interfaith programs to counter the dehumanization of the other."
So what has been the impact of the Interfaith Amigos? One way to gauge their success, says Rahman, is in the responses to their presentations. "The three of us stand together in the spotlight, where we can see the audience members' faces. Almost invariably, we see tears in their eyes. They realize that we three are friends [across religious divisions]; we represent vision and hope."
Their ultimate aim, they say, is to foster hope by disseminating the seeds for interfaith dialogue; seeds that they hope will someday grow into collaborative activism.
"I am optimistic that interfaith dialogue will gain traction, especially as the need for it becomes ever more obvious," Mackenzie says. "We three try to keep up each other's spirits in the face of terrible news every day."
And they do what they can, knowing that they may never see the results of their important work.