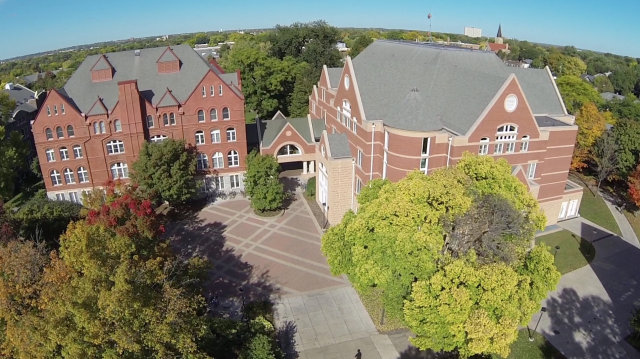 When The Princeton Review released its list of 25 Best Schools for Making an Impact last month, Macalester came in at number two—a welcome recognition of Macalester's strong tradition of commitment to community involvement. And not surprising, perhaps, given that service to society is one of the college's three stated missions. "It's not something on the side," says Paul Schadewald, associate director of the Civic Engagement Center. "It's one of our core values about who we are, inseparable from our identity."
On campus this sentiment is focused in Markim Hall, the building that houses Macalester's Institute for Global Citizenship. There, the Civic Engagement Center, comprised of six staff members and 13 issue-based student workers, helps to match students, student organizations, staff, and more than 60 academic classes a year with civic engagement opportunities. Four civic leadership programs are also housed within the CEC: Bonner Scholars, Lives of Commitment, Leaders in Service, and Opportunities Abound.
By the time they graduate, 96 percent of Macalester students will have volunteered at least once, many of them forging deep, four-year connections with community organizations. Some of these nonprofits have been partnered with Macalester for more than a century. Schadewald was recently helping a class dig through Minnesota Historical Society records when they found a form dating from 1913 that showed Macalester students establishing a program at Neighborhood House—an organization where many students still volunteer today.
Macalester's urban setting is a major factor in supporting such robust community engagement opportunities, says Paul Overvoorde, interim dean of the IGC. "Regardless of what a student's interests are, so many different opportunities are available in the Twin Cities, allowing them to make the kinds of connections you just can't make" in a smaller community, he says.
Although many students incorporate civic engagement into their careers after graduation (Macalester is a consistently top sender of Peace Corps volunteers, for example), the college's main goal is that students leave Macalester with a spirit of commitment beyond just a list of organizations with whom they've volunteered. "We hope the students leave as people who are reflective and engaged in their communities," Overvoorde says.
CEC program associate Eily Marlow agrees: "Macalester is trying to create global citizens—students who know how to live active civic lives," she says. "They are contributing to our democracy, which is a different way of thinking about why we get educated. Are we just getting educated for ourselves, or are we getting educated to serve the public and also serve our country's ideals, our democratic ideals?"
 Princeton Review's 25 Best Schools for Making An Impact

University of North Carolina–Asheville
Macalester College
Clark University
Oberlin College
Furman University
Colorado College
Brown University
Wesleyan University
Whitman College
St. Lawrence University
Mercer University
Pomona College
University of Colorado–Boulder
Carleton College
Middlebury College
Wheaton College
University of Dayton
Mount Holyoke College
University of Denver
Emory University
Westminster College
Stanford University
Lawrence University
Tufts University
Lewis & Clark College