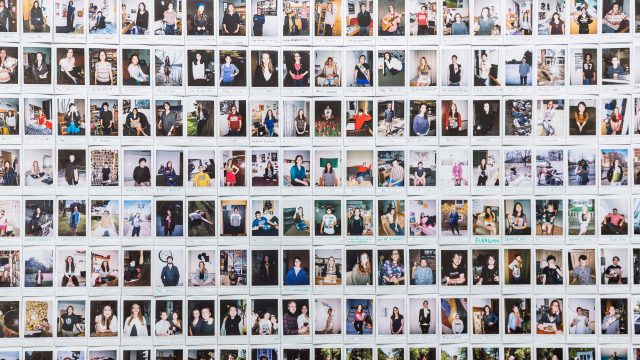 It started with a Polaroid camera. Over winter break of her freshman year, Lizzie Hutchins '16 (Rockledge, Fla.) bought that classic instant camera.
In search of a meaningful way to use it, she decided to imitate an idea she'd seen on a blog: to cover a wall in a grid of Polaroid photos. First she set out to capture portraits of friends, beginning with Nicole Emanuel '16, one of the first people she'd met at Macalester—and still a close friend.
"Honestly, it could have stopped with Nicole," says Hutchins. "But then I got addicted to taking photos." Soon portraits of the three other girls living in her dorm quad showed up on the wall, and from there "it just kind of grew."
Three years later, Hutchins's bedroom wall is plastered with Polaroid portraits of more than 250 people who have crossed her path. Most are Mac students, some are people she met while studying in Edinburgh, two are professors—and together they form a life-sized document of Hutchins's college experience.
By now she has her system down: She alternates between informing the subjects ahead of time of her plans to capture their portraits or letting it happen naturally. After taking each photo, she and the subject watch it develop together. Then subjects write their names on the white strip at the bottom of the photos (so their name is in their own handwriting), using whatever ink color Hutchins has designated for that year—this year it's a pinkish-red. Hutchins doesn't date the photos, but she does scan and upload each to Facebook, to create a digital archive.
"I really like any photo where the person has told me, 'This is an accurate photo of me,'" Hutchins says. "That makes me happy." She's found that people enjoy feeling as if they're part of something bigger than themselves—even if it's as simple as being just one square of a giant photo grid. "It's fascinating to hear their take on what this is, and their ideas for this project," she says. "As if I have some really grand plan around it—which I don't."
After graduation, with time and distance, Hutchins expects the photographs will start to mean less to her. Although she plans to preserve them, they won't all find a place on her future walls.
Nevertheless, the collection will remain "a tangible, physical reminder of the amazing, awesome, compassionate, hilarious, beautiful people I've met at Macalester," she says. "People who have shaped my experience in ways I know and in ways I don't."