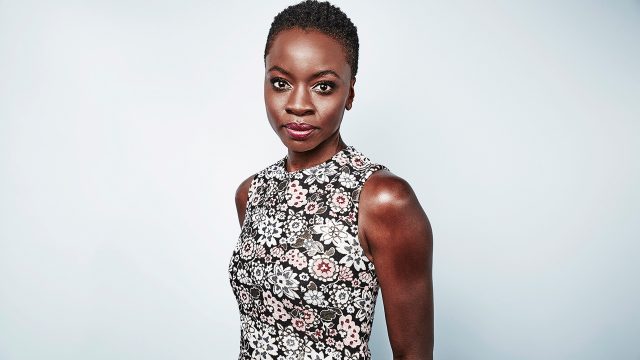 When Danai Gurira '01—actor, playwright and rising star—speaks about decisions she has made in her life and career, it is with dynamic purpose. "When you are born black and female, you are looking at the world through a certain lens and saying, 'There is very little of me I'm seeing in terms of story or media image and what I do see doesn't seem to quite fit what I know,'" Gurira says. "So if I am a storyteller, my mandate is to counter that, my mandate is to change that, to break that barrier down and to create more opportunity for girls who look like me . . . who have talents and abilities they don't get to exercise because the opportunities don't exist."
Gurira has done exceedingly well by her self-imposed mandate: Currently, 10 actresses of African descent are performing nightly on New York City stages—both on Broadway and off—bringing to life Gurira's rich and varied stories of Africa. Her play Familiar, both funny and formidable, about a Zimbabwean- American family living in the United States, barely suppressing a host of secrets within their well-ordered household, opened at Playwrights Horizons last March.
Just a few days later, Eclipsed, with a stunning ensemble cast that includes Oscar-winning actress Lupita Nyong'o, opened at the Golden Theater on Broadway. This play, broader in its scope and darker in its exploration, traces the lives of several "wives," essentially sex slaves, during the second Liberian civil war. Eclipsed is also a trailblazer in theater history: it is the first Broadway play written, directed, and performed entirely by black women. Both plays have already garnered immense critical success, with prominent theater critics describing them variously as "fantastically well-realized" and "soul-searing."
Familiar portrays a family that has expatriated from Zimbabwe to settle in Minnesota—a setting Gurira knows well from her Macalester days. Somewhat drawn from real life, as the playwright confides, it actually offers an inverse narrative of her own experience growing up. Gurira was born in Grinnell, Iowa, the youngest of four siblings, to parents from Zimbabwe, and lived in Iowa until she was five, at which time her family returned to Zimbabwe. Gurira remained in Africa until she enrolled at Macalester as a psychology major.
"I don't think I would be writing the plays I write or have the passion I have if my parents hadn't gone back to Zimbabwe," Gurira says. "I don't know if I would have been as palpably concerned about that disparity if I hadn't grown up in that environment and seen the various sophistications and subtleties of the Africans that are not portrayed in the West."
But it also stirred in her questions about the consequences of leaving behind your native country. "How does that look?" Gurira asked herself. "You might not speak to your child in your own language anymore because you want them to be able to get in the pool with all the rest of the American kids and swim competitively. Excel academically. You want them to have a fighting chance in the workplace. There are various degrees of deciding to make your child American while you're here." The complexities of assimilation became the axis on which Familiar turns—and then spins out.
Eclipsed, on the other hand, started with a New York Times article Gurira read about the Liberian civil war. But to research this play, she had to travel to Liberia. "I had to be deeply specific about the fact that people in Liberia do not speak like people in Zimbabwe and their history is completely different; their geography is completely different; their experience is completely different," Gurira says. "I had to go there to learn that . . . I am trying to absorb story, people, and the essence of their humanity."
The instinct to humanize global problems has informed Gurira's work from the beginning. One of her earliest plays, In the Continuum, in which she also co-starred, looks at the disparate lives of two women— one a teenager in South Central Los Angeles and the other a middleclass wife and mother in Zimbabwe—who are simultaneously given HIV diagnoses. For this, Gurira drew praise as an actor as well as a playwright.
Indeed, she has cultivated a successful career as a performer throughout her rise as a playwright. In 2012 Gurira joined the cast of AMC's hit television series The Walking Dead, playing Michonne, a complex and cagey character unafraid to slice a sword through the necks of flesh-eating zombies. "There was something about Michonne and the premise of The Walking Dead that I found to be deeply related to the premise of Eclipsed—which is, who will you be when the world gets this dire? Because you're not going to be who you are right now," Gurira says. "A lot of the women who became soldiers [in Liberia] were very much like Michonne. You turn yourself into a weapon and don't look to anybody else to help you . . . And though I've never had to step into a war zone, I do think there is a fighter in me, so there is something that I understood about that choice."
Gurira will soon bring another complicated woman to the screen: she just completed filming the Tupac Shakur biopic All Eyez on Me, in which she plays Shakur's mother, Afeni Shakur. "It was enriching," the actress says of the experience. "The story of Tupac is a powerful one. And his mother was very much a part of his theater background, exposing him to arts and culture and making him read The New York Times as a 10-year old."
Not one to slow down—or to leave an opportunity to support Africa or the arts untapped—in 2011 Gurira cofounded the nonprofit Almasi Arts Alliance (almasiartsalliance.org). "I was noticing there weren't a lot of institutions of artistic training on the continent that allow people to walk into a Tisch or a Juilliard and really have their craft validated and then developed to its fullest potential," Gurira says. "The idea of Almasi is that ultimately it will be that type of an institution. But for now what we do is take a lot of Americans, my artistic peers, to Zimbabwe to teach and train." The organization also brings Zimbabwean artists to America for theatrical fellowships.
Toward the end of the interview, as Gurira starts gearing up for the next thing—there is, it seems, always a next thing—she mentions that she has recently been working on a pilot for HBO connected to her play Familiar. With this she will move into a new phase of her mandate: "The goal of putting the faces and voices that I've managed to put on stage onto the screen."
There is no doubt that Gurira—a force to be reckoned with and a talent to be admired—will achieve that goal as well.