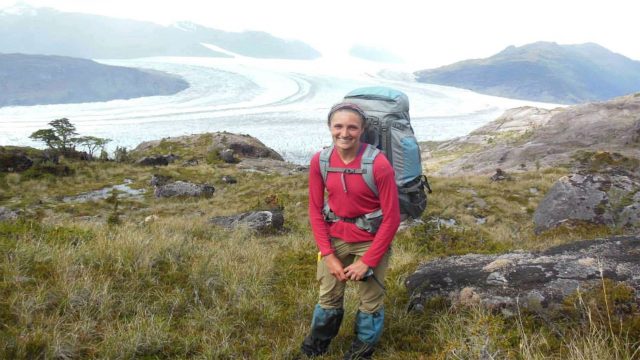 It's a good thing that geology major Sarah Jonathan '16 (Guilford, Conn.) likes camping, because while studying in Chile last spring, she spent almost three months living in a tent. Jonathan had signed up for an unconventional study abroad program through Round River Conservation Studies, a U.S.-based nonprofit that "believes landscapes are powerful educators."
Most of her time in Chile was spent traversing two national parks—the Bernardo O'Higgins National Park and the future Patagonia National Park. Her group—12 students and a rotating cast of instructors—hiked nearly every day. "We weren't on trails. We were technically bushwhacking the whole way," Jonathan says.
The group took several overnight trips into the parks, carrying their tents and belongings with them. During their time in Chile's fjords, arid steppe, and temperate rainforests, they often walked all day, watching and recording what they observed. 
Jonathan and her group performed field research and took surveys, gathering much-needed information for the Chilean parks system. They recorded plant information, did bird surveys, and looked for endangered species. In particular, they were seeking signs of the endangered Andean huemul deer, recording sightings of the animal as well as signs of its scat and tree markings.
Jonathan's group also kept an eye out for the Wolffschhn viscacha, a small mammal that lives in the sides of cliffs and nooks, according to Jonathan, "like a cross between a rabbit and a chinchilla."
When not doing fieldwork, the group returned to base camp to take classes focused on conservation and restoration. Located about a mile from the small south Chilean town of Cochrane, the base camp had bathrooms, a kitchen, and a classroom but students still slept in one-person tents.
Jonathan didn't mind the lack of luxury or modern conveniences. "I enjoy being outside so much, and being in that environment," she says. "I was kind of sad to go home."
Her time in Chile, she says, was a learning experience she never could have matched in a typical classroom. "The reality is that a lot of conservation projects don't happen in convenient places," she says. "It was really interesting to be part of that process."