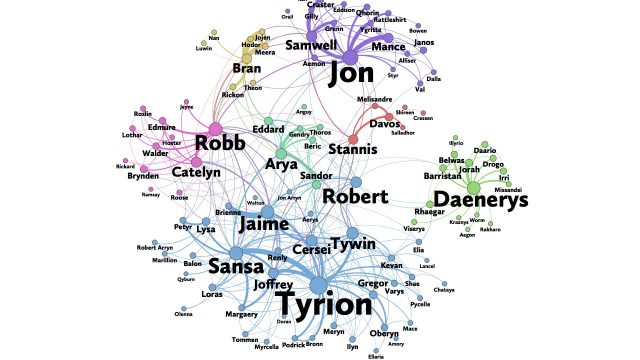 "Network analysis and visualization tools are among the many creative outlets that have sprung up in the Mathematics, Statistics, and Computer Science Department over the last two years." –Professor Andrew Beveridge
Game of Thrones, HBO's smash fantasy hit, opened season six with more than 10 million legal viewers. (No one knows how many additional people watched pirated versions.) This spring, a mathematical analysis that originated as a student's senior capstone grabbed fans' attention and spread like wildfire.
The project began in fall 2013 when Jie Shan '14 came to mathematics professor Andrew Beveridge with a proposal to apply network science to Game of Thrones. Beveridge thought it was "a simple but brilliant idea: create a network by connecting characters whenever their names appear within 15 words of one another in the book." 
While most fiction is protagonist-driven, Game of Thrones is an ensemble show with multiple interwoven narratives. This project used the structure of the web of interactions to identify the central character. 
Shan's capstone was a great success, and Beveridge and Shan, now at Microsoft, rekindled their collaboration, improved the analysis, and published an article in Math Horizons, a magazine of the Mathematical Association of America. Their conclusion: Tyrion was the most important player in the Game of Thrones. 
Their article quickly spread across the internet, first at Quartz, and then quickly followed by stories at Popular Science, the Huffington Post, Good Morning America, National Public Radio, the AV Club, Entertainment Weekly, the UK's The Telegraph and hundreds of other tech and entertainment media. 
"Jie and I were as surprised as anyone that this paper took off like it did," says Beveridge. "It was cool when international students at Mac would send me links to stories in their home countries. It's fun to have started a conversation where people enjoyed talking about the power of mathematics." 
Beveridge brought on four additional students to create networks for the rest of the Game of Thrones series: Ruthie Berman '17, Brooke Boatman '16, Rebecca Gold '16, and Ari Weiland '16.
Network science at Macalester is part of the new Data Science program, which involves mathematical techniques, computer science skills and specialized domain knowledge in a field of interest. 
"Data scientists are in high demand right now," notes Beveridge, "and our Data Science minor is one of the first of its kind at a liberal arts college.
Also, "There is big appetite at Mac for extracurricular data science opportunities," says Beveridge. "Network analysis and visualization tools are among the many creative outlets that have sprung up in the Mathematics, Statistics, and Computer Science Department over the last two years. What's amazing is that most of these initiatives are student driven—which is how this project started in the first place."