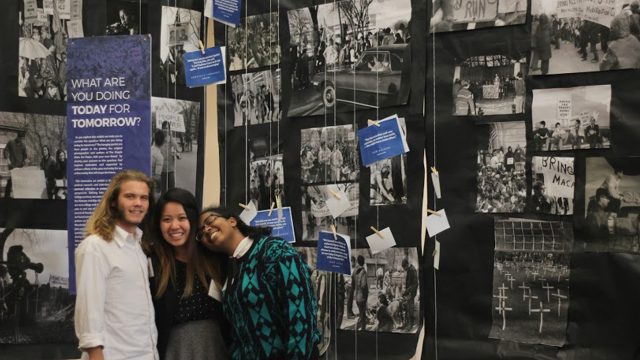 By Adrianna Jereb '18
A lively crowd examined the peace movement of the '60s and '70s during a three-day Vietnam Antiwar Symposium held in late April in St. Paul. The symposium events drew from the written accounts of activists in the book The People Make the Peace: Lessons from the Vietnam Antiwar Movement (Just World Books), which associate professor of American Studies Karin Aguilar-San Juan edited with political activist Frank Joyce. Several of the book's contributors—including Rennie Davis of the Chicago Seven—participated in the symposium.
"Instead of passively receiving history, we're actively interacting," Karin Aguilar-San Juan says.
Students from Aguilar-San Juan's Vietnam Antiwar tutorial and U.S. Imperialism course also gave presentations. Topics included the role of African-Americans in the fight for peace and Macalester's own anti-war protests.
Political science major Marina Najjar '16 (Montreal, Quebec) ran a printmaking booth where visitors could print two political cartoons. One came from a woodblock discovered in Macalester's archives; the other was designed by Najjar and Rachel Meyer '16 (Yellow Springs, Ohio)—a modern take on antiwar protests.
In Aguilar-San Juan's Vietnam tutorial, Najjar learned that for a political movement to succeed, students cannot be the only ones leading the charge. "We have to reach out to the community more," she says.
Indeed, that was one of the symposium's goals. All events were free and open to the public; the symposium itself was a collaboration among Macalester, the East Side Freedom Library, and Veterans for Peace.
Sharing information inter-generationally was another focus of the symposium. At the book event, students interviewed some of the contributors to The People Make the Peace.
The symposium also examined Macalester's history as a protest site. In the 1960s and '70s, many Macalester students opposed the Vietnam War, even hosting the National Student Congress in 1970 that led to the creation of the People's Peace Treaty. That treaty—ultimately signed by students from the U.S. and both North and South Vietnam —was a definitive statement of cooperation between countries at war.
Aguilar-San Juan found the event very meaningful. "For the students to open themselves up to the past that way," she says, "that was incredible."