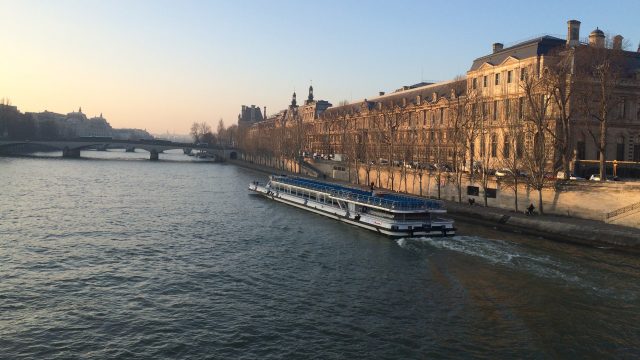 By Liz Hallgren '17 (Monkton, Md.)
Three months ago I signed my study away program's contract binding me to speak, think, and write solely in French for the semester. Since that time, I've experienced profound separation anxiety from my native tongue, but grown to appreciate it in a way I never would have without having committed to a language immersion internship program in Paris.
At first, separating from English felt impossible—terrifying even. However, my study away internship has given me the opportunity to work closely with French literature, a task I've welcomed as someone who finds comfort and familiarity in working with words—no matter the language.
I have been interning in the French publishing house Jean-Michel Place, working with a subsection of the organization called Marché de la Poésie ("Festival of Poetry"). Located in the fifth Arrondissement of Paris between the Luxembourg Gardens and the Pantheon, and surrounded by major academic institutions such as the Sorbonne and the Curie Institute, the publishing house (maison d'édition in French), is nestled in Paris's intellectual heart. In keeping with its scholarly neighbors, Jean-Michel Place publishes academic work, boasting extensive lists in art history, architecture, politics, and more.
Though I am situated in the same office as the editors who produce those lists—allowing me to watch the publishing process close up—my job is separate from theirs. Instead, I aid with the publishing house's organization of the Marché de la Poésie, an institution in the Parisian literary scene.
The Marché de la Poésie brings together more than 200 independent publishers from around the world for a five-day outdoor festival in the city. Here, writers, readers, printers, and the general public have direct access to these publishers (mostly of poetry), allowing networking and relationship building among myriad literary actors.
Each year, the Marché de la Poésie invites a different "country of honor" to attend, celebrating the poetry, literary culture, and contemporary writers of that country. This year, the country of honor is Mexico, expanding the event's reach beyond Europe in a move that is bringing the Marché closer to its goal of celebrating poetry universally. At the Marché, publishers and writers not only establish connections, but also sell their work and take part in performances and readings.
At the moment, my work consists of administrative tasks as I help my colleagues prepare for this demanding event. Together we organize photos and biographies of all of the poets and performers attending, keep mountains of records of the publishers registered for the event, and communicate with authors and publishers to answer their questions or negotiate their participation. Occasionally, I attend meetings with the directors of Marché de la Poésie and their invitees in which I can see firsthand how the organizers and guests work together to structure the events, decide how the literature should be showcased—in the form of a reading or concert, slam or question and answer panel—and determine how best to connect to the public.
My work with Marché de la Poésie, while at times tedious, has opened my eyes to the French and transnational publishing worlds, and specifically to the niche landscape of independent poetry publishing—a perspective I would never have gained without setting aside my own language for a time. While I've missed working in English (and am a little afraid of returning to Macalester after a semester out of practice!), taking the plunge into the language and literature of another country has left me with an expanded perspective of publishing, a fresh knowledge-base of non-English literature, and a renewed appreciation for my English major.