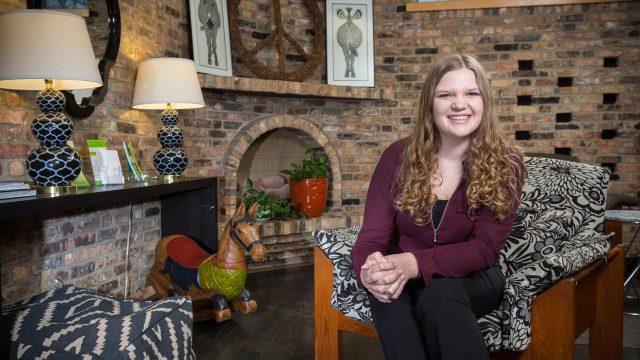 By Emily Elkins '16 (Colorado Springs, Colo.)
International Studies major
Each Tuesday and Thursday morning I head into Minneapolis to the International Institute of Minnesota, where I work as an immigration services intern. There I help future Americans who are on their way to becoming U.S. citizens.  
I landed there last winter, when I sought out an internship related to my International Studies major. I began by researching which internships other International Studies majors had held. The International Institute—which serves refugees and asylum seekers by offering resettlement, integration, citizenship, and other services—kept coming up, thanks to its strong relationship with Macalester.
My main task is to help people fill out citizenship applications. Most of our clients arrived here in 2010 or 2011, meaning they've had their green cards for the requisite five years needed to take the next step toward become a U.S. citizen. The entire process takes eight months and costs $680, so we want to make it as easy as possible for them. Each day, I'll normally see about three clients. In each meeting we sit down, go through the form step by step, and then talk about how they can move forward.
Much of the challenge comes from only being able to learn through experience. You can't be prepared for every situation that arises; you'll learn about it when you face it. For example, if someone tells you that they have a child living out of state with another person, that's the day you learn about child support. My least favorite part of the job is when I find out some information at the beginning of the appointment that disqualifies a client from using our services—if they've had a DUI or faced another legal issue, for example.
But it is all worthwhile when I see my clients so excited to finally be gaining citizenship, and to hear how grateful they are for my help. We are working with a lot of people right now who are trying to gain their citizenship before the November elections, so they can vote. And that's really cool to see.