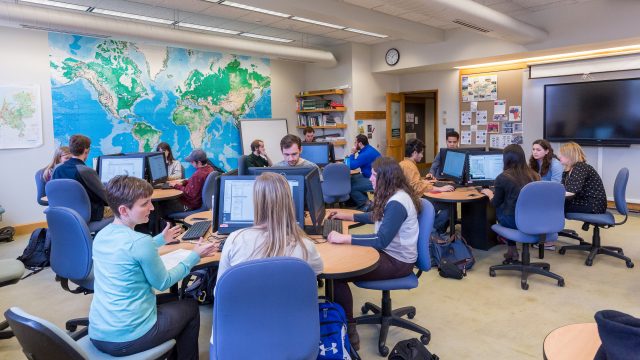 "There's no better training for after Mac than this."
—Professor Laura Smith
With a few weeks left in the semester, geography professor Laura Smith is talking with the 15 students in her Urban GIS class one morning in early April about their final projects. "No more chasing data," she instructs. "Your next status update will be one final reassessment of your plan." Each group's chapter is due April 25, but another key date looms larger: final presentations, four days earlier.
As Smith and the students talk through the timeline, there's a murmur of urgency around the room. The presentations aren't simply in this classroom in front of their peers. They'll be in downtown Minneapolis at the Federal Reserve, in front of key stakeholders representing the Northside Achievement Zone (NAZ), a collaborative wraparound movement to close the achievement gap and end generational poverty in North Minneapolis.
Each year, Mac faculty work closely with community partners who drive the questions and the work in advanced geography classes like Urban GIS. Last semester, NAZ president and CEO Sondra Samuels asked Smith's students to provide a snapshot of the Northside's demographics—and how they're changing. "When NAZ first started [in 2008], we had a lot of baseline data," Samuels says. "Over time, we need to be able to tell a story of how things have gotten better, how things have improved through the collective influence of 43 organizations working together in an unprecedented fashion."
Through the data the students gather, they delve deeply into learning about the Northside and illustrating the disparities compared to other Minneapolis neighborhoods. They're using Geographic Information Systems (GIS) technology to tell the story through maps. "The Northside suffers from disparities—we know that already," Smith says. "But the maps tell the story so much more efficiently, and GIS does that with so much more impact than any other kind of narrative."
After Smith's announcements, the class moves to the GIS lab, where desks are clustered together in groups of four to facilitate collaboration. The students are divided into four groups: economics, health, population, and housing. They map out the neighborhood using data examining such variables as the housing market, public transit access, crime and public safety, and food deserts.
That analysis doesn't occur in isolation. Thanks to the power of overlaying data, GIS allows students to show different variables on the same map—for example, housing vacancies data on top of crime statistics. "One of the most challenging and fulfilling parts is trying to present all the data in a format that's meaningful," says Joe Klein '16 (Webster Groves, Mo.).
There was no agenda at the start of the semester for where their research would take them, no end destination. Reassessments and adjustments are key parts of the project, depending on what roadblocks surface as they gather information—and that makes students nervous at first, Smith says. That's why journal entries are another component of this lab-driven class. "The great part about this course is that it's real: this is how things work," Smith says. "There's no better training for after Mac than this. You have to know where to find this data and how to process it, and when you can adapt and troubleshoot, you're in a better place."
Even with inevitable obstacles during research, the students benefit from vast local open data resources such as Open Data Minneapolis. As Jake Ramthun '17 (Athens, W.V.) explains, the Twin Cities maintains plenty of geocoded records that are easy to find and understand. "A lot of GIS work involves looking for data and cleaning it up for the GIS software," Ramthun says. "When a community makes data this intuitive and this available, it eliminates the waiting game and lets you get right to the point. Instead, we're able to devote our time to meaningful analysis. It's like a head start. This would be an extremely difficult project if we weren't in the Twin Cities."
The class's final report—150 pages, with each group preparing about 40 maps—will inform and help generate support for NAZ's next steps. "It wasn't just incredible data to paint a picture of the community," Samuels says. "My team was able to say, 'What questions do we ask now to build on what we've learned?' We have a picture in time of what's happening here."