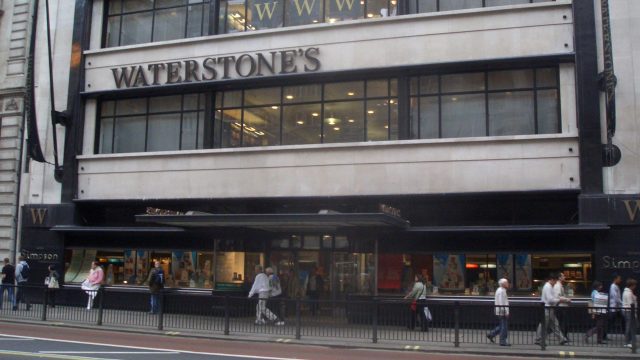 by Hank Hietala '17 (Bozeman, Mont.)
I am an English major currently studying abroad in Saint Andrews, Scotland. For spring break, I journeyed to London. As usual, the British trains were running on time, and I spent most of the trip buried in a book. After finishing E. L. Doctorow's Ragtime, the unthinkable happened: I ran out of things to read!
Instead of taking an audio bus tour like a normal member of my generation—as in, a non-English major—I decided to find a bookstore. Luckily, London is brimming with them; Google Maps showed dozens within a half-mile of the train station. I cinched up my backpack and started walking.
My first stop was Waterstones, the Barnes and Noble of Britain minus the obsession with CDs and self-help books. You can find a Waterstones anywhere in Britain, but none of the other branches compare to the London one, which is more skyscraper than bookstore. There were nearly 13 kilometers of bookshelves and eight floors, each specializing in a different genre. The top floor featured a west-end bar, where I mingled with the London literati, namely Sir Guinness and Lady Newcastle Ale. Even these two luminaries couldn't convince me to buy a novel for ten pounds.
In spite of all of its bibliophilic glory, Waterstones left me a little exasperated with the big-business aspects of publishing. I blame my Macalester education. To combat this, I wandered into a Communist bookstore. Its name was benign enough, Housman's Books. But then I went inside. The shelves were filled with titles like Peace, Love, and Petrol Bombs and the labor-themed coloring book, The Day the Crayons Quit, which I nearly bought for my six-year-old, Cruz-supporting cousin. Again, I didn't leave with any books, although I would have taken one for free if the so-called "Communist" bookstore wasn't staffed by closet capitalists who charged money for their products. Oh, the hypocrisy!
After lunch at a distinctly English restaurant called Five Guys Burgers and Fries, I set out again. A few blocks from Leicester Square, I stumbled into an alleyway that was straight out of a Dickens novel—grey cobblestones, miserly old men, pigeons. It was about the size of the second floor of Old Main, except there were eight specialty bookshops jammed on each side of the alley. I bypassed the tarot and occult bookstore, opting instead for a rare books dealer. The name of the store has since escaped me, so I'll just call it Curmudgeon & Sons, since the dealer was a complete curmudgeon. I tried to pull a book out from the shelf and he said, in the poshest accent I have ever heard from a man with a beard, "Please do not touch the books." He didn't even look up from the newspaper in his hands. Granted, the book was a rare 19th century collection of pub songs, but nonetheless, I felt wronged. I left without making a purchase.
I tried a few other bookstores, one of which turned out to be a three-floor monstrosity dedicated to travel literature and cartography. I still couldn't find a book for less than eight pounds, that is, until I reached the Southbank book market. It was located on the South bank of the Thames, tucked beneath the Waterloo Bridge. Secondhand paperbacks were fanned out on tables without any semblance of organization. The dealers themselves unloaded more books from cardboard boxes; it looked like a literary black-market. I picked out an H. G. Wells novel and bought it for one pound cash, no receipt. Finally, I had something to read for the trip back north, which wasn't for a few days.
Since I am writing all of this while studying abroad, I suppose I should give you two pieces of advice based on my experience thus far:  
1. Watch where you're walking in British bookstores. They walk on the left sides of shelves, not the right.
2. Scottish bookstores are more British than the English ones. The Scots would hate to admit this, but it's true. Every time I visit Topping & Company in Saint Andrews, the cashier offers me a cup of tea. Other abroad students talk about language immersion and culture shock, but I bet none of them drank free Earl Grey while paging through an Irvine Welsh novel. I'm still waiting for the haggis.