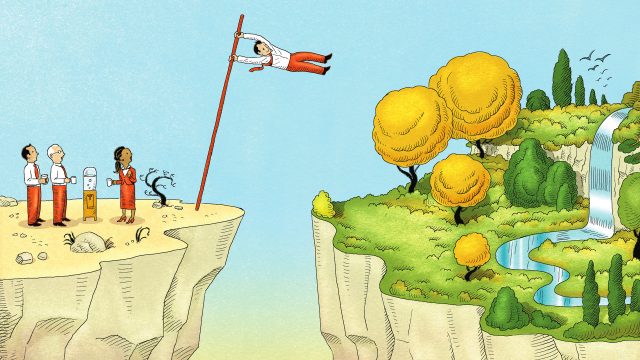 We all have moments in our lives that feel like inflection points—times that transform our lives so fully that we can divide our days into Before and After. For many of us, those moments require us to make a difficult decision that ultimately allows us to lead a bigger life.
That bigger life could be many things: It could be a decision to take a job we're not entirely sure we're qualified for, or to the quit the job we've spent years mastering in order to pursue a dream we've had for a lifetime. It could be a decision to move halfway around the world, or to take a crazy chance on love.
These decisions may not make life easier. They may not be more financially remunerative than the alternatives, and they may bring their own challenges with them. But they are the decisions we make with an eye toward a life that feels more meaningful and fulfilling.
In the following pages, you'll see the conversations we had with eight Macalester alumni and faculty members about their own "bigger life" moments, including the sacrifices they made along the way to live life on their own terms.
We'd love to hear about your own bigger life moments. Share them with us at mactoday@macalester.edu. 
I quit a good job to pursue music.
Gary Hines '74, one of this spring's Commencement speakers, is music director and producer of Sounds of Blackness. The group's most recent single, "Royalty," is a collaboration with St. Paul's High School for Recording Arts.
My first full-time job out of Macalester was as an investigator for the Minnesota Department of Human Rights. While it was very rewarding work, I knew that music, which I had been doing at night, was my ultimate goal and desire.
One morning, after 12 years on the job, I looked in the mirror and said, "Okay, in your heart of hearts you know what you want to do. What are you waiting for?" That morning I went to my supervisor and asked for a leave of absence. A few days later I resigned.
Word got out in the music community that I was no longer working for the state, and a few days after I resigned I bumped into [songwriter and producer] Terry Lewis. I'll never forget it. He said, "Hey, Doc, I heard that you're out here now. I'll call you next week." He did, and the next thing I knew, I was on the staff of Flyte Tyme Productions as a producer with Jimmy Jam and Terry Lewis. That was the beginning.
For me, that decision was about putting faith into action.
It's still not easy. When you work for yourself, there are no sick days, vacation days, or benefits. It's frequently a struggle financially. But I keep on pushing.
Is it worth it? Of course. Certainly, the Grammys we've won are awards we treasure. But away from the glare of the lights, at an airport or in a restaurant, when someone comes up to us to say that our music helped to change their life or save their life? Nothing beats that.
I road tripped with a new friend.
Peter Burkill '04 is a doctor at the University of Maryland Medical Center.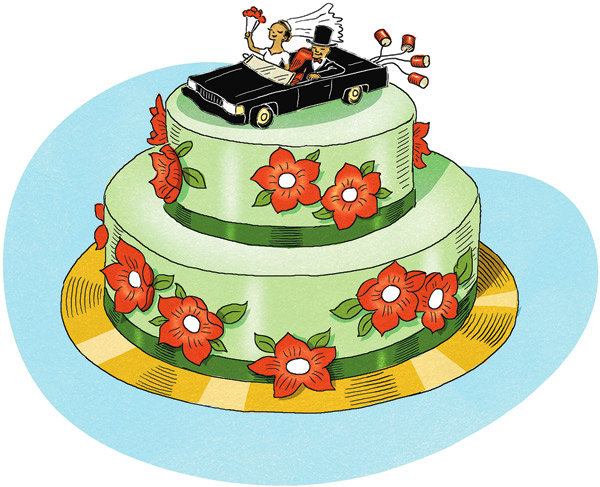 In 2009 I was doing a short externship at Planned Parenthood in Minneapolis after finishing up my first year of medical school at the University of North Carolina. One day, I went to a coffee shop, saw a cute girl, and we started talking. We must've talked for an hour or two, and I asked her out on a date. I was leaving the city soon, and she was leaving sooner, but we decided to go out anyway. 
Our schedules were wildly different—Katie, a classical singer and artist, got off work at 10 p.m., I had to start work at 6 a.m., but over the next few days we went on four-hour dates daily. The stakes seemed low, so we were honest with each other. There was a freedom to our conversations. Just before she left, we tentatively agreed to take a road trip together when I returned to Minneapolis in a few weeks.
I have been called impulsive before, but I had never done anything like that. We could both see that the other was ready for an adventure. 
When I got back into town to pick her up, neither of us really even remembered what the other person looked like, but we had agreed to take a five-week, 10,000-mile road trip around the United States together. It seemed exciting. It seemed like it would make a good story.
There was a point, maybe on day three, when we were driving through the plains, just nothingness. I thought to myself, "Oh my God, what are we doing?" But then I also thought "Well, this is actually great."
We knew before the end of the road trip that it was serious, and we moved in together not long after we got back. We married in 2011.
Yes, it was probably one of the biggest risks either of us had ever taken, but we both totally committed to a larger dream.
I left a dream job for a new field.
Daniel Gumnit, who attended Macalester from 1978 through 1981, is CEO of People Serving People in Minneapolis.
In 2011, I had what seemed like a dream job, developing national prime time programming for PBS. I was working with smart, creative people whom I really enjoyed. Millions of people saw the television shows I developed.
And that was when I got a call from a recruiter who wanted me to consider taking a position as CEO for People Serving People, a Minneapolis homeless shelter for children and families. At first I thought he was crazy. Why would he call a television guy?
Eventually I realized what they were looking for was not somebody to run the shelter from an operational perspective, but someone to reshape the conversation about childhood homelessness in our community. 
So I started doing some research. I went to the organization's fundraising events to see what it was it was like. I began to understand what the opportunities really were from a change-the-conversation perspective.
And I realized then what a rare opportunity this was. How often are you given the chance to make a profound difference in the lives of our most vulnerable children on a daily basis? 
I took the job, and it has been five years now. I'm grateful that people saw something in me that I couldn't have possibly imagined.
I chose Macalester.
Arlin Buyert '64, a poet and former corporate executive, lives in Leawood, Kansas.
I grew up on a farm near Sioux Center in northwestern Iowa. It might seem hard for many students today to imagine, but when I was 17, I had never been outside of Iowa. I'd been to Des Moines once and Iowa City once. I was so busy with chores—taking care of the chickens and the hogs, milking the cows.
One day, my optometrist offered to drive me up to Macalester when he took his brother there for a campus visit. I had never been to St. Paul, which was 200 miles away.
I fell in love with the college, and when I got home I told my mom and dad that I wanted to go there. I remember my dad telling me I could attend a nearby two-year college instead. He said then I could still help with the crops and the chores, and I could live at home. But my mother said, "He's going to Macalester." 
And I did. 
I remember being very lonely at the beginning. It was so different. And I knew, of course, that I had disappointed my dad, in a way. There were so many international students. My roommate was gay. My professors exposed me to so many different perspectives. And it changed my whole outlook. 
Even my time on the basketball team was an education. We flew to Atlanta over winter break, the first time I'd ever been on an airplane. One year, we took a train Seattle—I had never before seen mountains or the ocean.
For me, going to Macalester was as life changing as you can imagine. I'm so grateful for it.
I uprooted my life to move to Bali.
Anne Harold '12 lives in New York City. She is currently a freelance writer and website designer.
After I graduated from Macalester, I moved to Portland, Maine, where I got a job at a green architecture and engineering firm. I was in a relationship. At that time, my life felt very domestic.
As my contract position came to a close, I heard about a woman who wanted to start a foundation in Indonesia called Sawah Bali, which would help farmers transition from mono-crop agriculture to diversified, high-value permaculture.
I could continue to build a career in the United States or I could go to a new place, a truly different culture. The opportunity seemed like destiny.
Making that decision was thrilling. I had to let go of what I thought I was going to do and give this a try. I was there for a three-month position, and then I returned to the United States for two months. But I missed Bali so much that I went back and stayed for another year and a half.
Working at a small nonprofit was magical. My ideas were valued and we listened to one another. I could make real contributions, even though I was only 23 years old. I learned how to see people on their own terms and understand how people in different cultures work.
But I also knew that I was heading down a different path from that of many of my peers. If I'd stayed in New York, maybe I would be working in a high-profile start-up. I might have benefits by now.
What I learned through the experience is that the world is full many amazing opportunities if you are open to them. When I graduated, I really wanted to know where I was going to live and what I was going to do. Now I've learned to let go a bit, and not plan so much.
I chose a bicoastal life.
Helga Ying '87 is vice president of external engagement and corporate responsibility for American Eagle Outfitters.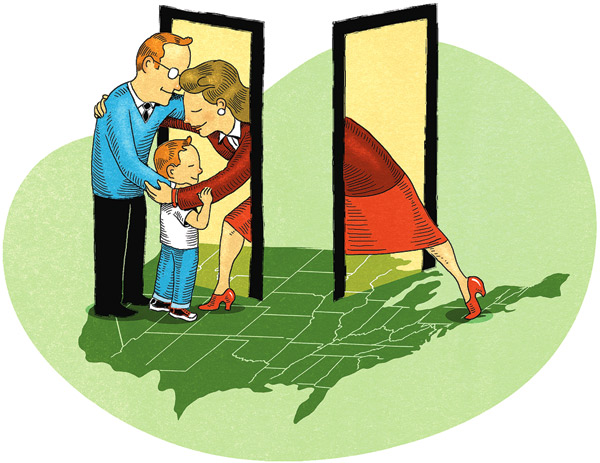 I spent 13 years heading up Levi Strauss & Co.'s worldwide government affairs and public policy department. As part of that role, I worked on public policy issues such as worker rights, environmental sustainability, and HIV/AIDS.
When the president of Levi's became the president and CEO of American Eagle Outfitters, he approached me about forming a whole new department in American Eagle that would address almost all of corporate affairs: corporate social responsibility, community affairs, a foundation, and human and worker rights.
There was just one catch: I lived with my family in San Francisco and my husband is a tenured professor at the University of California-Berkeley, but American Eagle Outfitters is headquartered in Pittsburgh with a design center in New York. 
It was a huge decision: Do I take a job that would give me much greater responsibility and allow me to push a company to become more socially responsible? Or do I stay here with my family?
Luckily, I was able, in a way, to do both. I still live in San Francisco, but I travel frequently among the three cities. I'm home every weekend, and with technology, there are ways to be with my family and the company wherever I am. Of course there are sacrifices, and both my husband and I have made them.
But my work at the company is also making an impact. For example, Aerie, our women's lingerie brand, no longer Photoshops or airbrushes any of its models. And we recently partnered with an organization called the National Eating Disorder Association to help raise awareness for an illness that affects four million people, many in our company's demographic. I hope this work will help the entire industry move toward using more diverse body types in advertising. 
I stopped taking sides.
Mel Duncan '72 is a cofounder of Nonviolent Peaceforce.
In 1997, as part of a Bush Fellowship, I found myself at the University of Creation Spirituality in Oakland, California. We'd just started studying [the Persian poet and Sufi mystic] Rumi, and at one point, the teacher, looking directly at me, said, "Your job is to enter the heart of your enemy."
I wrote that down in my notebook with my own addition: "Enter the heart of my enemy. That's a good place to rip it out."
That idea had been part of my philosophy for a long time. For years, I had occasionally appeared on the Twin Cities public television show Almanac, on a panel that debated the week's political events. People recognized me at the grocery store, but my wife wasn't impressed. What was I modeling for our kids, she asked, by interrupting, not listening, making sure my points were being made, and trying to make others look bad?
Further down in my notebook, I wrote something else about that Rumi idea: "Don't go back to sleep. This could change your life."
It did. I was challenged to re-examine the dualistic way that I saw the world. Within months I was sitting in a room with spiritual leader Thich Nhat Hanh, who was explaining that we were no longer at a place where we could afford to take sides. The stakes were too high.
Not long after that, I came up with the idea of Nonviolent Peaceforce [a group that promotes dialogue among conflicting parties and provides a peaceful, protective presence for threatened civilians]. Today there are more than 200 people who are part of the organization, and we're active in the Philippines, Myanmar, Syria, and South Sudan.
I always encourage people to go in the direction of what they are meant to do. It's important to try to discern, in a deep way, what that is, and to take that risk, even if it means you fail.
I left Texas for good.
Marcos Ortega is an assistant professor of biology at Macalester.
I'm from El Paso, and where I come from, most people do not get a college education. But my grades were good, I had good SATs, and I played football. Grinnell College, a small school in Iowa, reached out to me. I had no idea where Iowa was, but it seemed like an opportunity that could open doors, so I went. 
I got there and wanted to leave almost immediately. The weather was hard, the classes were hard, understanding the culture was hard. I felt like an imposter, and I hated asking for help. I actually did leave after my second year, in part because of the challenge of classes such as organic chemistry. That class was easy for the top 10 percent of the class. The rest of us had to really work at it.
After a year at home, I went back to Grinnell. I thought life would be easier in El Paso, but I realized there was good and bad in both places. I also knew that if I went home for good, I might make the same mistakes my friends and family had made: teenage pregnancy, unsteady jobs, unsteady relationships. It's been years, and I still miss the closeness I had with my mother. We talk every day, but being away from her and my extended family is a sacrifice.
At Macalester, I work hard to connect with students. I try to have empathy for their struggles and anxieties because I struggled along the way, too. I try to spend time with students from underserved communities—minorities, first-generation students. I want them to understand that they can be who they are, and learn to navigate these waters in their own way.