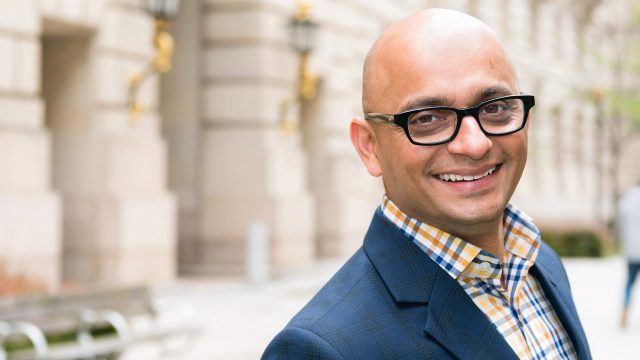 At the height of the Iraq war, Mihir Desai '90 was there. He was part of a small contingent of advisors working in Iraq with date farmers and agricultural enterprises, helping them improve their growing and handling of dates for the world market. 
"I'll never forget it," says Desai. "Iraq is very agriculturally rich; about a third of it is like California. We were successfully helping marginalized date farmers improve their post-harvest handling—but then we couldn't get the product out of the country." There were days when coalition bombs destroyed date palms that farmers had been carefully cultivating for 15 years.
"Sometimes," Desai notes wryly, "the development and the defense goals of the United States are competing ideologies."
It was while he was completing an MBA at George Washington University that Desai took on his first research assignment in international development. The goal: reducing red tape for farmers seeking access to global markets. From that point on, Desai quit looking for a corporate job and became instead an international development analyst and manager.
A native of India, Desai had come to the United States for college and a better life. "I had seen firsthand how bribes and red tape in India killed hope. But as the son of a woman entrepreneur, I had also seen how a viable business could help people meet basic needs; providing dignity and a future. I recall how one seamstress kicked out her abusive husband because the steady job at my mother's workshop gave her the financial independence she needed to do so."
After building experience with employers like the World Bank, Desai in 2001 founded Dexis Consulting Group, which counsels on development projects around the world—80 countries in the past five years. With Desai as its president and CEO, Dexis provides management and technical services to support effective global development
for clients such as USAID, the U.S. Department of State, and the
World Bank. 
Given that it has offices on Pennsylvania Avenue (just blocks from the White House) and nearby, Dexis is right in the thick of things in the capital. The company, which grew 700 percent in five years, now has 200 employees in 10 locations around the world, roughly half of whom are in D.C. 
Dexis is at the forefront of a big transformation in foreign aid, evaluating and monitoring programs for USAID and other clients in what Desai refers to as "the golden age of accountability." Although less than one percent of the federal budget actually goes toward foreign aid  (Americans consistently overestimate that percentage), Desai feels an acute responsibility to see that taxpayer money is spent effectively. 
"Unabashedly market-oriented" is how the group describes itself at dexisonline.com. "This is the new face of development," says Desai. "It is not taboo to make money. Charity is not sustainable. Reciprocity is." 
Reciprocity sounds good, but how does the U.S. benefit from giving foreign aid? Desai explains, "Goodwill comes to mind, and certainly it's easier to make common cause with a country that we have partnered with in attaining their development goals. A second benefit is the growth of markets for U.S. goods, which is good for job creation here in the states. Other benefits depend on the specific situation."
For example, Dexis has a five-year contract to monitor and evaluate all aid going toward social programs in Honduras. That country, and its eight million people, became highly relevant to the U.S. government when large numbers of unaccompanied minors began pouring into the U.S. in recent years. Improving conditions at home not only helps Honduran children, it also reduces the number of unaccompanied minors arriving in the U.S.
Desai is very intentional about training the next generation of development workers. Each summer he brings two Macalester students to Dexis, where they gain invaluable experience; some even join the group after graduation. There are currently three other Mac alumni on the Dexis staff.
Former intern Leia Cozier '15, who works in project/contract management, has learned a great deal, she says, including how important the operations side of development is. "To have people out in the field doing the technical work, there needs to be a support team behind them so they can focus on their work and make a difference."
Javier Donoso '14, too, interned at Dexis before joining the firm. Now he works primarily in monitoring/evaluation and finance. "Mihir is great to work with," Donoso says. "He is very passionate about what he's doing, and always trying to push for more innovative ways to solve problems."
Still more Mac students got a chance to learn from Desai last spring, when a career exploration group visited Washington, D.C., and was invited to the Dexis offices. Asked for what advice he'd give Macalester students interested in development, Desai said, "Be sure to consider jobs and programs that focus on reciprocity and not charity. Eventually charity runs out and what is left is cynicism."
Desai himself is anything but cynical. He is proud that the company he founded contributes to successful international development that represents "the greatest heart of the American people."