A thriving school of elementary education once existed at Macalester. Long gone are the shouts of preschool children romping around the campus; gone, too, is the quaintly named Miss Stella Wood Center with its bright Blue Door…
In the spring of 1948 an acute shortage of elementary school teachers in Minnesota prompted a call to state liberal arts colleges from Governor Luther Youngdahl. He asked them to please produce more teachers: the Baby Boom generation was blossoming and instructors were badly needed to instruct the massive wave of toddlers nearing school age in post-war Minnesota.
Dr. Charles Turck, then president of Macalester College—which at the time had no education program—heard the plea and responded. Instead of building a department from scratch, he decided to approach one of the area's great pioneers of elementary education, the esteemed Stella Wood, with a proposal to merge. Miss Wood, then 83 years old and director for more than 50 years of her own self-named school in Minneapolis, was ready to step aside and join her school with the proper partner. Macalester looked like a good prospect.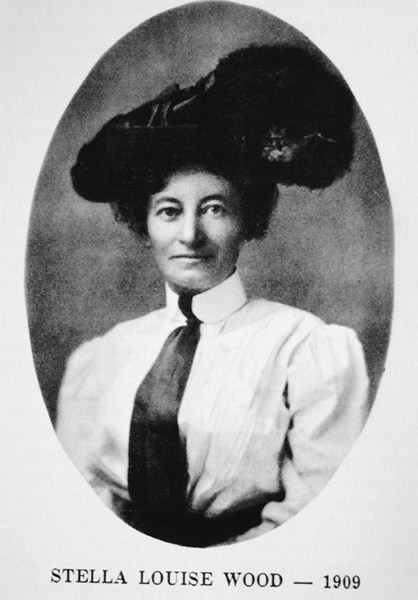 Hands were shaken; papers were signed; the deal was done. Stella Wood retired to Illinois and the Stella Wood Children's Center became the backbone of a Macalester education program that lasted for the next 30 years, linking Mac to traditions that stretched back to the very roots of elementary education in Minnesota.
Born in Chicago in 1865, Stella Louise Wood turned an early interest in teaching into a career that began in the 1880s and lasted past World War II. Educating children of kindergarten age was a new phenomenon in the 19th century, born of German educational reforms.
Wood studied the nascent profession at a Chicago normal school and later at the University of Michigan. She founded kindergarten programs in Muskegon, Mich., and Dubuque, Iowa, before being invited by the fledgling Minneapolis Kindergarten Association to teach at one of the city's three private-school kindergartens, and to establish a training program for Minnesota's elementary school teachers.
At the time, Minneapolis had no public school kindergartens; indeed, there were few such programs in the country. Kindergarten advocates, primarily reform-minded women such as Minneapolis civic leader Clara Ueland, set about to change that. They lobbied the Minneapolis School Board to establish public kindergartens and asked Stella Wood to hit the speaking circuit to talk up the idea. Just three months after her arrival in the city, a room in Minneapolis's Sheridan School was designated the city's first public kindergarten. Others were quickly added.
As the concept of public kindergartens grew more mainstream and classes spread through the state, more teachers were needed for the growing number of students. Once again, Wood took the lead, in 1905 establishing a two-year elementary teachers' training college in Minneapolis that was soon churning out skilled instructors. A laboratory kindergarten, designed for practice teaching, was created for her students in a Northeast Minneapolis settlement house.
Education classes were taught by an assortment of faculty, ranging from staff from the Minneapolis Institute of Art to the University of Minnesota. 
Remarkably, the school had no permanent home for its first 10 years. Students lived in boarding houses and classes were held at the settlement house until a more permanent site was found on an elm-shaded block of Bryant Avenue South in Minneapolis in 1917. Miss Wood's School continued to prosper and her graduates began to spread across the country.
A petite woman with wire-rimmed glasses, hair set in gray waves, and frequently sporting a boutonniere and pearls, Wood was an impeccable symbol of gentle propriety. Her reputation in elementary education grew beyond her role in Minneapolis and took on national 
significance. She was named president of the International Kindergarten Union in the late 1910s.
The Depression caused a dip in enrollment at the Wood School, and another trough came during World War II , when many would-be teachers chose instead to work in the war effort. More change was on the way: In the post-war years school districts began to prefer to hire teachers with four-year college degrees. Not only did Miss Wood not offer a bachelor's degree, but a number of area universities, most notably the University of Minnesota, did not accept the school's credits.
This was to say nothing of the fact that Stella Wood turned 80 in 1945 and the house on Bryant Avenue "was fairly coming apart at the seams," according to Wood's biography. In its 40 years, Miss Wood's School had graduated more than 2,000 students, and had alumnae in 44 states, but it was a good and necessary thing when Macalester offered to take the program under its wing.
Stella Wood retired in September 1948 as plans were being made to accept Macalester's first students in its new Children's Center. Wood never witnessed the complete merger; she died the following spring.
That fall the first 178 students arrived at Macalester to participate in the elementary education department's opening. Included in this group were a few students from other area colleges—including Carleton, St. Olaf, and Augsburg—searching for teaching credits.
Faculty and staff in the new program were drawn from the old Miss Wood school and various Macalester departments. The school's first principal was Edith Stevens, a holdover from Miss Wood. In an interview with the St. Paul Pioneer Press at the time, she philosophized on the changing qualities of a good kindergarten teacher, "People used to think if a girl could draw or play the piano a little, she was cut out for kindergarten work. Today those are incidentals. The most important thing, of course, is character—that, and personality."
The lab preschool was soon moved to Macalester as well, where it shared space in a building known as the Conservatory with the music and drama departments. A brightly painted blue door, which quickly became an icon of the children's teaching center, marked the preschool's entrance. Students were drawn largely from neighborhood and faculty families. Initially 20 kids, ages 3 and 4, were enrolled.
Aside from Miss Wood practice teachers, the preschool often drew visits from nursing students from nearby Gillette Hospital; high school seniors checking out the college's elementary education program; and Macalester students taking a break from their studies to watch the little kids at play.
The cohabitation of the Conservatory among the Music and Drama departments and the nursery led to a daily version of musical chairs. Rica Jensen Van '63, who would one day send her own children to the nursery and work there as well, was a music student during her first years at Mac. She remembers the lunchtime "switch" from playroom to risers and music stands as the kids shuffled out and the college musicians filed in.
A large and active alumnae organization flourished well into the 1990s, as proud of their connections to Miss Wood as any former students of Mr. Chips ever were. The long-published alumni newsletter kept chapter members in more than 40 states abreast of Macalester activities.
In 1960 the blue door briefly moved to a house just west of campus, as increased enrollment and expanding programs at the college limited space for the education program and its lab school. By 1965, however, the nursery school was once again back in the Conservatory.
About that same time a new leader, Jean Lyle, assumed the directorship of the Macalester College Children's Center, as the program became known, reinvigorating the institution. In 1972 she oversaw its  renaming as the Stella Louise Wood Children's Center.
Lyle remained head of the children's center until the college was forced to close it in 1979 because of budget constraints and the sad state of the Conservatory. She died unexpectedly that spring, just a few months before the school closed.
There is a coda to this story: Rica Van '63—who eventually earned a degree in elementary education—not only sent her children to the Stella Louise Wood Children's Center, she wound up student teaching there herself in the late '70s under Lyle. As the school was closing in 1980, she and colleagues Betty Hills and Maxine Simon loaded a pickup truck with bookshelves and tiny tables, wall clocks and nap mats, and hauled them a few blocks west to the basement of St. Mary's Episcopal Church in the Merriam Park neighborhood.
Today, thriving as the Jean Lyle Children's Center, the preschool still occupies that space, still employs Rica Van as codirector, and still uses the same tables, chairs, and cubbies that pupils used 65 years ago when the doors of Stella Louise Wood Children's Center first opened on the Macalester campus.