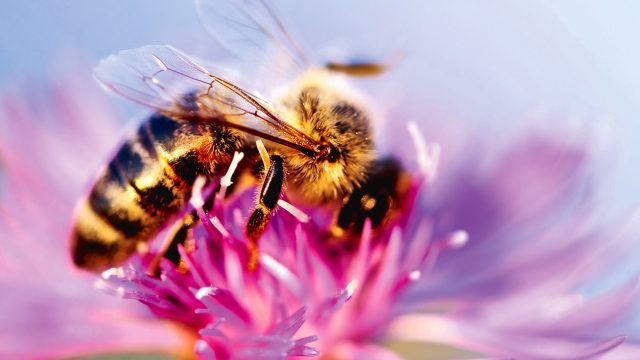 Emily Sylvestre '16 (Minneapolis) tackled an extra project during her senior year—one that will make an impact long after her graduation. Sylvestre spent the year researching, building consensus, and crafting a resolution to make Mac a more bee-friendly place. In May, thanks to her advocacy, it became the first college in Minnesota—and one of the first in the country—to become a Center for Food Safety bee-friendly campus.
Sylvestre's passion for honeybees and their role in our food system started during an internship with Erin Rupp '04, founder and executive director of Pollinate Minnesota—a nonprofit dedicated to education about bees and food systems. While working with Rupp, Sylvestre began wondering how the Mac community could advocate for bees.
The first step was persuading her environmental studies classmates to choose a pollinator theme for their senior seminar. The complexity of pollinator decline, she says, meant that the class could examine the problem from many academic angles. "Honeybees are such a huge part of our economy," Sylvestre says. "Pollinator decline is a symptom of a larger problem in our food system. Our ecosystems are breaking down."
But her efforts didn't stop there. She worked closely with Mac's facilities staff to learn about its current policies, and was happy to discover that they had completed a pesticides overhaul in 2013 with protecting pollinators in mind. Thanks to Sylvestre, facilities staff members took a further step by committing to stop using neonicotinoids (pesticides known to harm bees) and to stop buying neonicotinoid-treated plants.
Next came meetings with Mac's student government and its Sustainability Advisory Committee. Sylvestre crafted a resolution to support policies promoting education about pollinators and eliminating neonicotinoid use. Once MCSG approved the resolution, she presented it to the college's senior staff members, who also signed off on it.
For Sylvestre, it was a fitting culmination to four years of working in the sustainability office. As sustainability network coordinator, she knew how to build consensus for this resolution. "Making big, meaningful change is hard," she says. "With this, Mac is taking a stand: We need to slow down and think about how what we're doing now will affect the future."