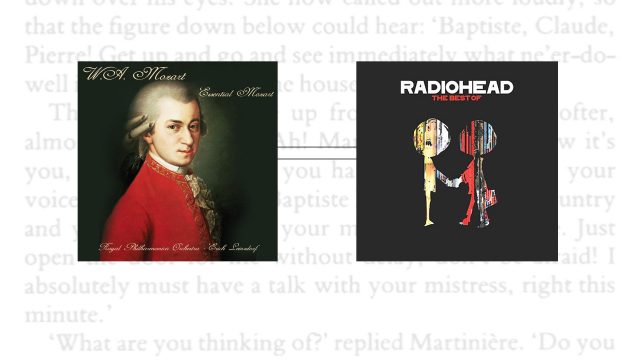 Few courses represent a more classic manifestation of the liberal arts than does the joint Music/German course Words, Music, and Other Transcendences. Taught by music professor Mark Mazullo and German studies professor Kiarina Kordela, this class offers a truly rich survey of intellectual and cultural history of the West since the 17th century.
Each week's homework includes listening—to everything from Mozart to Radiohead—as well as readings that survey multiple facets of cultural production, including fiction, architecture, and the visual arts.
The idea for the class, says Mazullo, came out of both a co-teaching initiative at Macalester and the duo's shared intellectual interests. "We hope students will gain a deeper appreciation of the ways in which art connects to ideas, to thought, to intellectual history," says Mazullo.
How that plays out in class could be anything from pianist Mazullo performing Bach to the class studying a painting by Caspar David Friedrich. Kordela, a critical theory expert, often leads discussions of the readings, which include everything from Adorno and Barthes to Thomas Mann and Freud.
One day in class, for instance, Mazullo showed a clip from the Jacques Offenbach opera Tales of Hoffmann ("Listen to the high notes this coloratura soprano can hit," he pointed out) and then Kordela led a discussion of the German author E.T.A. Hoffmann, whose short stories form the basis of that opera. Kordela's facility with the language came in handy as she defined for the class the meanings of such German words as Doppelganger, unheimlich, and Augenblick.
"Trying to match the musical and theoretical structures has been challenging," says English major Noah Borochoff-Porte '16 (Brattleboro, Vt.), "but that aspect of the class is also the most rewarding in that it pushes me to the limits of my knowledge."
Later in the term, that challenge took on a more modern turn as students read from Phonographies: Grooves in Sonic Afro-Modernity by Alexander G. Weheliye and listened to tunes from the Sun, Stax, and Motown studios, including such hits as Otis Redding's "Try a Little Tenderness" and The Temptations' "Ain't Too Proud to Beg."
"I really enjoy the interdisciplinary nature of the course," says media and cultural studies major Alya Ansari '19 (Mumbai, India). "Classes are incredibly dynamic and collaborative; the professors' diversity in expertise gives us a fuller picture of the things we discuss."
Ansari's response would delight Kordela, who says, "We hope that students will learn to discern how different cultural fields—from music, painting, architecture, literature, philosophy, psychoanalysis—are all reflections of the same socio-historical conditions."