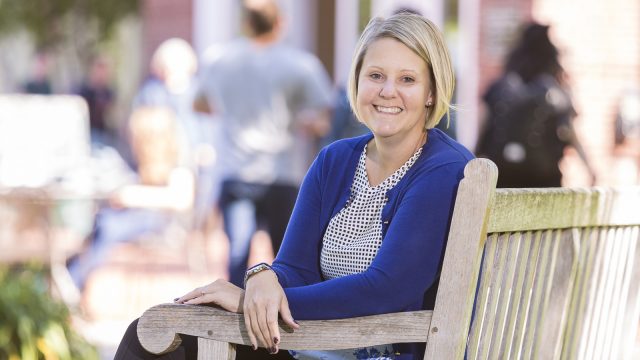 "It's our job to help students translate their liberal arts education into career opportunities."
—Mindy Deardurff
"Strengthen the connections between a liberal arts education and vocation by making more obvious and accessible the paths from the student experience at Macalester to eventual careers."
The above is one of the 11 strategic goals approved by the Macalester Board of Trustees early last year. In a major move toward making that goal a reality, the college last spring hired Mindy Deardurff to be its first Dean of the Career Development Center.
Deardurff was most recently director of the Undergraduate Business Career Center at the University of Minnesota's Carlson School of Business, where she enjoyed great success. Indeed, during her tenure the center achieved a 98 percent job placement rate for its graduates. Deardurff, who hails from the tiny town of Solen, North Dakota (population 92), has been in the Twin Cities since she arrived as a University of Minnesota freshman herself more than 20 years ago. She spent 13 years working in career services at the Carlson School. We caught up with her over the summer, as she was getting organized to start her first semester at Macalester.
Q: How did you decide to switch from a Big Ten business school to a liberal arts college?
A: Working at a liberal arts college, with all the diversity of interests among the students and a more reflective group of students, was a really exciting idea to me. Although I wasn't looking to make a change, I did know that Mac is at a place now where the Carlson School's career office had been when I started. My charge at the U was to grow services and fully integrate the career center into the student experience. We became integrated with academic advising, worked closely with faculty. I felt like I'd I had done what I could at the U of M, and the thought of being able to grow and integrate a program and think about how it relates to the strategic plan—that was exciting to me. I look forward to helping students here think about what their passions are. I'd like them to start there rather than get into that first job and then ask themselves that question.
Q: What are your top priorities for the CDC?
A: My top priorities are to develop a strong integration with Alumni Relations and alumni and to grow our employer relations and outreach area. To help with the latter function, we are hiring an assistant director of employer relations. We need to engage the local community more through the classroom and better operationalize campus recruiting. Also, in the long term I would love to have a campus-wide mentorship program and career counselors tied to certain areas on campus, such as academic divisions.

Q: What needs to change at Mac?
A: We need to integrate career services into the student experience from day one. We will be working hard to make our office a place that serves more students, and we can only do that in partnership with others on campus.

Q: How will you go about accomplishing this?
A: We'll begin by hiring additional staff to do employer relations and by evaluating our recruiting technology. After that we'll start programs like "Resumania" and on-site career development support in the Olin-Rice Science Center. And once the new Executive Director of Alumni Engagement is hired, we'll start working on additional alumni/career center partnerships.
Q: Why has career services become so important on college campuses?
A: With the cost of education, the value of education in general becomes more of a question. The outcomes for students are more important after they spend so much on a degree. Alums, parents, students—all of them are putting pressure on colleges to help students find careers, and that's especially true at liberal arts institutions that don't have direct, obvious lines to careers. It's our job to help students translate their liberal arts education into career opportunities. A big part of the strategic plan is about that. I'm a liberal arts major myself [Deardurff has a psychology degree] so I understand that process. A key thing will be to work closely with the academic departments. The relationships here among students and faculty are very strong. They're the subject matter experts, so our task will be to figure out how we can best work with them.
Q: Do you expect your job to be harder here?
A: Not harder, just different. What I heard from employers when I worked in the business school is that those students were polished and skilled but what employers really wanted were people who were good writers, creative, could deal with ambiguity, and could argue a point. And those are the qualities that liberal arts students bring to the work world. Also, we here at Macalester have the advantage of being located in the middle of a major urban area. So while they're at Mac, our students can volunteer and have internships—that's a real differentiation for us.
Q: What will be one of your chief challenges?
A: One of my biggest challenges will be figuring out a way to meet the career development needs of students while they have so many other demands on their time. Becoming fully integrated into the student experience will be a huge challenge. How do we translate that in a way that's approachable and honors Macalester students? The work we do is around lifelong career self-efficacy—whether that's grad school, Teach for America, or a job with a Fortune 500 company—it doesn't matter to us. Our job is to get students to reflect and to discern the right fit for them. We're agnostic about their choices after graduation. Our job is to get them ready to make those choices.