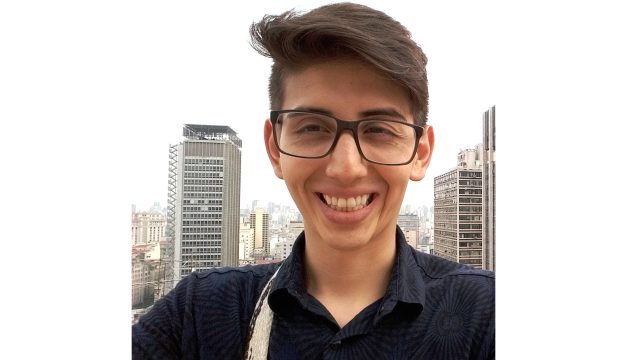 St. Paul, Minn. – Diego Melo, from Bogotá, Colombia, has received a four-year Fulbright Foreign Student Program award to pursue graduate study in the United States. Melo graduated from Macalester in 2012 with majors in Sociology and Latin American Studies.
Macalester Political Science professor Paul Dosh was Melo's advisor and Honors thesis supervisor.
"During his time at Macalester, Diego was recognized as an exemplar of the integration of academic excellence, multiculturalism, internationalism, and service to society, Macalester's core values," Dosh said.  "He won several honors, including national recognition for his undergraduate research in Sociology. A humble, bright, and talented leader in the classroom, Diego greatly enriched my classes."
The Fulbright Foreign Student Program enables graduate students, young professionals and artists from abroad to study and conduct research in the United States.
Melo sees his Fulbright as an opportunity to apply to competitive PhD programs at public universities in the U.S. such as those at the University of California, Berkeley, the University of California, Los Angeles, and the University of California, Santa Cruz.
"The award also means the opportunity to connect and network with fellow Colombians who have studied in the U.S. and have returned to Colombia to apply their knowledge and share their experiences," Melo said.
Melo is applying to PhD programs in geography.
"I am excited to learn about the earth's systems and how they relate to human societies," said Melo.  "I'm particularly interested in understanding how extractive industries have modified the natural environment in Latin America and what that means for Afrodescendent and Indigenous communities. I'm also interested in understanding how these communities have resisted the push for resource extraction in the last three decades, particularly in Colombia's Pacific coast and the Amazon."
"Colombia is also one of the most biologically diverse countries on the planet, with unique ecosystems such as the amazon rainforest and páramo biomes," Melo continued. "To me this means that it is extremely important to combine the geosystems literature with social science research methodologies to contribute to an environmentally and culturally just development for Colombia. Now that the government has signed an agreement with the FARC (Revolutionary Armed Forces of Colombia) guerillas to end a 52-year armed conflict, this kind of geographic research will be needed to keep the government accountable, in terms of ecological restoration and  judicial reparations for ethnic communities."
"Finally, and most importantly," Melo said, "I want to learn how to conduct high-quality research within the framework of human geography, its subfields (political economy and political ecology, environmental justice and politics and science and technology studies) and subfields from other related disciplines (critical race theory, human rights law and comparative-historical sociology).
When he finishes his Fulbright and PhD, Melo would like to work at a Colombian university to train the next generation of geospatial analysts, human rights advocates and environmental planners.
"As part of my Fulbright, I am required to contribute to Colombia's innovation initiatives. I'd like to do that by applying Geographic Information Systems and remote sensing technologies to assess the impact that large-scale mining has had over the entire country," he said.
"I would also like to advise Afro-Colombian and indigenous social movements, especially because many of these are defending their territories from land dispossession and resource extraction. Eventually I want to explore academic careers in other parts of Latin America and the U.S."
The Fulbright Foreign Student Program operates in more than 155 countries worldwide. Approximately 4,000 foreign students receive Fulbright scholarships each year.