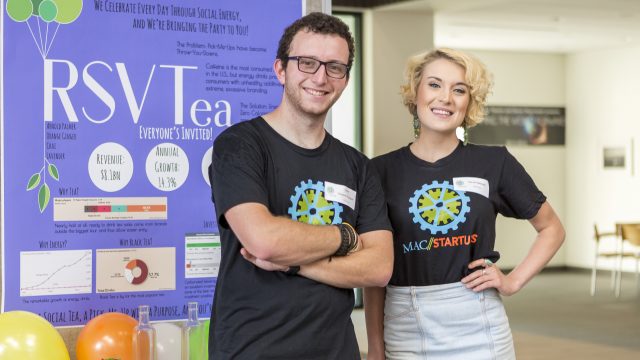 "RSVTea is a fizzy energy tea drink that hits the pick-me-up gap of taste, health and energy," Sarah Nichols '16 (Nixa, Mo.) told the crowd. "It has the same amount of caffeine as two shots of espresso but uses stevia, a natural sweetener with antioxidants and zero calories."
Leading a startup company is not for the faint of heart, Nichols and her business partner, Liam Downs-Tepper '16 (Brooklyn, N.Y.), found out this summer. The duo was part of a group of 18 Mac students who spent the season in Mac Startups—a competitive business incubator program in its third year. They were given less than 12 hours to prepare a compelling presentation of their fizzy tea product, once known as Partea! but now sporting the more sober name RSVTea.
They came through with flying colors at the next morning's meeting with local entrepreneurship group One Million Cups, so impressing the crowd with their sales pitch that they left with introductions to a beverage industry entrepreneur and a vice president for QuikTrip. "We're putting the fun into tea!" Nichols told the crowd, a claim more than borne out by the duo's fast-paced, lively pitch, complete with samples.
 After spending 10 weeks in the Innovator Space in the basement of Markim Hall, each of the seven Mac Startup teams had the chance to practice their new company's story. Through the summer they developed their ideas by working with mentors, heard from other entrepreneurs, and visited workplaces, incubators, and other inspirational sites. The final display of their work—Demo Day—will take place on Tuesday, Sept. 20, before a large crowd in Kagin Commons.
 Along the way the learning curve was steep, say the participants. They soon came to realize what so many entrepreneurs before them have: As Gloria Odoemelam '19 (Belleville, Mich.) put it, "It's easy to be engulfed by a startup!" 
The Fizzy Drink
Like each team, RSVTea's members were given free room and board at Macalester for the summer, plus an $1800 stipend and $1,000 to spend on their startup business. They used their money to buy a kegerator (a combination cooler/carbonator) and the raw ingredients to make their sweet and fizzy black tea drink.
Sarah first hatched the idea for RSVTea while spending a semester in Vienna. In that European capital's coffee culture, she discovered a fizzy green tea drink that was very popular with young people.
Soon the notion of starting a company to sell a similar drink in the U.S. "absorbed all my thoughts," says Nichols. Although she had intended to apply for law school, "Once I started thinking about this company and how fun it would be to launch it, my LSAT prep book just collected dust."
The Advisers
Kate Ryan Reiling '00, Mac's entrepreneur-in-residence, spent the summer on maternity leave. In her absence, the program was managed by entrepreneurship coordinator Jody Emmings and student program coordinator Ashley Hung '16 (Overland Park, Kan.).
Together they coordinated a complicated schedule of field trips—Midtown Global Market (full of retail entrepreneurs) with Matt Kazinka '11, Common Roots (a Minneapolis café and catering business owned by Danny Schwartzman '04), and Neon, a North Minneapolis business incubator—as well as guest lecturers, lunch meetings, and feedback sessions.
"The program has been more active than I expected," says Josh Marcus '17 (Carmel, Calif.), a member of team Constellation (an artists/creative website). "It's been interesting to see how various small businesses work," he continues. "As an entrepreneur you're constantly problem-solving and meeting different challenges. It's always: how creative can you be? How hard can you hustle?"
The Coffee CEO Alum
The South Minneapolis industrial site that is home to Peace Coffee is bright, new, and packed to the rafters with burlap bags of aromatic beans. The Mac startup students' eyes are wide as they tour the facility of this growing company—which was itself a startup 20 years ago. The tour of Peace Coffee is led by its CEO, Lee Wallace '95.
"We appreciate the work ethic required when doing a startup," says Odoemelam after the Peace Coffee tour. "Nothing will happen unless you do it."
"Getting out into the community and seeing the city, interacting with people who have started other ventures—that's been great," says Downs-Tepper.  "Everything has synergized together. I've loved seeing what Mac alums are doing out there, and how they're embodying all the values that Mac instills."
The Language Learners
"With courses in tongues from Turkish to Tagalog, we aim to create fun educational spaces and contribute to greater cross-cultural understanding in a rapidly globalizing world. Polyglot will cater to people with different language experiences, from beginners to native speakers."
Such are the aspirations of the trio of women running Polyglot, a language-learning platform for endangered and underrepresented languages. "It's kind of like Quizlet meets Rosetta Stone," said team member Becky Githinji  '18 (Memphis, Tenn.). "You can look at flashcards made by other users and listen to the sounds of the languages."
Polyglot is an open platform website, meaning that language users themselves represent their own languages and cultures rather than having an outside academic do it. The group hopes to eventually include such endangered languages as Ainu (from Hokkaido, Japan) and Ojibway, as well as underrepresented languages such as Swahili and Javanese, the latter of which, points out group member Lilian Vo '18 (Seattle), is spoken more than French, yet nearly impossible to find on the web.
This group comes by their passion for languages honestly: all are second generation Americans whose families speak languages other than English at home. "We noticed a cultural and language learning gap, and our goal is to reduce that gap," says Vo.
They started by focusing on the Hmong language and culture, since St. Paul is an internationally recognized center of that community. Despite the need to return to their studies in the fall, they were hoping to keep the project going. Says Odoemelam, "Your passion can drive your success."
The Big Leagues
On the second floor of City Center, in the heart of downtown Minneapolis, a tech incubator with far higher stakes was buzzing on a late July morning. The Mac entrepreneurs were visiting Techstars, a collection of 11 startup teams chosen from 500 who applied from across the world. Each team got a living stipend plus a $120,000 investment to make their company go. Asked one Mac student: "When's the next round of applications?"
Techstars has business incubators in cities across the world; in each they partner with a local business. Here in Minneapolis the Techstars program is a retail accelerator partnering with Target Corporation. And one of the key liaisons between the two is Audrey Kohout '14, who has worked for Target since graduation.
Kohout, a senior innovation project manager, helped each team meet with 150 mentors—many of them Target employees—as they sought to find the best five to ten mentors to guide them through the three-month program. She also got team members out socializing in the cities, all of which took her up to 80 hours a week. "Yes, I work a lot, but it's not investment banking hours—and it's way more fun," she says.
Kohout set her sights on the entrepreneurship area when she studied the topic with economics professor Joyce Minor '88.  She positioned herself for her current job from her first days at Target, she says, taking on roles that would lead her to this point, such as doing robotics testing with startups in San Francisco. It's an understatement to say that she loves where she has landed. "The engagement between Target employees and the teams is amazing," she says. "It's really exciting to come to work every day."
The Future
So what's next for Mac Startups? Well, Ryan Reiling will be leading the group next summer, of course, when she hopes to get students engaged more deeply in the Twin Cities entrepreneurial community. "There are so many events, organizations, and individuals with whom they can connect," says Ryan Reiling, "and we always hear great feedback when people have the chance to meet our students." She also hopes to introduce Mac Startup students to Macalester faculty and staff who are engaged or interested in entrepreneurial work.
Overall, says Emmings, feedback from students and mentors showed, "We were very successful this year." Among the triumphs: "They overcame their fears, explored their limits, and really bonded as a cohort."
About half of last summer's teams may actually go on to launch their startup, she says, although she cautions this is only one gauge of success. Says Emmings, "The process of exploring the world of entrepreneurship, trying it on, learning how to work with a team, figuring out how to deal with the ambiguity and fluidity of it—that's where the real value is."