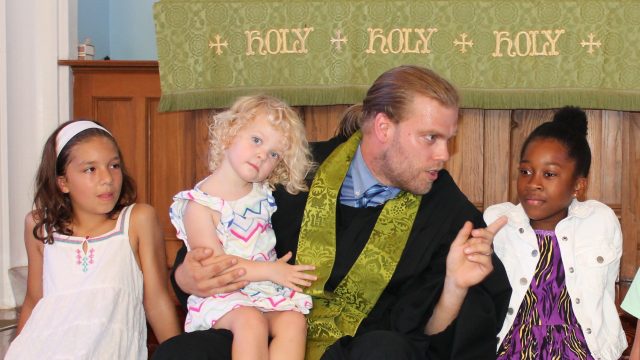 "It seemed that there might be a place for a theologically progressive Protestant church. There were people who were looking for a context for doing service work and a place where they and their children could wrestle with big questions." –Andrew Greenhaw '06, Pastor, St. Paul's United Church of Christ
The city of New Orleans is shaped like a bowl, so being close to the banks of the Mississippi River puts you on the lip of the bowl, relatively high ground.  It was its location near the river bank that saved St. Paul's United Church of Christ from the flooding suffered by 80 percent of the city in 2005 when Hurricane Katrina hit and more than 50 levees and flood walls failed.
"The church suffered damage from the storm, but not the manmade disaster of the inadequate levees," says Andrew Greenhaw '06, pastor of St. Paul's, a 100-year-old church in urban New Orleans. People still talk about "before the storm" and "after the storm" according to Greenhaw, but that's not the challenge that brought Greenhaw to the parish.
St. Paul's UCC was founded by German Americans early in the 20th century to serve a working class and middle class neighborhood, but like too many urban churches, it was dying a slow death.
"When I arrived, the church averaged about six people for worship on a Sunday morning, half of whom were over 80," says Greenhaw. "However, the church still had modest financial assets, a well-maintained building, and was in the middle of a neighborhood that was becoming revitalized after Katrina."
In 2013, Greenhaw, just graduated from the Pacific School of Religion (PSR), was hired as a one-year intern to study the church and the neighborhood, and to suggest whether or not this congregation might have a future. After serving on staff at a large church in Berkeley, California, Greenhaw relished the opportunity to head up this project.
"I used a demographic software tool called MissionInsite to study the area, did 60 one-to-one interviews in the community, and visited a number of other churches in the area to get a feel for the community and the religious ecology of the surrounding area," says Greenhaw.  "This research convinced me that there was need for a theologically progressive church with strong children's programming and a commitment to serving the community. I compiled a proposal for St. Paul's UCC with the tag line: 'St.  Paul's is called to be a child-centered and service-oriented church where we believe God is still speaking.' At the end of his internship, the church adopted the proposal and called Greenhaw as their pastor.
Today average Sunday worship attendance is 35. "We have a Sunday School program for kids 3 to 12 and a Children's Church worship program," explains Greenhaw. "We run three day camps for kids each year, and throw an annual Halloween party. We've launched our Partners in Ministry program, which forms ongoing partnerships with organizations we feel are doing God's work in New Orleans."
A bit of an anomaly, St. Paul's neighborhood is 85 percent white in a city that's 60 percent black, a city that struggles with the effects of poverty. Every third Saturday volunteers from St. Paul's work with Capstone Community Gardens and Orchards, which grows and provides free or low-cost food to residents of the Lower 9th Ward, which was devastated by the storm surge related to Katrina. They have also worked with the St. Bernard Project (now known as SBP), which rebuilds homes following disasters.
At home in their church St. Paul's offers yoga classes, a mothers prayer group, weekly dinners and in the fall, the church's annual Jazz and Jambalaya fundraiser.
Greenhaw's work as a pastor might be characterized as joining the family business. He grew up around seminaries; his father, David Greenhaw, heads Eden Theological Seminary in St. Louis. However, a career in the church was anything but a foregone conclusion.
"I didn't know what to do when I graduated," says Greenhaw, who majored in sociology at Macalester. "I worked as an AmeriCorps VISTA volunteer and came home broke. Then I spent two years as a laborer in construction and really liked it—it gave me lots of time to read." All that reading led him to graduate school at the Pacific School of Religion in Berkeley, where he started off in the master's track, thinking he might teach. (His mother, Leigh Greenhaw, also an academic, is a professor at Washington University Law School.) The other track at PSR was the master of divinity (MDiv) degree for people headed for the ministry. As he continued his study, Greenhaw began to reconsider his career direction.
"I really admired and respected the MDiv students and found myself wondering, 'Why am I not doing that?'"
Also, Greenhaw noted a difference between the scholars and the imams, rabbis, and ministers. "The scholars said things like 'they' believe this, or 'they' do that. 'They' versus 'we.' I realized it was disingenuous of me to speak of Christians as 'they.' I was and wanted to be a part of Christianity." So he switched to the MDiv path.
Upon graduation, Greenhaw, who had an innate interest in urban churches, applied for the internship at St. Paul's. In June 2013, he moved to New Orleans and that July he married fellow PSR alumna Rev. Shannon Smith, who now serves First Christian Church of Slidell, La.
Under no illusion that he already knew it all, Greenhaw used MissionInsite to run an array of demographic reports; he conducted dozens of interviews; took an online course on church development, and listened carefully to the steadfast members of St. Paul's as well as the neighbors who might be interested in St. Paul's.
"The religious ecology of New Orleans is Catholic and Baptist," says Greenhaw, "but it seemed that there might be a place for a theologically progressive Protestant church. There were people who were looking for a context for doing service work and a place where they and their children could wrestle with big questions." The subsequent growth of St. Paul's suggests he was right.
As for New Orleans itself, "The biggest challenge in New Orleans now is the economy," says Greenhaw. "Much of the oil money has moved to Houston and the jobs in tourism are primarily service jobs, many of which are part-time and offer no benefits.
"But we are a wonderfully diverse city with an historic and proud African American community. The cultural traditions here are phenomenal. One of the local radio stations regularly announces the evening's live performances and the list goes on and on—even on a Tuesday night. There is a positive feeling: New Orleans is coming back."
Just like historic St. Paul's Church.