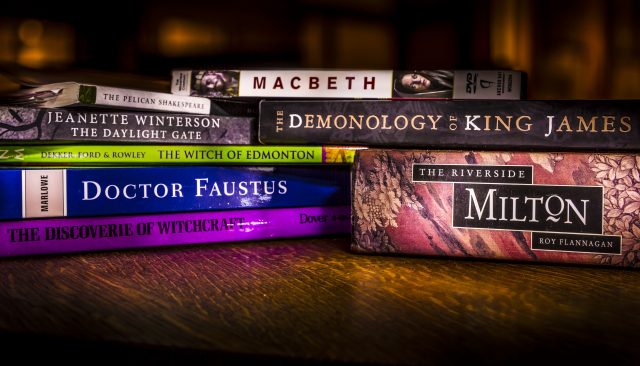 "Using the lens of the supernatural when discussing [Macbeth], and seeing how Christianity influenced Shakespeare, have been really rewarding." 
—Zane Vorhes-Gripp '17
Class hasn't yet begun, but students are already discussing the reading material: Book I of John Milton's Paradise Lost. The text is dense and filled with allusions to the likes of Virgil, Homer and the Bible. The course: Demonology. 
In addition to her interest in Early Modern English literature, Professor Penelope Geng is intrigued by scifi, horror and the occult—interests she shares with many of her students; interests they share with writers Christopher Marlowe, William Shakespeare, John Milton and others who lived hundreds of years before them. 
 In 1597, King James I, who commissioned the King James Bible, wrote Daemonologie, which sanctions the persecution of men and women who practice witchcraft and necromancy (communication with the dead). In Doctor Faustus, Marlowe features a scholar who sells his soul to Lucifer in return for immortal knowledge. In Macbeth, famous for its witches, Shakespeare explores themes of prophecy and predestination. 
"This course is my attempt to get students familiar with post-Reformation English literature," says Geng. "It's a window into some of the greatest literature of that 200-year period. We situate the texts in their historical context as well as analyze what makes this scene or that line particularly dramatic or beautiful." 
Over the semester, students study nine works plus supplementary materials, some as well-known as Paradise Lost, others more obscure like The Witch of Edmonton by William Rowley, Thomas Dekker and John Ford. 
The course considers questions such as How do these works reflect the pervasive anxiety about the Reformation and the English civil war? What was to be done about 'unruly' women who challenged gender norms and the existing social structure? 
"Early Modern literature texts are generally dominated by male voices and driven by narratives of masculinity," says English major Ava Bindas '17 (Wayzata, Minn.). "Reading The Witch of Edmonton challenged my assumption that women's experiences were absent from Early Modern writing, as this domestic tragedy points out the damning, and sometimes deadly, social standards early modern women navigated."  
"The most interesting reading thus far has been Macbeth," says English major Zane Vorhes-Gripp '17 (Pittsburgh, Pa.). "Using the lens of the supernatural when discussing the play, and seeing how Christianity influenced Shakespeare, have been really rewarding." 
Geng has been impressed by the empathy and open-mindedness of the students, who are reading many different kinds of works including drama, prose, novella, and epic poetry. For context, Geng provides images of the writers and key historical figures from galleries around the world, including London's National Portrait Gallery. A field trip is planned to Mia (the Minneapolis Institute of Art) for the exhibition Martin Luther: Art and the Reformation—one of the perks of going to college in the city, surrounded by a wealth of cultural institutions. 
"On the one hand, we can analyze witchcraft from the social and political standpoint," says Vorhes-Gripp. "On the other, we have to consider witchcraft as a real force and a real phenomenon, because that's how early modern English people approached witchcraft."