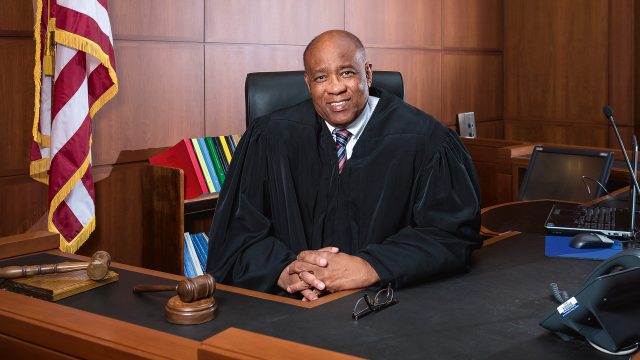 The first thing you notice about U.S. District Judge Michael Davis '69 is his height. He's six feet five and a half inches tall. And then you notice this quality, this sense of quiet gravity. He doesn't crack jokes. His laugh, when he laughs, is more of a low rumble. He speaks deliberately, not off the cuff. In the courtroom, wearing the vaunted black robe and occasionally removing his glasses to make a point, his voice booms.
"You shouldn't be here," he told a contrite defendant during a recent sentencing.
Davis's chambers are cluttered with cultural artifacts, photos of friends and family, and mementoes of big moments. Near his desk hangs a prized photo of Thurgood Marshall at the time he argued Brown vs. Board of Education, before serving on the Supreme Court. Marshall stands on the courthouse steps, the words "Equal justice under law" carved into the building behind him.
The first black federal judge in Minnesota, Davis, says those who know him, is compassionate, even-tempered, and imposing. He has spent more than three decades on the bench trying to make the court system fairer to poor people and minorities and to lessen the mystique and mistrust surrounding it.
"That has been my fight and will continue to be my fight," says Davis, 69, who took senior status, or semi-retirement, in 2015, after serving as chief judge for seven years. He still handles a nearly full caseload. "Some people think you can achieve it and then move on to something else. No. We are always dealing with issues of unfairness, bias, prejudice, and so those are issues that I will always be a foot soldier fighting for."
Davis has worked to diversify the ranks of the federal court; launched the Pro Se Project with the Minnesota chapter of the Federal Bar Association (which matches poor federal civil litigants with free attorneys); served as editorial chair for the Minnesota Supreme Court's 1993 Task Force on Racial Bias report; and helped curate public presentations lauding female jurists, Asian jurists, Hispanic jurists, Jewish lawyers under the Third Reich, Native American treaty rights, Marshall's legacy, and Dred and Harriet Scott.
"He sets the standard very high," says U.S. District Judge Donovan Frank, a friend and colleague. "As a person and a judge, he has the passion and compassion to give true meaning to the words 'equal justice under law.' He has this unparalleled commitment to the advancement of civil and human rights." And, "He is willing to stand tall on those issues even if it's unpopular."
Known for Important Rulings
In 1997, Davis made a ruling that went all the way to the U.S. Supreme Court, confirming hunting, fishing, and gathering rights for the Mille Lacs band of Ojibwe on land ceded by treaty in the 1800s. "That is very, very important because Native American people have had the worst history of any group in this country with how they have been subjugated," Davis says.
More recently he presided over the cases of nine young men charged with conspiring to support ISIL. In order to sentence them fairly, Davis requested an analysis of rulings in similar cases. He also enlisted the assistance of a German de-radicalization expert, who assessed the men to determine motive, risk, and the potential for rehabilitation, launching the country's first Terrorism Disengagement and Deradicalization Program. Davis, who served on the Foreign Intelligence Surveillance Court before and after the 9/11 attacks, wanted this information so he could view each defendant as an individual.
Davis has an "uncanny ability to decide," says friend and colleague Hennepin County District Court Judge Pamela Alexander. "There are a lot of judges who have trouble deciding." But most impressive, she says, "is his ability to listen, relate, and apply his own circumstances to how he may view a situation. He is able to listen to many sides."
Raised to Excel
Davis was born in Cincinnati, Ohio, but raised—along with a brother— mainly by their mother, Doris Ruth Smith Davis, in Aurora, Illinois. "The major person in my life is my mother," says Davis, who describes her as both a hero and the love of his life. "She was an extremely strong person." She made sure both her sons were well educated. Davis's brother, who became a doctor of statistics, "is the smarter one," he says.
Two of Davis's great-grandfathers were slaves. One, Nathan Hughes, escaped Kentucky and moved to Illinois, where he fought with the "colored troops" during the Civil War. That history loomed large in Davis's childhood. "Neither you nor I can even imagine escaping being a slave and then joining the army when you are not even a citizen, to fight," he says. "Here is a country that enslaved your parents, enslaved you, and then you escaped to freedom and fought to make sure it became a country that fulfilled its dream of liberty for all."
An accomplished high school student, Davis applied to Macalester and in 1965 toured the campus with his mother. He had never visited Minnesota before, but at the time the University of Minnesota football team had a black quarterback named Sandy Stephens, "one of the few black quarterbacks who played college football," says Davis. "For that to occur, you say, hey, that must be an enlightened place." Macalester offered him a full scholarship.
Influenced by Humphrey
He studied political science and economics. Then, everything changed. Davis and another student organized an "Urban Crisis Symposium" at Macalester in 1969 and invited as its keynote speaker, Hubert Humphrey, who had just lost the presidential election to Richard Nixon.
"We were surprised that so soon after the election he would even think of it," Davis remembers. "He is one of the brightest individuals I have ever met. He was the architect that changed this country, coming up with so many different programs. He was the majority leader that got through the 1964 civil rights bill."
As has happened so many times in Davis's life, Humphrey took an interest in him. "People watched me during my career, who I didn't know were watching me, and gave me great recommendations, and allowed me to move to where I am now," Davis says. "Because they saw my integrity, my advocacy for fairness and justice." Humphrey suggested to Davis that he should attend law school.
Davis followed his advice, graduating from the University of Minnesota Law School in 1972. While there, he met his wife, attorney Sara Wahl—the daughter of Rosalie Wahl, the first woman to serve on the Minnesota Supreme Court. They were married in 1980 and have two sons—Michael, a student of public policy at the Humphrey School of Public Affairs, and Alexander, a lawyer clerking for Judge Alexander.
As an attorney, Davis was a fierce advocate, working at the Legal Rights Center in Minneapolis, the Neighborhood Justice Center in St. Paul, and the Hennepin County Public Defender's office. Davis calls his years at the Legal Rights Center the most important of his career, "never to be surpassed."
There he worked with Judge Alexander, who was struck by Davis's "obvious dedication to social justice. We both grew up in the 1960s. We were very concerned about equal rights and equal representation, which I think is what motivated us to go to law school. Our interests were aligned."
Appointed to Judiciary
Both applied to be state court judges. "I thought all along that he would make a great judge," Alexander says. "When you think about it, look at him—he looks like a judge. You can feel it." In 1983 then-Governor Rudy Perpich appointed Alexander and Davis to the bench on the same day.
The transition from advocate to arbiter was challenging, Alexander says, but adds, "I was fortunate to go through it with one of my best friends." Together they addressed equal access and justice issues in the Hennepin County District Court system and implemented bias and sexual harassment training for judges and staff.
At the urging of the late Senator Paul Wellstone, then-President Bill Clinton in 1993 nominated Davis for the federal bench. Davis remembers sitting across from the late Senator Strom Thurmond during the confirmation process. "He was anti-Hubert Humphrey and anti-civil rights and anti-black voting rights and not a popular person to me," Davis says. "Of course, I knew he was on the Senate Judiciary Committee, but I hoped he wouldn't show up. It would be my nightmare, to be questioned by him." Thurmond did make a last-minute appearance, spoke in support of a particular candidate, says Davis, "looked at the rest of us and left."
On the federal bench, and especially while serving as chief judge, Davis has tried to rebuild community trust in the justice system through inclusion. In particular, he has reached out to kids as part of the Open Doors to Federal Courts program. "I have worked up from the community and I know exactly what's happening," Davis says. "And especially when I start talking to young kids, who say they don't have the idea of being able to dream past their 18th birthdays because so many of their friends and relatives are dying. We have to change the whole fabric of what's going on."
Judge Frank, who also works with the program, says, "Whether you are talking to an adult or a child, with a fancy education or no education, no matter what your background is, they can tell when you care and when you are listening. [Davis] would look at them and say, 'If I can do it, you can do it.'…I think it's hard to measure how that improves not just the lives of people, but their attitude. It gives people so much hope."
Davis has received many awards, including an honorary Doctor of Laws degree from Macalester, the Trailblazer Award from the Minneapolis Urban League, and most recently, the Sarah T. Hughes civil rights award from the Federal Bar Association.
He has no plans to fully retire. There is so much still to do. "I have been motivated by trying to make a small contribution toward making this country a better place," he says. "So I will continue. It's an ongoing process. There is no end to us trying to make the human condition in the United States better for all."