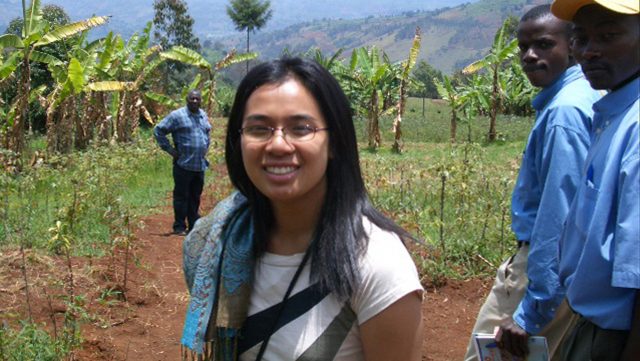 "Whether I work on human rights or refugee issues, it's an amazing feeling to know that I'm serving my country." –Isabelle Chan '06 
As far back as high school, Isabelle Chan '06 was drawn to international work, so her physics teacher recommended Macalester. Today she speaks Cambodian, French, Spanish, Hindi and Korean in addition to English. She has worked for the State Department in India, South Korea, and now Pakistan—all countries of high priority to the U.S. government.
It's a richly rewarding path, but hardly an easy one.
Chan was born in France to parents who were refugees from Cambodia. The family came to the United States steeped in the belief that education and hard work would be their keys to the future. Armed with those values, Chan made the most of Macalester, not only academically in international studies and political science, but in extracurricular work at the Center for Victims of Torture, the Immigrant Law Center of Minnesota, and in organizing a symposium on human trafficking.
At Macalester Chan found mentors to help her attain her goals. Karla Benson Rutten (then of the Department of Multicultural Life) and international studies professor Ahmed Samatar (her advisor) pointed Chan toward opportunities, encouraged her, and wrote recommendations. One such opportunity was the Public Policy and Leadership Conference held at Harvard's Kennedy School to inspire "talented, driven, and diverse first- and second-year undergraduate students to pursue careers in public service." There Chan learned about the Institute for International Public Policy, a prestigious, five-year fellowship that works to bring diverse perspectives to international affairs through summer academic institutes, study abroad, intensive language training, internships, and graduate school. She applied and became an IIPP Fellow.
As graduation approached, Mac anthropology professor Dianna Shandy helped Chan gear up for her first post-Macalester positions, interning in the area of anti-child trafficking in Phnom Penh, Cambodia, then working on gender-based violence, community-led reconstruction, and health programs with the International Rescue Committee in the Democratic Republic of Congo (DRC), a country challenged by civil war, poverty, and corruption.
From humanitarian work to policy
"Working in the DRC helped me realize the social and political dynamics at play when doing humanitarian work. There are historical issues, policy priorities, and donor interests that are constantly at play and need to be negotiated," says Chan. "I came out of Macalester wanting to make an impact on the world and thinking we would work to empower communities and do programming that made the most sense for them. In the DRC, I learned to be more realistic. I had to learn how to negotiate with Congolese officials who were more concerned about their self-interests rather than those of their under-served communities, and how to navigate between donor priorities and the realities and needs on the ground.
Two years in the DRC led Chan to want to do more in policy. "When I was a humanitarian worker, donors would set priorities and tell us how they wanted to spend their foreign assistance. Too often though, these decision-makers didn't understand the realities on the ground and what the real needs were. So I wanted to take my experience in the humanitarian field and be a part of shaping policy."
To that end, Chan earned a master in public policy degree at Harvard's Kennedy School of Government where her master's thesis on tackling the demand side of child sex trafficking in Cambodia received the Best Policy Analysis Exercise Award in 2010. She then joined the State Department as a Rangel Fellow. Rangel fellowships prepare young people, especially members from historically underrepresented groups, for careers in the Foreign Service.
Chan's first assignment was as political and consular officer at the U.S. Embassy in New Delhi, where she served as the embassy's principal advisor on human rights, human trafficking, women's empowerment and Bhutan. She was selected by the ambassador as one of the leads supporting visits by the U.S. Secretary of State.
Following two years in India, Chan became political officer at the embassy in Seoul, South Korea, where she continued her work in human rights, women's empowerment, and human trafficking. She also collaborated with the Korean government and the UN High Commissioner for Refugees in developing the Republic of Korea's first refugee resettlement program.
Supporting access to justice in Pakistan
In July 2016, Chan was off to Islamabad, Pakistan, where she serves as the principal liaison to the Pakistani government for more than $100 million in police assistance programs. "Our objective is to promote law enforcement reform and capacity building for civilian law enforcement agencies in Pakistan," says Chan. "We work with our partners to fight injustice and promote laws and justice systems that are fair, legitimate and accountable. We believe that by strengthening the police in their professional standards and ability to deliver services to the public, Pakistan can become safer and more stable."
Chan finds public service highly gratifying. "I love this job because every two to three years, I'm in a different country, doing a different job, and there's a public purpose behind it. Whether I work on human rights or refugee issues, it's an amazing feeling to know that I'm serving my country. It's been a life-changing experience."
Working with the State Department enables Chan to have an impact on issues close to her heart including women's rights and human trafficking. She also finds it very rewarding to be able to help U.S. citizens who sometimes find themselves in difficult and distressing situations far from home.
Sometimes her work takes Chan to unsettled parts of the world, but she feels reassured by the abilities of her colleagues to keep her safe, so she can do her job. "We have a great security team," says Chan. "When we go out to meetings, they help us assess the risks and take the necessary precautions to keep us safe while helping us do our jobs." The hardest part of the job, she says, is being far from family at home.
For students interested in the State Department, Chan shares the advice she gave her own sister:
"Explore your different interests first, for example, working with an NGO or living abroad, to determine if the State Department and international work is what you really want. The State Department has a long and competitive application process, and the more you can show you have really put some thought into what the Foreign Service lifestyle is, the better."
Regardless of career path, Chan says, "In this globally interconnected world, Americans can no longer afford to live isolated and think that our policy decisions don't impact the rest of the world. As a result, we as Americans have a responsibility to get informed, both about global and domestic issues, so that we understand the implications of our actions on the rest of the world."