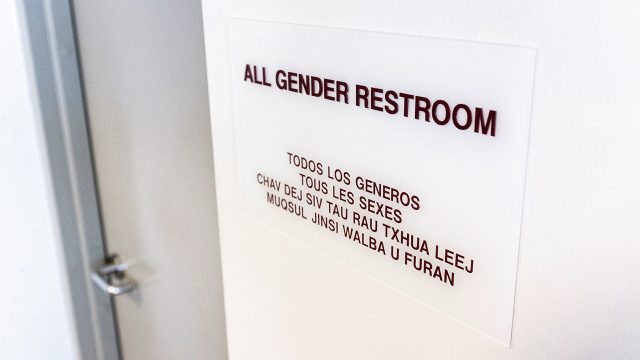 Among Macalester's deeply held convictions are the value of diversity and the commitment to inclusive community. As part of living out those values, every building on campus now includes at least one single stall or all-gender restroom for the comfort and safety of our students, staff, and faculty who identify as transgender, genderqueer, and/or gender non-conforming.
The Leonard Center has an all-gender locker room and—taking the NCAA's position on transgender inclusion as a starting point— Macalester is committed to the rights of transgender and gender nonconforming students to participate fully and safely in all campus activities, including exercise and athletics.
When applying for housing, new students can indicate information about gender. All-gender housing options are available for first-year students in Doty, and for upper-class students in All-Gender House, language houses, the Veggie Coop, and other residential options.
Over the years, initiatives by staff and trans students have helped make trans individuals feel welcome and comfortable on campus, but responsibility for these efforts became an official part of the job description when Demetrius Colvin, assistant director of the Lealtad- Suzuki Center, was hired in 2012. "We don't make changes just to benefit trans students," says Colvin. "We make changes because being inclusive is a core Macalester value."
When inviting people to introduce themselves at meetings or in classes, one of the ways Colvin and others seek to make everyone comfortable is to include this sentence: "If you use a gender pronoun, feel free to share it." People are then free to say, I use she, her, hers, he, him, his, they, them, theirs, or the less familiar ze, zim, zis.
"Sometimes people ask if everyone appears to be cisgender [i.e., their self-identity matches their biology], why bother?" says Colvin. "It's because you can't tell just by looking at someone. If you want to be multicultural or intercultural, you don't only ask for personal gender pronouns—PGPs—when it looks like it's needed. It's part of structuring the environment to do what's right, to be culturally competent."