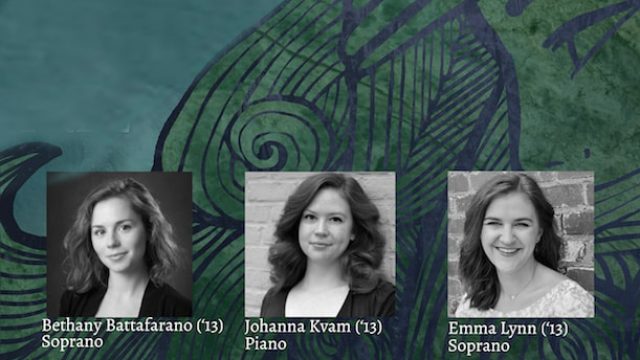 Music is a notably challenging career to enter after college. But not impossible, say three recent Mac grads, all of whom have made successful starts in that competitive world. The trio, members of the Class of 2013, will be on campus this week to share their work and their stories.
Bethany Battafarano '13, Emma Rose Lynn '13, and Johanna Kvam '13 return to Mac for a two-day residency Nov. 9 and 10, culminating in the recital SEEN/UNSEEN on Thursday, Nov. 10, at 8 p.m. in Mairs Concert Hall.
The concert will include Lynn's premier of a five-song cycle by E. E. Cummings, composed by music professor and chair Victoria Malawey. Says Lynn, "I've been so excited about this because I love the process of working with living composers and bringing new works to life." Other pieces to be performed are those often overlooked in the canon, including works by Lili Boulanger and Hugo Wolf.
In addition to the concert, the trio will speak to a first-year music course, visit the Concert Choir, talk with students at an informal lunch, and host an open rehearsal.
Lynn, who is completing a master's degree in voice at the University of Oregon, founded the Seattle chapter of Groupmuse, an organization that puts on chamber music house parties. Battafarano has performed with nearly every highly regarded vocal group in the Twin Cities, including the Rose Ensemble and the Minnesota Chorale. Kvam is a two-time recipient of the Clara Ascherfeld Award in Accompanying and a recent graduate of the Peabody Conservatory's Vocal Accompanying MM program.
Although the returning musicians admit their field isn't an easy one, they come bearing helpful advice for current students. One such contribution, from Lynn, is especially reassuring: "A liberal arts education is the best thing you could possibly do for yourself if you're thinking about pursuing a career in music," she says. "Macalester taught me how to learn quickly, with depth and accuracy, but most importantly, it instilled in me the knowledge that I have the power to affect great change through personal actions.
"I'll never stop reaching for new ways to experience and shape the world through music."