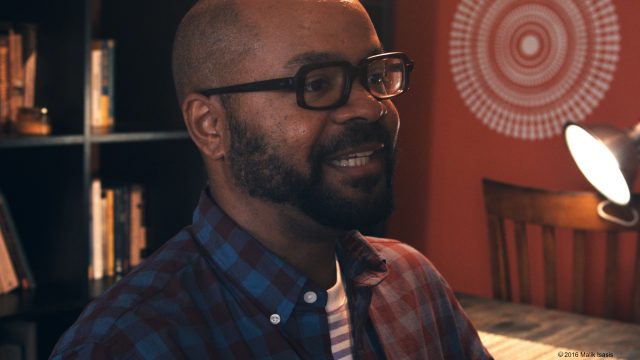 It's not unusual for teenagers to immerse themselves in the world of comics and superheroes. What is unusual is to develop a scholarly interest in the subject, publish a book in that realm, and become assistant professor of African American literature at a major university. But that's exactly what andré carrington '03 has done.
The university is Drexel University in Philadelphia. The book is Speculative Blackness: The Future of Race in Science Fiction. The pathway there? That story is a little longer.
But first, about the all-lowercase name—andré carrington. "It's a stylistic and aesthetic choice, plus it distinguishes me from my father, who has the same name."
In his Maryland high school, carrington worked in the guidance office where he absorbed sufficient information about colleges to know he wanted a small, liberal arts college, ultimately Macalester. He applied to the Mellon Mays Undergraduate Fellowship program at Macalester and was accepted. The MMUF seeks to increase diversity among faculty in higher education by supporting students from underrepresented groups and others who share the goal of diversity in higher ed.
Being a Mellon Fellow fit perfectly with carrington's ambitions. "It made college more deliberate and fulfilling. I researched topics I was innately interested in with my mentor [American studies professor] Duchess Harris. She helped me see under the hood of higher education." He went on to earn his PhD in American studies at New York University.
A faculty member in the Department of English and Philosophy since 2012, carrington teaches courses on African American and Global Black Literature; Black Liberation Movements; LGBT Literature & Culture; Comics & Graphic Novels; Science Fiction; and Literary Theory. His research focuses on the cultural politics of race, gender and genre in what is known as speculative fiction, which includes utopia, science fiction, and fantasy.
The importance of science fiction and fantasy
Some question why these popular genres should be taken seriously in academia. The explanation is obvious to carrington: "Science fiction and fantasy are a way of thinking about what kind of society we want to live in in the future, or a way of re-imagining the past."
Fifty years ago the original Star Trek series debuted, bringing one of the first multiracial casts to television. "It wasn't just a matter of Black or Asian American viewers being able to see themselves," says carrington. "It opened wider the door to acting and writing for people of color, and it makes imagining the future a viable job for us to do."
"The huge impact of Star Trek means that we'll never stop writing and talking about it," says carrington, "just as we'll never stop writing and talking about Abraham Lincoln or Jane Austen."
His own favorite sci-fi writers are Samuel Delany and Octavia Butler, but "what stays with me the most is Ray Bradbury's The Martian Chronicles because it has been so influential."
Looking ahead
Carrington was recently awarded Drexel's Career Development Award, which comes with a grant to support collaboration with faculty at other institutions. In the coming year, he and Professor Alex Weheliye at Northwestern University will be staging a series of dialogues on Afrofuturism and sound studies, the latter of which involves studying radio plays, an early venue for speculative fiction.
In addition to his recently released book, carrington has published a number of articles and often serves as a peer reviewer for journals. He is a member of the board of directors for the Center of Lesbian and Gay Studies for which he co-organized the first Queers & Comics international conference in 2015.
Carrington maintains strong ties with his Mellon network nationally and at Macalester. Programs such as MMUF help to address one of carrington's concerns—the cost of higher education. He notes that being a professor doesn't make you immune: "I'm still paying off my student loans."
In June, as a Scholar-in-Residence, carrington shared his experience at Macalester's summer seminar for Mellon Fellows. "The things I learned at Macalester are real and concrete," says carrington. "I came out of Macalester with a leg up on my academic career."
To read more about carrington's "intellectual comings and goings" and his extracurricular interests such as #BuildBlackFutures, check out his blog at andrecarringtonphd.com.