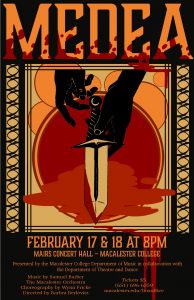 St. Paul, Minn. – The Macalester Theatre and Dance and Music Departments are collaborating in a co-presentation of a distinctive interdisciplinary production of MEDEA.  Performances are February 17 and 18, at 8 p.m., in Mairs Concert Hall, Music Building, Janet Wallace Fine Arts Center, 130 Macalester Street, St. Paul, Minn. Tickets are $5. For ticket information call 651-696-6359 or go online to Macalester.edu/boxoffice.
Medea says, "I have reached your heart and that is right." It is a play of two worlds colliding. A world that is cold, calculated, and materialistic, with a definitive sense of right and wrong, battling with the world of instinct, emotion and the inexplicable. This is a story of survival. Medea fights for herself. It's not a feminist play, but a play about demanding equality, respect, and dignity no matter whom or what you are. In all of her actions, Medea is reaching out, is telling the world "I shall be."
The music by Samuel Barber (originally commissioned as a ballet for Martha Graham) will be performed by the full Macalester Orchestra, conducted by Director of Instrumental Activities Mark Mandarano, together with original choreography by Director of Dance Wynn Fricke interspersed with scenes from the play by Euripides, translated and adapted by guest director Barbra Berlovitz.
Berlovitz co-founded the 2005 Tony award-winning Theatre de la Jeune Lune, and for 25 years while co-artistic director of the company, she wrote, acted, directed and taught there. She is currently affiliate faculty at the University of Minnesota, Macalester and Augsburg Colleges.