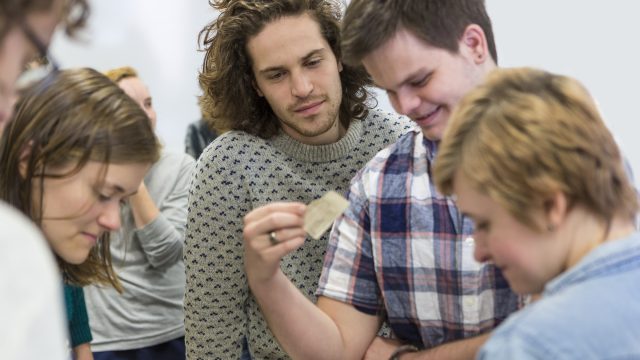 "We've learned how complex a museum is. All those viewpoints make for a more well-rounded experience." —Sara Ludewig '17
"Yes! You can touch everything!" art history professor Vanessa Rousseau tells the students clustered around a table of artifacts. Some of the items are identified in detail; others come with no information. Students pore over them, examining porcelain dolls, a terra-cotta head, potsherds, and a glass bottle that Rousseau reveals is from Turkey and nearly 2,000 years old.
Then the conversation segues into bigger questions: Which kinds of artifacts should be kept? Which curated? How do items circulate in personal and institutional collections—and who decides what will be displayed?
This is untitled (Museums), a new hands-on course that examines what it takes to create and operate museums of all types and sizes. Rousseau teaches the course with anthropology professor Scott Legge. Because the syllabus explores so many angles of museum studies, the class counts toward art, anthropology, and classics majors—and the class roster represents an even broader mix of disciplines.
Macalester's location adds another layer to the learning. Many class sessions feature a guest speaker from one of the Twin Cities' many museums. Students also took field trips, including meeting with the Weisman Art Museum's director and delving into the Science Museum of Minnesota's archives and storage. "It's really different than just reading a textbook," says Sara Ludewig '17 (Northfield, Minn.), a history major interested in a museum career. "We've learned how complex a museum is. All those viewpoints make for a more well-rounded experience."
They took a close look at collection possibilities at 1600 Grand, too. The class visited Macalester's archives and art storage and met with staff members whose work intersects with museum studies issues. By semester's end, students were to digitally imagine what a new campus museum could look like, selecting items both on current display and in storage.
Ludewig chose a collection of Homecoming buttons from the '20s through the '60s. Other students selected paintings, sculptures, dinosaur bones, a piano from Wallace Hall, even a construction helmet from the Leonard Center's 2006 groundbreaking.
The assignment, says archaeology major Abigail Perrero '18 (Springfield, Ill.), required putting into practice what she learned about curating—and it changed her perspective on the job. "Going to a museum is a different experience for me now," she says. "Museum staff members make it look effortless. There's a lot more involved that we don't even consider."