Three students found each other at Mac—and founded a band that has taken off.
Kerry Alexander '12 has a fascinating voice, whether she's talking at a coffee shop or singing on stage with her band mates in Bad Bad Hats, a trio that formed at Macalester in 2012. Her accent is hard to place, a charming and sometimes slurry drawl with hints of the deep South, yet with a peculiar pronunciation of certain words—house, for instance, or night—that would sound right at home on a barstool in Minnesota's Iron Range.
Both in person and in her stage banter, Alexander has a digressive and deadpan delivery that provides a perfect complement to the tight, infectious, and emotive pop of Bad Bad Hats—one of those bands that has assimilated so many influences that it's difficult to pin down from one song to the next who they remind you of.
Psychic Reader, their 2015 debut LP, got them noticed by many of those whose notice matters in indie rock circles (NPR, Spin, Pitchfork, and Stereogum, among others). It's a brisk, hooky, sing-along record with all sorts of curveballs and a fierce, almost subversive emotional undertow. Virtually every song sounds like something you might have heard blasting from your car radio during Bill Clinton's first term.
Alexander is the obvious center of Bad Bad Hats—she sings, plays guitar, and writes most of the songs—but her bandmates, Chris Hoge '12 (drums) and Noah Boswell '14 (bass), seem entirely comfortable with their roles as accessories and collaborators, and the band's arrangements of Alexander's songs transform them from their humble and sort of bashful coffee house origins into something tougher, more propulsive, and more adventurous.
Alexander, it turns out, comes by her hard-to-place accent honestly. Born in the Twin Cities, she grew up in Alabama before moving to Florida at 15. She started writing songs at 8, and got her first guitar at 13. "I spent most of high school writing sad songs and playing them alone in my room," she says. "I had a walk-in shower with good acoustics, and I'd go in there and try to learn how to sing."
You can hear traces of her initial influences, including Alanis Morissette, Letters to Cleo, Michelle Branch, Sheryl Crow, and Feist, in her songs today. It wasn't until she headed north to Macalester, though, that she mustered up the courage to perform in public.
Although Macalester was "the one place that checked off all the boxes," she didn't become certain of her decison until her first visit to campus, while listening to Mac radio station WMCN. "The show on was just the perfect show for 17-year-old Kerry. I'm sure they were playing someone like Feist or Regina Spektor, and in that moment I could absolutely see myself at Mac."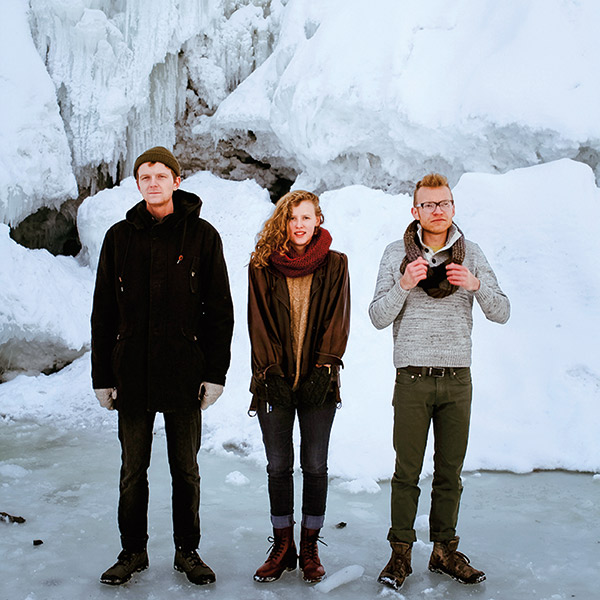 Chris Hoge's first impression of Macalester wasn't quite so solid. He'd grown up in Guilford, Conn., where he had played in a cover band called Damopes ("We played Tom Petty, Black Eyed Peas, and crap like that"). "I really wanted to get out of the Northeast," he says. "And I wanted a liberal arts college in a city. But when I visited here in April there was a big snowstorm, so I told my dad I didn't think I could go to school in Minnesota." In the end, though, his decision came down to a choice between Macalester and American University and Mac won.
During Alexander's first years at Mac she wrote songs and started to record demos. She also started dropping in at open mic nights at Dunn Brothers coffeehouse. "I was trying out my own songs," she says, "but I had to sneak them in between covers of Justin Bieber's 'Baby' or Rihanna's 'Rude Boy.' It's hard to get a lot of validation from those sorts of situations, but it only took a few enthusiastic people for me to think, 'Hey, maybe I'm doing something pretty good.'"
She met Hoge through mutual friends their sophomore year, having heard that he, too, was a songwriter. "We checked each other out on MySpace, because that's what you did then," she says. "I wrote a duet and asked Chris to work with me on it. Then there was a hiatus while I studied abroad, but then Noah came along when we were seniors, and that's when the band really came together."
Boswell grew up in Las Cruces, N.M., where he'd tried many musical styles—grunge, hip hop, heavy metal, even jazz and folk. He took a peripatetic route to Macalester, starting at New Mexico State and transferring to Kansas State before running into high school friend Maya Weisinger '12, Alexander's roommate at Mac, during winter break. On Boswell's first visit to St. Paul, Weisinger introduced him to Hoge. Before long he had transferred to Mac and bought a bass.
That was 2012. Alexander and Hoge were both seniors, on track to graduate that spring—she with an English/creative writing degree, he with political science. All three members of Bad Bad Hats DJed shows at WMCN, where Alexander was manager. Their band's first official performance was at a campus battle of the bands sponsored by the station.
Bad Bad Hats lost that competition to a funk band, but they managed to impress one of the judges—Ian Anderson, founder of the influential Minneapolis indie rock label Afternoon Records, which had helped launch the career of Haley Bonar.
Although the band only played three songs that day, Anderson liked what he heard, eventually signing Bad Bad Hats and releasing their debut EP, It Hurts, in 2013. "It was pretty amazing, really," Alexander says. "We still do two of the three songs we played that day, and one of them—'It Hurts'—we play at every show we do."
By the time Boswell graduated in 2014, Bad Bad Hats was performing often and working on their EP Psychic Reader with Brett Bullion, one of the hottest producer/engineers in the Twin Cities. When that album came out in 2015, Bad Bad Hats sold out their record release party. "That was the first 'wowza' moment," says Alexander.
After the release of Psychic Reader, the band started touring extensively and attracting national attention. They did five weeks of shows across the U.S., opening for Omaha's The Mynabirds, and to date have performed in 34 states, including on both coasts and down south. Now working on a new album, they're heading back out on the road in early 2017 as the opening act for Margaret Glaspy, after which they'll headline a slate of East Coast shows.
Alexander and Hoge have been dating pretty much since the inception of Bad Bad Hats, and recently got engaged, yet Boswell shrugs off a question about whether things ever get awkward in the band's minivan during those long days and nights on the road.
"I'm sometimes aware of some weird tension," he says. "But we've spent so much time together that I know how to navigate around it. We've grown a lot as friends, and as a band. From the start we've all felt comfortable together and haven't been afraid of saying what we think, trying new things, and making mistakes. Part of that is just a Mac thing."
The "Mac thing," of course, is integral to the band's inception, identity, and success, but it has also turned out to be a sort of security blanket on the road. "We can usually count on a ton of Mac grads to show up whenever we play in cities like New York," Hoge says. "It's fantastic, though it also feels a little bit like cheating."