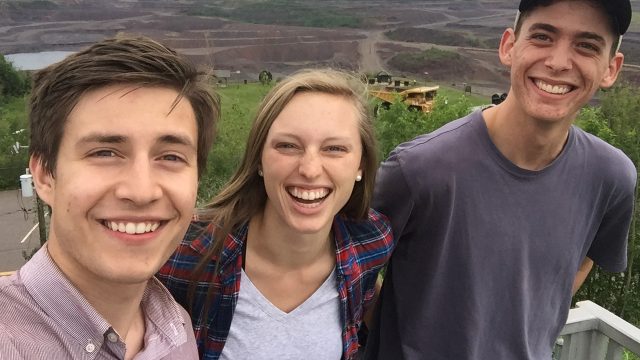 "I learned how to make a website and how to communicate with both sides of this political conversation in a non-confrontational way. The list simply goes on and on" —Ethan Howard '18
The Iron Range in northeastern Minnesota is part of the Arrowhead region, which borders on Lake Superior and features thousands of lakes and acres of forests. The Arrowhead is home to Voyageurs National Park, the Boundary Waters Canoe Area Wilderness, and the Superior Hiking Trail. As such, it has been a treasured vacation destination for generations.
Long a critical source of iron ore, the Iron Range is also the year-round home of hardworking families who love the area, but whose communities have suffered economic hardship as the mining and logging industries have faltered over the years.
As a result, there are longstanding tensions between the Iron Rangers who live there and visitors and environmentalists. This summer three Macalester Sustainability Fellows worked with Friends of the Boundary Waters Wilderness (FBW) to conduct research to find common ground for sustainable development of the beloved region.
The three, Alyssa Erding, Ethan Howard and Jack McCarthy, took the Sustainability for Global Citizenship Seminar last spring co-taught by environmental studies professor Roopali Phadke and political science professor Michael Zis. The seminar is followed by a paid summer practicum to support organizations with their sustainability challenges. Their practicum took the form of a 10-week fellowship with the Friends under the supervision of the organization's executive director, Paul Danicic. Phadke served as faculty advisor for the Boundary Waters group.
While the Friends is dedicated to protecting the wilderness, the organization acknowledges that long-term environmental protection depends on developing sustainable economic opportunities for the region. Recently two companies have proposed opening Minnesota's first copper-nickel mines in the region, which has reignited controversy over extractive vs. non-extractive economic development.
"I worked with Ethan and Alyssa, guided by FBW staff, to attempt to resolve the divisive 'jobs versus environment' dichotomy that has emerged in the debate over copper-nickel and sulfide mining in the Minnesota Arrowhead region," says McCarthy '18 (Evanston, Ill.)
Together with the Friends, the students researched options for economic development. They brought complementary skills to the project; Erding and Howard are environmental studies majors and McCarthy is majoring in economics.
"We interviewed Iron Range citizens and organizations, as well as organizations in three identified regions [around the country] that had been doing what we thought was excellent work on economic development," says Erding '17 (Bloomington, Minn.).
The trio formulated recommendations and presented them on the website resilientrange.wordpress.com and also spoke to the Iron Range Resources and Rehabilitation Board (IRRRB).  They organized the results of their research around three themes:
Entrepreneurship & Leadership—supporting and developing local (not imported) leaders. Example: La Plata, Colo.
Revitalizing Downtown Areas—more businesses downtown draw more citizens and they in turn draw more businesses. Example: Western North Carolina
Collaboration & Communication—communities working together could collaborate and pool funds to accomplish more than an individual community could. Example: Kentucky's Appalachia
"Ethan, Alyssa and Jack were a delight to host and to partner with," says Danicic. "These are three highly motivated, inquisitive and resourceful students who produced exceptional work. The Friends has had numerous Macalester students intern with our organization over the years, and we continue to be impressed with the caliber of their work and analysis."
Everyone benefited from the collaboration. "I gained so much from working with Friends," wrote Howard '18 (Missoula, Mont.). "I learned about the Boundary Waters, about economic development, and about the importance of grassroots/community-driven work. I learned how to make a website and how to communicate with both sides of this political conversation in a non-confrontational way. The list simply goes on and on."
Conservation Interns
Environmental studies majors Lorna Sherwood Caballero '18 (New York, N.Y.) and Alia Baitie '18 (Accra, Ghana) also worked with the Friends of the Boundary Waters Wilderness over the summer.  Sherwood Caballero helped develop a high school-level conservation curriculum and Baitie, who is also majoring in French, worked on communications about climate change.