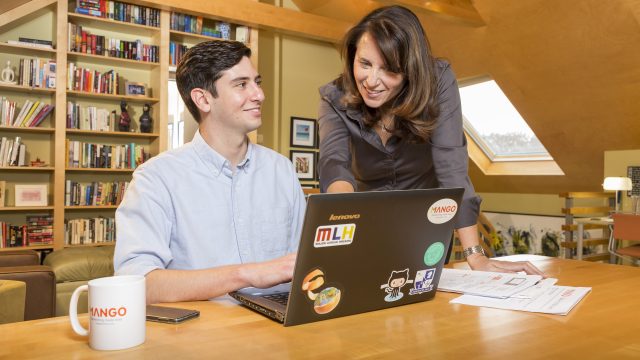 Márcio Porto '17
Caruaru, Brazil
Computer Science
Internship: MANGO Connects—Web Developer Intern
I decided to apply for an internship for two reasons: to gain real-life experience and exposure to start-ups in the Twin Cities, and to apply the concepts I learned in class to a non-academic project. I work for a networking start-up aimed at making networking and career building easier, more natural, and more accessible, regardless of social capital.
At this internship, I've become better at communicating with my coworkers and more confident in my abilities as a developer. It's fun learning in the classroom, but it's even more fun and challenging to bring it all together in one single product that I helped build.
My favorite part is seeing the things that I've built make it to the live website. That way I know that what I did makes a difference and that other people will be able to enjoy a better product because of my work. I wasn't expecting to have as much responsibility for the product as I do, but being responsible for so many different aspects of our product has made me even more motivated to do a good job and has taught me to make better decisions.
I think every student should try an internship during their Macalester journey. It's great to get real-world experience and apply what you've learned in class, and it looks great on your resume.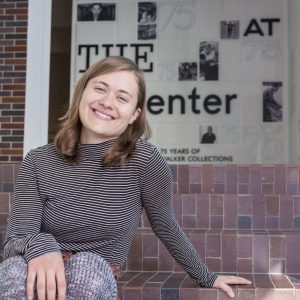 Ellie Hohulin '19
Glen Ellyn, Ill.
Art History
Internship: Walker Art Center—Public Relations Intern
As a public relations intern for the Walker, I track media mentions of the Walker, format and publish press releases, and do research for upcoming or past exhibitions. I enjoy researching a wide variety of topics, going deep and finding unexpected things. Recently, I researched food bloggers and writers in the Twin Cities for the opening of the new Walker restaurant.
I enjoy doing things where the results are tangible, such as publishing press releases and seeing them go live for all of the public to see. Everything moves quickly. Because PR hinges on the current happenings of the museum, every day is different.
During this yearlong internship, I've explored the inner workings of the Walker and developed many tangible skills from walking through the galleries, working in the offices, and attending meetings. I think I would like to work in a museum in the future, so this experience is exciting and a great first step into the museum world.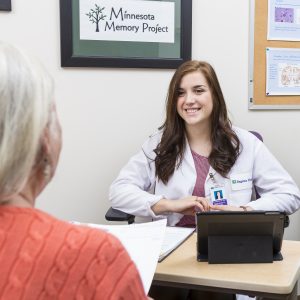 Smaranda Georgescu '17
Henderson, Nev.
Political Science, Psychology
Internship: Minnesota Memory Project, Neuroscience Lab, Regions Hospital—Neuroscience Intern
The Minnesota Memory Project tracks aging Minnesota residents in order to gather information on memory change associated with aging and brain disease. Each participant comes in for 10 years and we are on the seventh year of the study. After the last group of participants comes in (many years from now), there will be data to analyze for insight into lifestyle factors and memory changes.
But my internship goes far beyond the Minnesota Memory Project and proctoring cognitive assessments. Every day I learn about projects or research other people in the lab are doing. For example, one day I went down to the animal care facility to watch a surgery, and another time I attended a neurologist's talk about dementia diagnosis. Still, my favorite part of this internship is interacting with the study participants.
I plan to attend graduate school in clinical psychology, so this internship fits perfectly with my plans. An internship can teach you a lot about what you want to do in the future as well as a great deal about yourself and what drives you. This internship has helped me find my passions and pinpoint the kind of meaningful work I want to do in the future.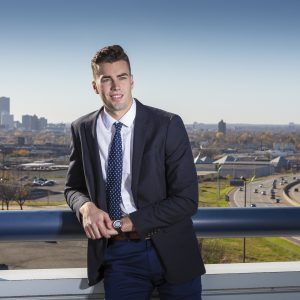 Luke Poulsen '17
Gill, Mass.
Economics
Internship: Sunbelt, Minneapolis—Business Development Intern
I looked for an internship to begin transitioning into a career after college. Macalester's Internship Program helped me at each step of the process, from finding internships that aligned with my interests and future aspirations to fine-tuning my resume and cover letter.
The firm I work for, Sunbelt, specializes in mergers and acquisitions transactions. Specifically, I work with the Peak Business Development team, which focuses on the sales aspect of the process. I use certain metrics (GDP growth, number of firms, annual payroll, etc.) to produce a list of 25 metropolitan areas exhibiting strong small business growth.
I am currently working on an in-depth report on each metro area that includes information on industry trends, emerging markets, and competition. This information will help identify lucrative markets that Peak can tap into in the future. It's exciting to use strategies introduced in the classroom to produce something with tangible value and worth.
I encourage students to apply for an internship: it allows you to experience what work after college might be like, and gaining this knowledge can help you make more educated decisions about your future career path. It's a sort of test-run; a risk-free, short demonstration of a working experience. It has been exciting to come into work every day ready to tackle a new and engaging problem.