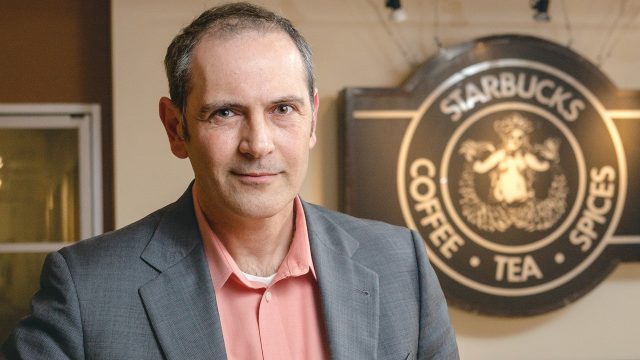 Firat Taydas '92 built his career from a "DNA-level" understanding of coffee and an entrepreneurial spirit.
Some of Firat Taydas's earliest memories of his childhood in Turkey involve coffee. "I would go with my mom to the bazaar to buy green coffee beans. When we got home, I'd roast them in a clay pot. It would smell so beautiful. I have this memory of my mom grinding it. Then I'd make coffee for my dad. He had a cup after every meal. It was like a little ceremony."
It's a good thing that Taydas '92 has positive memories around coffee: He has made a 20-year career out of it.
Since he joined Starbucks in 1996, the economics and international studies major has steadily worked his way up the corporate ladder. Today, Taydas works with a Seattle-based team that helps prepare new drinks and retail concepts for Starbucks stores around the world.
Taydas's first job out of Macalester wasn't at the coffee giant, however. He briefly sold insurance for Mass Mutual, and then opened a juice bar near the University of Minnesota in Minneapolis. "I'd always wanted to open my own business," he says, "and this was a great opportunity to build something from nothing."
Taydas and his business partner got in on the ground floor of the '90s juice craze, and when customers began asking for mochas and espressos too, Taydas began offering gourmet coffee drinks that harkened back to his Turkish childhood. "We brought really high-quality coffee beans," he recalls. "For the mochas, we ground dark chocolate. We used natural ingredients." Although there were already plenty of coffee shops in the neighborhood, Taydas's store did a brisk business.
"Our customers were happy," he says. "And so was I. I saw the magic of this business: When you make someone a cup of coffee, you connect with them on a different level." This coffee-drinking tradition, Taydas realized, "is in my DNA."
Taydas ran his Minneapolis shop for about two years, until his wife, Sarah Stonhouse '92, was offered a job transfer to Phoenix. After the briefest of debates ("It's always 80 to 90 degrees in Arizona…"), the couple decided to move.
Having sold his juice bar shares, Taydas landed in Phoenix with no job prospects. But coffee quickly came calling. "I saw in the newspaper that Starbucks was holding a job fair," he says. At the time, there were no Starbucks stores in Arizona, and the chain had little name recognition in the state. Only three people showed up for the interview.
He eventually landed a job as a management candidate, and in December 1996 opened the first Starbucks in Arizona. He then served as an Arizona district manager for a decade before transferring to the company's main office in Seattle.
An entrepreneurial background has been helpful in his career at Starbucks, says Taydas, but so too has his Macalester education. "One day I could be working on a project, and my next assignment could be something completely different. It's helpful to be able to apply what you've leaned in one area to the next project, and to think about issues from a global perspective."
Taydas was a student confident in his opinions and with natural insight into consumer behavior, remembers Vasant Sukhatme, Edward J. Noble Professor Emeritus of economics. "I remember asking questions having to do with the actions of consumers in the marketplace," Sukhatme says. "Firat was one of the few students who had clear answers and stood his ground when questioned. He was willing to defend his position. In my book, that's a good thing — and probably one of the qualities that helped him succeed."
Professors like Sukhatme helped him learn to consider real-world problems from many perspectives, says Taydas. "Classes like his helped me to appreciate a well-rounded viewpoint," he says. "When I got into the work world, I brought what I gained in college to solving challenges at work."
Taydas's entrepreneurial bent led him to a coveted position helping test and implement new products and store formats. He is part of Starbucks' Innovation Team, a group that develops ways to introduce new coffee concepts to stores worldwide. For example, Taydas worked on developing new espresso machines specifically for Starbucks stores and their customers' beverage preferences. Doing so involved a rigorous test protocol, Taydas says.
Starbucks' carbonation platform is another of Taydas's big projects. The company offers carbonated beverages in Southern states, he explains, using a machine they developed called the Fizzio, which carbonates iced teas and products with green coffee extracts called Refreshers.
Taydas also worked with Starbucks' "Reserve Bars" program, and helped to implement a Seattle coffee shop called Starbucks Reserve Roastery and Tasting Room that roasts and serves a line of unique reserve coffees. Starbucks is introducing Roastery-inspired brewing methods and beverages into select stores. "It's like Willy Wonka's coffee," Taydas says. "It's a tourist destination, a must-see place in Seattle. It is where we demonstrate our coffee expertise and try out cool ideas."
This kind of project is a dream opportunity that combines Taydas's "DNA-level" love of coffee with his business-start-up energy and expertise.
Even after two decades, he insists he's never bored. "I found my calling at Starbucks," Taydas says. "I get to operate as a little start-up within a big corporation. And I get to bring my passion for coffee to this project and share it with others. It's the perfect fit."