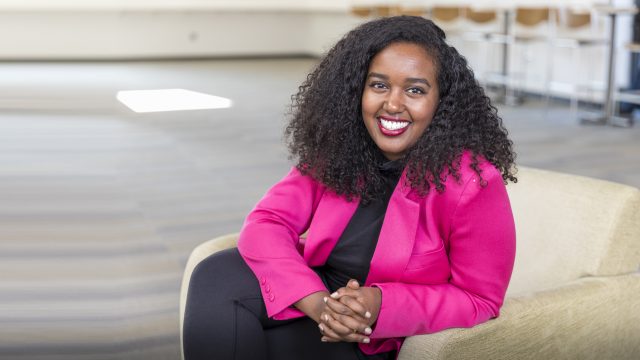 "Good scholarship pushes us to think differently and by doing so, we hope to reach some reconciliation with our shared past and each other."
— Tsione Wolde-Michael '08
It's just a pillowcase—until you know its story. The pillowcase was given by an enslaved woman named Rose to her nine-year-old daughter Ashley. Rose dropped three handfuls of pecans into the pillowcase, added a tattered dress and a braid of her hair, and gave it to her daughter, telling her it was filled with her love. Ashley was being sold away from her mother, a common and tragic occurrence during the days of domestic slave trade in the United States.
Tsione Wolde-Michael '08, a PhD candidate in history at Harvard University, tells the story of the pillowcase to illustrate how otherwise unremarkable objects can touch hearts and minds when given their historical context. For six years, she worked with a small team curating the Slavery and Freedom exhibition at the Smithsonian's National Museum of African American History and Culture in Washington, D.C.
"This was the first Smithsonian Museum built from the ground up," says Wolde-Michael. "The museum started with no collections. We were simultaneously erecting the building, amassing the collections, and developing the narrative. We really had to dig for these materials."
Items were donated, purchased at auction, and borrowed as the building was going up. According to Wolde-Michael, this allowed them to plan for some of the larger items including an entire slave cabin, a Tuskegee Airmen airplane, and a segregated railcar.
Wolde-Michael, with her background in history, researched the collected items and wrote much of the narrative on the museum's plaques for its thousands of visitors—more than 103,000 in the first 10 days after its opening in September 2016.
Asked about opening day, Wolde-Michael (who is of Ethiopian lineage), didn't mention the celebrities who were there—Presidents Obama and George W. Bush, Rep. John Lewis, Oprah Winfrey and others—but instead recalled, "I'd never seen that many Black folks on the Mall. The ceremony was beautiful, but seeing people react to the exhibition with shock, surprise, and excitement—that was so special."
Wolde-Michael is quick to note that visitorship to the museum is diverse, "It's not only an African American story; it's the American story through an African American lens."
During her six years at the museum, she rose from intern to contractor to federal employee. In fact, for most of her time in graduate school at Harvard, she was also working full-time either at the museum or teaching.
With the museum now open, Wolde-Michael continues her work with the Smithsonian as part of the Slave Wrecks Project (SWP). With the support of a Fulbright-Clinton Fellowship, she has been in Ethiopia working out of the African Union with South Africa, Senegal and Mozambique to recover the first known objects from slave ships that were wrecked off the coast of Africa during the transatlantic slave trade.
"As part of SWP, we are also training a new generation of African maritime archaeologists," says Wolde-Michael, who became a certified diver in order to view the wreck sites. But she's not an archaeologist; her role is that of public historian, working closely with communities and helping local museums reinterpret their collections in a way more reflective of the African experience.
Concurrent with her SWP work, Wolde-Michael is completing her dissertation on Ethiopianism, which explores the significance Ethiopia had for African Americans from the late 1700's through the 20th century.  She anticipates receiving her PhD in a little more than a year.
Wolde-Michael majored in Women's, Gender and Sexuality Studies at Macalester and she's not sure she even took a history course before deciding to do her honors thesis in history. History professor Jim Stewart came out of retirement to mentor her when she first began delving into Ethiopianism. She is grateful for the flexibility Macalester showed when she turned to history late in her undergraduate career and for the Mellon Mays program. The program, which was then coordinated by now-retired history professor Peter Rachleff, is dedicated to bringing more underrepresented faculty into higher education.
Born in the U.S., and raised in a predominantly white suburb, Wolde-Michael says, "Macalester is a special place for me—a nurturing academic environment where I could make really meaningful connections with other students of color."
Dual interests in academia and in directly connecting with people have stood this academician in good stead as she has pursued teaching, scholarship, and public history in the form of work with the Smithsonian.
Explaining how her scholarship can be seen as a form of activism, Wolde-Michael says, "Good scholarship pushes us to think differently and by doing so, we hope to reach some reconciliation with our shared past and each other."