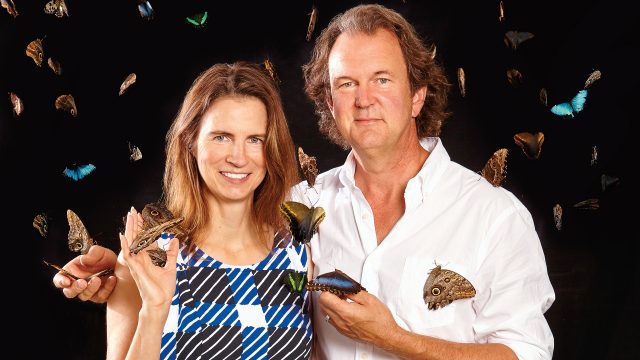 Two alums have built a career displaying and helping preserve an iconic North American butterfly.
The Minnesota State Fair—one of the nation's busiest—is corn dog and cookie stands, throngs of sweaty, determined people, the deafening jangle of the Midway, the squawks and squeals of livestock.
But inside the butterfly house exists another world altogether. Children and adults float through the netted facility not unlike butterflies themselves—quietly, slowly, calmly. Holding out Q-tips topped with a banana/Gatorade mixture, they wait silently as blue morphos and painted ladies land on the cotton-topped sticks and, just as frequently, on their colorful shirts.
A 6-year-old boy from Chicago stands transfixed as more than a dozen butterflies cover his chest and arms. "He'd rather be here than eating," his Twin Cities grandfather chuckles. "We've already been inside for an hour and we'll come back three or four times before the fair is over. It's so relaxing."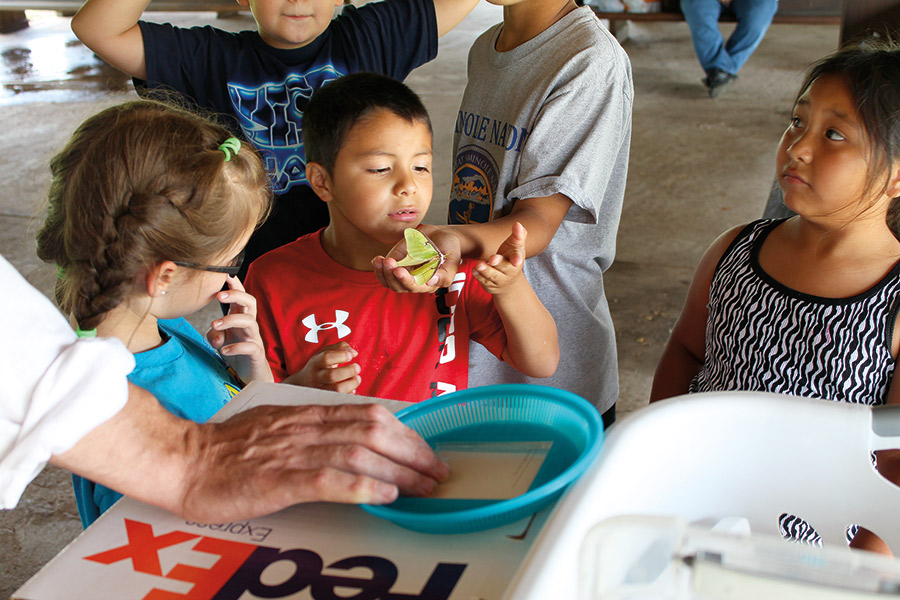 These magical winged creatures come courtesy of Monarchs Forever, a butterfly wholesale and exhibit business owned and operated by Jane Breckinridge '86 and David Bohlken '86. The former Mac political science and economics majors began their unexpected career in the '90s, when Bohlken and his late father ran a Christmas tree farm north of St. Paul.
The pesticides they used on the trees killed off nearly everything except milkweed, favorite home of the monarch chrysalis. The caterpillars and butterflies intrigued Bohlken, who was soon raising monarchs in his St. Paul home.
A friend's offhand remark that he could sell the butterflies for weddings and other events was the catalyst for a thriving wholesale venture as well as for several large butterfly houses at state fairs and garden shows.
The biggest exhibit of all is at the Minnesota State Fair, where in 2016 more than 67,000 people visited in 12 days. "We work from 7 a.m. to 10 p.m. with no breaks," says Breckinridge. "We live on Coca Cola and Advil." Over the course of the fair, they release up to 6,000 butterflies in the former Penny Arcade building they purchased a decade ago. Although the upfront costs are high— insurance, butterflies, staff, etc.— in a good year they can make more than $100,000 in a crazy week and a half.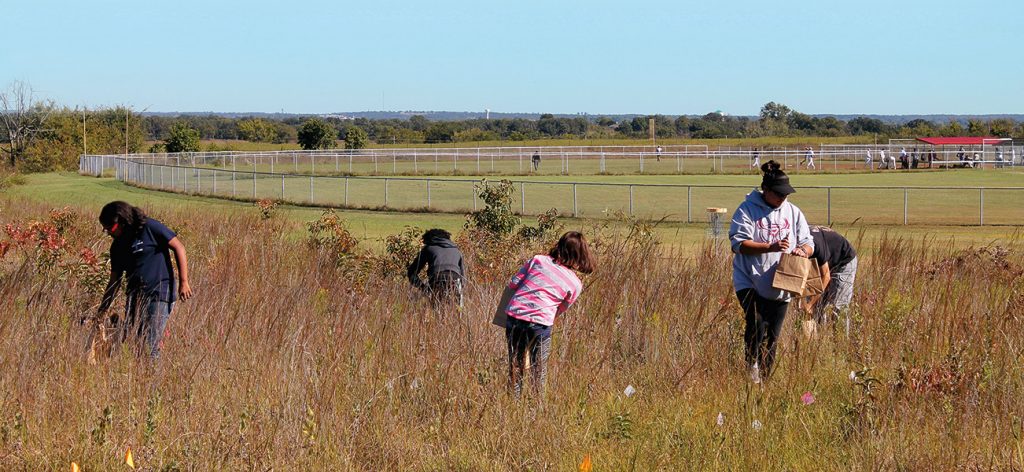 Those late summer days also provide an informal annual reunion with Macalester friends and former professors, says Bohlken, who met his wife as first-year students in Dupre. "Classmates drop by all the time and I think we've had every one of [biology professor] Mark Davis's kids work here over the years."
The couple's connection with butterflies deepened a dozen years ago, about the time they turned 40. Breckinridge, who is part Euchee and Creek Indian and grew up in Tulsa, got homesick for her family and their land outside Tulsa—given to her great-grandmother by the federal government when her tribe was relocated from the Southeastern U.S.
So Breckinridge and Bohlken moved to Oklahoma, building a house on her family's land outside the town of Leonard. Soon they became concerned about what they were hearing about the marked decrease in monarchs. In 2010 the World Wildlife Fund included monarchs on its top 10 list of species in need of close monitoring, and by 2014 various environmental groups were asking the U.S. Fish and Wildlife Service to give the butterfly threatened protection status under the Endangered Species Act.
Monarchs' numbers are dwindling largely because their habitat has been systematically destroyed. On their long annual migration from Minnesota to Mexico, the colorful butterflies must stop and feed on nectar in flyway states like Oklahoma, dining on milkweed and other indigenous plant life.
But with U.S. crops increasingly planted on every inch of land and with the growing use of pesticides on those crops, the habitat for wild things is shrinking quickly. "Monarchs could be on the endangered species list by next year," says Bohlken.
"Now is the time for monarch preservation," adds Breckinridge. "Once they're gone, they're gone forever."
That realization prompted her to start working a few years ago with Dr. Chip Taylor of the University of Kansas, an evolutionary biology professor, expert on monarchs, and founder of Monarch Watch. Together they have received numerous grants from the Monarch Joint Venture, the National Fish and Wildlife Foundation, and ConocoPhillips to restore Oklahoma habitat and educate citizens about the importance of that habitat to monarchs and other native fauna. They have been particularly focused on teaching members of the 39 Indian nations, whose tribal jurisdiction covers more than 75 percent of state land.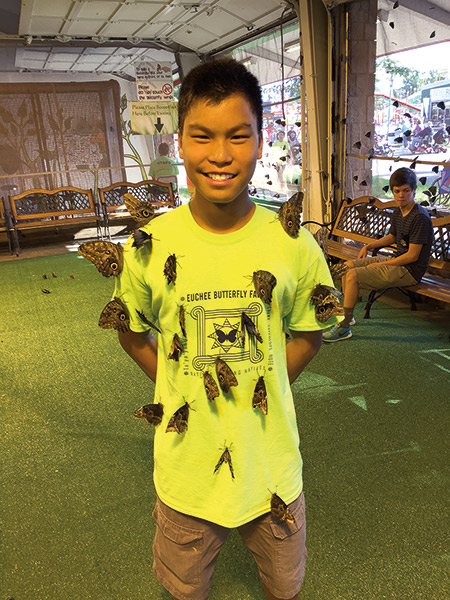 To that end, Breckinridge, now director of Euchee Butterfly Farm, is working with Native American youth from seven Oklahoma Indian nations in an ambitious native plant restoration project.
Last spring she spearheaded the planting of more than 17,000 milkweed plants with seven area tribes. Next spring they plan to plant another 20,000. Last fall they collected seeds from native plants living on prairie remnants scattered throughout the state, in locations as diverse as an eagle sanctuary and a small spot adjacent to baseball diamonds. Over the winter, seeds were dried and then cultivated in greenhouses for replanting next spring.
Breckinridge's next butterfly-related project is even more ambitious. She was recently granted $500,000 by the USDA for her Natives Raising Natives project, in which she and Bohlken will teach Creek people in Oklahoma how to raise butterflies as a cash crop. With the USDA funds they will build a training facility and an outdoor native butterfly garden on family land.
By last fall Breckinridge had signed up 100 potential growers and had a waiting list besides. "Our main partner in this project, the Morris Indian Community of the Creek Nation, doesn't have a casino or a smoke shop, so its people need an income source," Breckinridge says, adding this business is easily done part time from home. "We've got interested people of all ages and types, including stay-at-home moms, senior citizens, and disabled people."
The goal is for each butterfly farmer to earn about $500 a month—a decent financial boost for many local families. Monarchs Forever will buy back pupae from growers for its butterfly houses and wholesale business. Any excess inventory will go into Euchee Butterfly Farm's own exhibit or be used in framed dioramas to be sold at the facility's gift shop.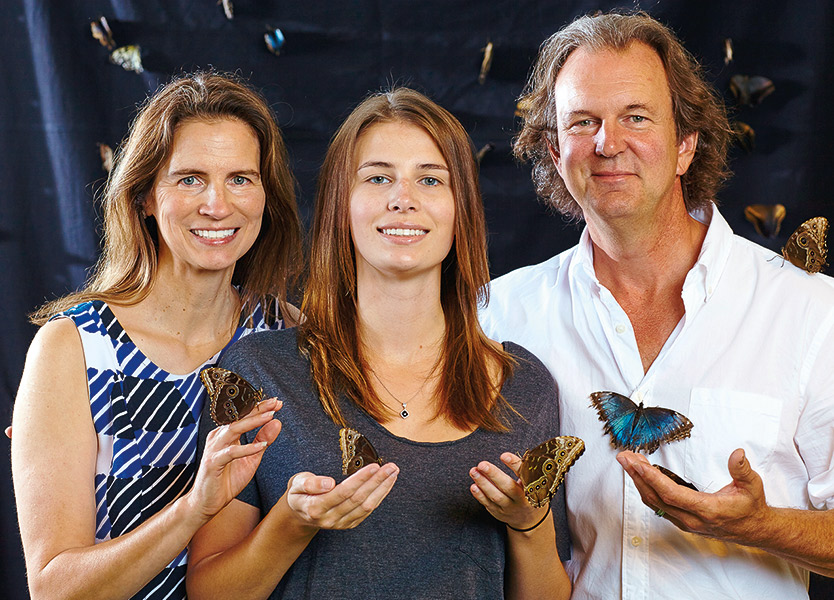 It's a big project, especially when added to the duo's habitat restoration and education work and butterfly house business. "It was the largest USDA Rural Business Enterprise grant funded last year and the only one given to a Native woman," says Breckinridge. "And a big part of it is the heavy conservation message we spread about the importance of monarchs and other pollinators."
Meanwhile, back in Bohlken and Breckinridge's living room outside Leonard, there's a butterfly terrarium over the fireplace, a framed tobacco hornworm in the hallway, and dozens of painted ladies flying inside a net-covered box. "We've had every inch of the floor in here covered in butterfly cups," says Bohlken, "and 10,000 painted ladies in the house waiting to be sent to a garden show.
"Butterflies do connect with people," laughs Breckinridge. Her job now, hers and Bohklen's, is to move a fun and beautiful business into a true environmental crusade. It won't be easy, but they are committed to the cause.
"The habitat is degraded, the land is broken, and the creatures are disappearing," says Breckinridge. "The battle to reverse these losses is about the hearts and minds of my people.
"This is the most meaningful work I've done in my life."