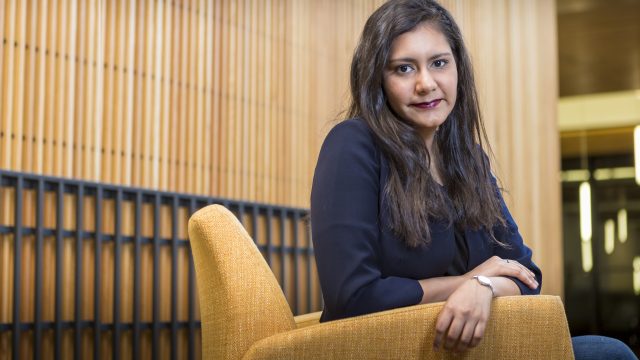 "I worked with both partners at Hemisphere and I really learned to be assertive, accountable and an independent thinker."  —Sunakshi Wadhwa '17
"The greatest asset of Macalester is the network," says economics major Sunakshi Wadhwa '17 (Chandigarh, India), who will be a business analyst with McKinsey in Minneapolis after graduation. McKinsey is a global management consulting firm with more than 10,000 consultants in the corporate, government and non-governmental sectors.
McKinsey, she says, places a high value on leadership and conventionally that might mean heading up student government. But for Wadhwa it took a different form. For example, she is a major fan of Bollywood music, which provided the soundtrack of her growing up years. To introduce Bollywood to her friends, she co-choreographed and directed a salsa Bollywood performance by 12 friends from nine different countries for the Asian Pacific Awareness variety show.
This is not to say that she lacks more conventional business experience. Beginning the summer after her first year at Mac, she has interned at companies from India to Saudi Arabia as well as in the Twin Cities. Last summer she interned at Hemisphere Partners, a small Minneapolis investment firm founded by two Macalester alumni. She made that connection through the Deals course she took with economics professors Karl Egge and Paul Aslanian.
"I worked with both partners at Hemisphere," says Wadhwa, "and I really learned to be assertive, accountable and an independent thinker." She also gives credit to her Securities Analysis professor Joyce Minor, who she says, "is a strong, independent woman who expects perfection and is a great mentor."
Over the course of her senior year, Wadhwa has worked part-time as a business management intern in the infrastructure group at Värde Partners, a Minneapolis-based hedge fund.
Assuming her role in the network, this fall Wadhwa organized and served on a panel of eight Macalester seniors who had offers in hand from top consulting firms including Ernst & Young, PricewaterhouseCoopers, Analysis Group, and another student who is joining McKinsey. They answered questions and offered advice to younger Mac students, sharing their successes and failures as Macalester alumni had shared their experiences with Wadhwa and others who availed themselves of the wisdom of those preceding them.
"Mac alumni are a big part of my story," says Wadhwa. "They know how hard it can be. Others helped them and they help us."