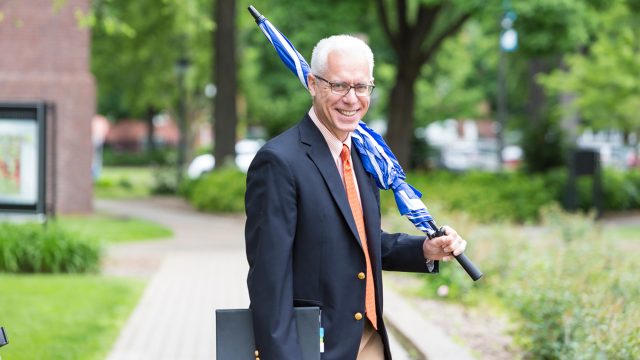 Something unprecedented is happening at Macalester.
Rather than explain, let me begin by providing some revealing numbers. Over the past decade, the percentage of graduates who have completed at least one major in the "STEM" disciplines—science, technology, engineering, and mathematics1— has grown 52 percent, from 27 percent of all graduates in 2007 to 41 percent in 2016. Currently, one in three declared majors at Macalester is in the sciences. Enrollment in STEM classes has grown during this period by almost 40 percent.
The most dramatic growth has taken place in biology, math, and computer science. The number of biology majors has risen from 74 in 2007 to 131 in 2016. Math majors have increased by 181 percent, and computer science majors have increased by 608 percent. That last is not a typo.
This trend can be explained in various ways. Nationally, the number of majors in what are known as the "hard sciences" has been trending upward for some time. On our own campus, the math and science programs are extremely strong and are being fed by new concentrations and minors in areas such as community and global health and data science. They are attracting more women and more students of color. And the job market for graduates in many of these areas is especially robust.
Generally I am neutral on the question of what major (or majors) should be chosen by students at Macalester. Once they have made the indisputably correct decision to attend an outstanding liberal arts college, they will learn and grow regardless of the major they select, and the habits of mind they need to thrive can be strengthened through studying plate tectonics or reading Aeschylus. This movement toward the sciences, therefore, is not intrinsically either a good or a bad thing, but it does raise some interesting questions and pressing practical challenges.
First, the challenges: Put simply, both our faculty and our physical plant have been hard-pressed to accommodate this enrollment surge. When the renovation and expansion of the Olin-Rice Science Center was completed in 1997, no one anticipated this level of student interest in the departments housed therein (which, in addition to the natural sciences, include psychology). Thus we are short on office, classroom, and laboratory space, the last of which is highly specialized and difficult to reproduce in other campus buildings.
Faculty positions at Macalester are mostly tenured or tenure-track, expensive to add, and difficult to shift around. Thus staffing levels can easily lag behind rapid changes in student interest and enrollments. That appears to be the case now, though both the Provost and the affected departments are doing their best to keep up with the unanticipated demand.
The questions raised by this movement to the sciences run deeper than the purely practical. What are the implications for areas like the humanities and fine arts, which are central both to a liberal arts curriculum and to becoming a fully educated person? To what extent should we be encouraging science students to also pursue an area of study outside that division? Should the sciences be taught differently in a liberal arts context than at a research university or engineering school? In a world of "big data" and the rapid spread of technology, is this movement toward the sciences a permanent or long-term shift, or will the pendulum soon swing back toward other disciplines? It wasn't very long ago that applications to medical school were down and computer science majors were on the decline.
While I do not have easy answers to any of these questions, I do know that our solution at Macalester must be both to meet the needs of our students in the sciences and to maintain the diverse set of course offerings that distinguish a liberal arts education—and to do all this in a world in which we cannot dramatically increase expenses.
How, you ask, is this possible? We will figure it out—that's what the liberally educated do.