Looking back at the 1980s at 1600 Grand
The 1980s alternately seem long ago or like only yesterday. So many images pop to mind when thinking about that change-filled decade, ranging from regrettable sartorial choices like shoulder pads and perms to the issues like AIDS and trickle-down economics. John Lennon was killed, We Are the World was sung, the spaceship Challenger exploded, and the Berlin Wall came down. Ronald Reagan was president, the Soviet Union was the Evil Empire, and the Oliver North/Iran-Contra scandal was riveting.
It was a heady time, and at Macalester, students were fully engaged. They connected face-to-face, hanging out in the dorms or the Grille to talk about what was important to them. They often took action on a grassroots level, from protesting Honeywell's manufacture of weapons to supporting the meatpackers strike at Hormel.
The college was changing, too. The bequest of Reader's Digest founder DeWitt Wallace, a longtime Macalester benefactor, had boosted the endowment by $200 million. Macalester celebrated its Centennial in 1985, the DeWitt Wallace Library opened its doors in 1988, and a $3.2 million renovation of athletics facilities included the new Leonard Natatorium.
Students began taking computer studies courses (new in 1980) and signing up for degrees in engineering and architecture through partnerships with other colleges. President John B. Davis retired in 1984, replaced by Robert Gavin, who pushed the college toward becoming a first-rank national liberal arts institution, making many students nervous about the potential loss of Mac's distinctive culture.
Although it's impossible to re-create what life was like then for every student at Macalester, we found a few alumni to help us identify what resonated with them. We hope the following list might prompt you to remember your own '80s era on campus.
The Teachers
Professors brought the world to Mac, encouraging a lively exchange of ideas in the classroom. Students were taught by some of the best—Carleton Macy, Bob Ward, Chuck Green, David White, Anna Meigs, Walt Mink, Karl Egge, Scott Nobles, and many more, including: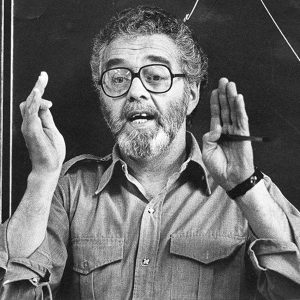 Ron Ross, professor of journalism, 1980 to 1990
"He was British and had covered the war in Vietnam and was a classic old-school newspaperman. He'd actually light up a cigarette while teaching in Old Main, which back then was a tinderbox. We all loved him and learned a lot about journalism. His advice to 'omit needless words' has served me well." —Sarah Johanneson Clark '86
Emily and Norm Rosenberg, professors of history, 1974 to 2006 (Emily); 1975 to 2012 (Norm)
The Rosenbergs, a married couple who job-shared before it was common, made studying American culture cool. Norm was known for his expertise on law and pop culture, teaching courses like "The '70s" (which had barely ended). Emily focused more on policies, strategies, and the wonky side of history.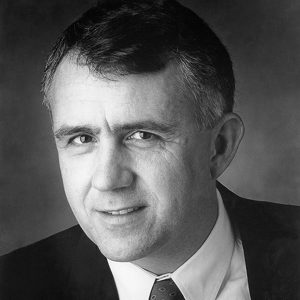 The anthropology professors: James Spradley, 1969 to 1982, David McCurdy, 1966 to 2005, Jack Weatherford (pictured), 1983 to 2012
This trio taught cultural anthropology, bridging the gap between the ivory tower and the world at large by sending students out into the community to conduct ethnographies of their fellow humans. McCurdy and his band, The Mouldy Figs, entertained the campus with old-timey jazz. His menagerie of pets—snakes, rabbits, and dogs—often appeared at departmental picnics held in his backyard.
Sung Kyu Kim, professor of physics, 1965 to 2016
Non-science majors flocked to Kim's "Contemporary Concepts" (or "physics for poets") course. He taught with humor and boundless energy, using a fascination with the universe to lure students into learning about topics like string theory and the uncertainty principle, and giving them the tools to read scientific articles with confidence. Word-of-mouth about the course was so positive that some of Kim's fellow faculty members even signed up.
The Issues
Students were informed, involved, and globally aware, caring deeply about social justice and engaging in grassroots activism. Any number of issues resonated on campus, from human rights to economic disparities to worldwide conflicts, and more, including:
Divestment from South Africa
Activism on this issue was widespread across college campuses in the '80s, and Macalester was no different. In the late '70s and early '80s the college had greatly reduced its South African holdings, but the call for full divestment—argued between those who saw it as a strategy for dismantling apartheid and those who believed Macalester should not bring politics into its investment decisions—remained a hot-button issue throughout the decade.
AIDS
Panic about the spread of HIV, inflamed by misinformation and homophobia, was rampant in the 1980s. Macalester published an official AIDS protocol in 1987, noting that those with AIDS did not pose a health risk to others. The policy protected the rights of people infected with the virus while honoring community concerns.
Women's rights
It was the United Nations Decade for Women (1976–85) and Macalester opened students' eyes to the fight to make the political, social, and economic status of women equal to that of men. They signed up for "Introduction to Feminism" and discussed bell hooks's Feminist Theory: From Margin to Center. In 1989 a group of Macalester women—organized by Amy Hagstrom Miller '89—joined 500,000 others in marching at the White House in support of women's equality. "There was a real threat to a woman's right to choose at the time, with anti-abortion laws pending in the Supreme Court and threatening the reversal of Roe v. Wade. I'd never been to Washington before and was struck by the power coming off the city. The whole trip took less than 24 hours. We rode through the night, got out to march— there was a massive crowd and it was intense—and got back on the bus to ride home." —Lisa Bralts '90
Nuclear arms race
The Cold War still loomed large, and one of its symptoms was the proliferation of nuclear weapons. Nuclear war seemed imminent (The Day After, a graphic 1983 TV movie about the effect of a nuclear holocaust on small-town Kansas, did nothing to allay those fears). At Macalester, some students participated in "die-ins"—collapsing on the pavement at the corner of Snelling and Grand during the civil defense sirens—to protest desensitization to the reality of war. By the late '80s, the die-ins had died out, replaced with displays of gravestones (marked with nuclear warhead stats), screenings of Atomic Café, and burnings of Reagan in effigy.
The Times
The Internet was taking shape in academia by the second half of the 1980s and by 1989 its networks were a global system linking the wealthiest countries, but for most of the decade, we weren't nearly as digitally connected as we are today. Old-school highlights included:
Talking on the telephone in the dorm hallway
It was the only way for students to talk to their parents. They either sat by the phone waiting for the call or hoped that whoever answered could find them. By the mid-'80s, dorm-room telephones were an option—for a fee.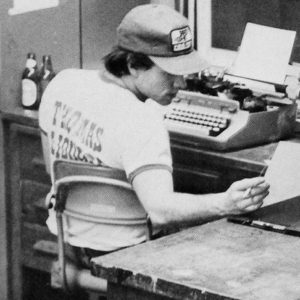 Using typewriters
Personal computers weren't yet ubiquitous, so students took notes by hand, drafted papers in notebooks, and typed them on Smith Coronas. For most of the '80s, there was only one computer lab on campus, requiring students to save their work on floppy disks.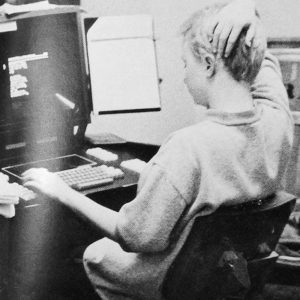 Buying cigarettes in the Union
Smoking was allowed in Macalester buildings until 1994, so students bought smokes—and tampons, aspirin, and other life necessities—at the Mac store in the Union.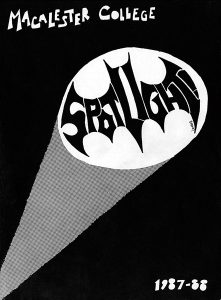 Looking up classmates in the Spotlight
Macalester's 1980s version of Facebook was a paper directory of black and white photos of each student, organized alphabetically by first name. (Because who could remember the last name of that cute classmate in biology?)
The Hangouts
Many students could legally drink (Minnesota didn't raise the drinking age to 21 until 1985) and campus parties were frequent. Students walked to nearby establishments like Harry Larry's, the Phoenix, and the Broiler, where they ate breakfast if they slept too late to eat on campus. Pizza came from Green Mill and students drank cheap beer and played pool at dive bars like the D and the King and I. O'Gara's was good for live music and spotting professors eating with their families. Students bought coffee at Dunn Brothers, textbooks at The Hungry Mind, and music at Cheapo Records.
The Union was student central—its second floor housed most of the student orgs. Cultural houses were popular gathering spaces, too, opening their doors to the community at large.
The Mac Weekly
"We put the paper together on Thursday nights, throwing what was essentially a big party—we exchanged ad space for pizza and beer from local businesses. Sometime in the middle of the night, the five or six of us who actually wanted to go into journalism got serious and put the paper to bed. We had total freedom and we challenged the administration on everything. It was the most fun I've ever had." —Curt Brown '82
WMCN Radio
"My first show—called Air Guitar Pogo—was a great way to develop my musical tastes, transitioning from metal to punk at that point. It was scheduled at the worst possible time, Saturday morning from 6 to 9. Who wants to get up that early? As a junior and senior, I was involved in the station's management, so I moved to the prime 10 p.m. to 1 a.m. slot. Northern Lights Music on University Avenue sponsored that time slot, so I went there weekly to check out the new stuff and get the $25 worth of new albums they gave us." —David Collins '85
Mac Cinema
"We had a contract with some of the big movie studios like Universal. We'd go through these huge movie catalogs and pick out what we thought would be popular. Of course it was quirky, avant-garde stuff like Clockwork Orange and Harold and Maude, never big blockbusters. I think we played Singing in the Rain once. The films were shipped in huge canisters and we showed them using a big projector in the science building for a couple bucks a ticket." —Alison Morris '86
Cultural Houses
"We had a lot of contact with students of color at other colleges and universities in the Twin Cities. We had parties at Black House all the time—it was a real gathering place for students, alumni, and people of color in the metro area. The house was common ground and you got to know everybody who came through the doors. We even had a black graduation ceremony in Janet Wallace for African American students at all the colleges. It was a great time to be a part of the community at Mac." —Shelley Carthen Watson '82
The Costs
1980–81            1988–89
$6,525                  $13,714
The Music
Weekends at Mac meant live music—in the Union, at a revolving party in the Kirk Hall courtyard, and at Springfest, the biggest gathering of the year. Students had access to a host of local musicians, and rocked out to some well-known ones, including Prince at First Avenue. A few big-name bands that came to campus:
The Suburbs
The Replacements
Hüsker Dü – Guitarist/vocalist Bob Mould '82, bassist Greg Norton, and drummer/ vocalist Grant Hart formed this hardcore punk band at Macalester in 1979. They later crossed over into alternative rock, breaking up in 1988.
The Jayhawks, a Twin Cities–based alternative country rock band that now includes keyboardist Karen Grotberg '82 
The Games
Some of Mac's varsity teams, like men's basketball, enjoyed winning seasons during the '80s, but mostly students made their own fun. Sporting highlights included:
Football team ending its 50-game losing streak
By the fall of 1980, Macalester had earned a ranking of #2 on ESPN's list of the 10 Worst College Football Teams of All Time. The team finally broke its losing streak with a last-second victory over Mount Senario College (which later closed) on Sept. 6, 1980. The win even spawned the advent of a short-lived cheerleading squad, which was generally mocked. It disbanded later that year.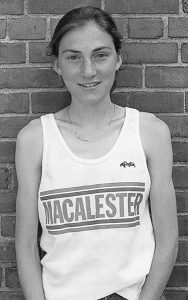 Runner Julia Kirtland '87 making NCAA history
In 1984–85, Kirtland became the first female athlete in NCAA history to win individual national titles in three separate sports in one academic year: cross country, indoor 3K, and outdoor 5K. Overall, she was an eight-time national champion and 16-time All American at Macalester. She went on to become an elite long-distance runner.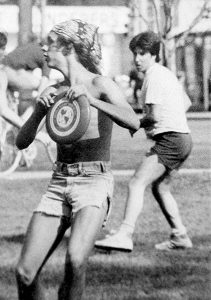 Ultimate Frisbee taking off
Mike Bosquez '83 started the Macalester Ultimate Club in the fall of 1980, and pretty soon discs were flying all over campus. Mac hosted its first Ultimate tournament indoors in the Fieldhouse in 1985.
Snow-brawling across Grand Avenue
Students tossed snowballs—and huge chunks of snow and ice—at each other across Grand Avenue between Turck Hall and the Union. Police were called in more than once to restore order, as angry motorists and bus drivers complained of having their vehicles pelted.
The Classmates
Macalester produced some remarkable graduates in the 1980s, including:
Richard Binzel '80, professor of planetary sciences at MIT and inventor of the Torino Scale, a method for categorizing the impact hazard of near-Earth objects, such as asteroids and comets. He is also famous for working on NASA's New Horizons mission to Pluto.
Scott Beatty '81, entrepreneur-in-residence at Food + Future coLAB, a collaboration with Target, IDEO, and the MIT Media Lab that's exploring new technologies and creating new ventures to tackle major food-related challenges
Stephen Smith '82, host and executive editor of American RadioWorks (American Public Media) and winner—along with ARW—of du Pont–Columbia University Gold and Silver Batons, considered the Pulitzer Prize of broadcasting.
Lois Quam '83, faculty member at Columbia University, former COO of the Nature Conservancy, and former head of the Global Health Initiative at the U.S. Department of State
Ari Emanuel '83, Hollywood talent agent and co-CEO of William Morris/Endeavor
Peter Berg '84, actor, writer, director, and producer known for, among other projects, Friday Night Lights and Deepwater Horizon
Sarah Craven '85, director of Washington, D.C., office of the United Nations Population Fund
Rebecca Otto '85, third term Minnesota State Auditor, first woman Democrat to be elected State Auditor
Paul Raushenbush '86, senior vice president of Auburn Seminary and former executive editor of global spirituality and religion for Huffington Post's religion section
Gloria Perez '88, president and CEO of the Jeremiah Program, a Twin Cities-based national organization that helps low-income single mothers achieve economic self-sufficiency