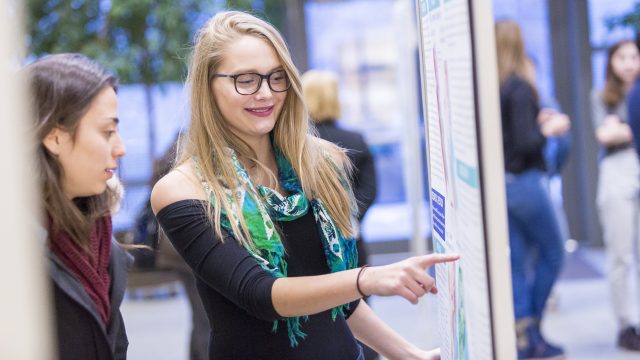 "I'd like to use GIS in future jobs, and it is a useful skill that a lot of companies look for."
—Olivia Thorp '17
By Livvie Avrick '19
In Professor Kelsey McDonald's course Health GIS, students used GIS (Geographic Information Systems) to visualize and analyze pressing public health issues.
Students build skills in statistical and epidemiological reasoning, spatial thinking, and logical inference through analyzing various case studies. Topics ranged from environmental health to health disparities to spatial clustering of disease events such as cancers.
One of the main takeaways from the course for geography major Alex Edelmann '17 (Washington, D.C.) "is that any given health outcome can be used as an indicator of larger structural problems that can be mapped alongside each other."
Edelmann described one of the class case studies that was about distribution of toxic release inventory sites in Los Angeles County. Using spatial analysis through GIS, students "calculated the likelihood of exposure to toxic substances by race, finding that non-white Hispanic communities had a higher risk of exposure than white residents," he says.
The course includes a final independent research project on topics of the students' choices, and they are presented at a public poster session at the end of the semester. Edelmann's project analyzed the distribution of health services in North Dakota with a focus on the oil-producing Bakken shale region. "I found that areas with low access to health care have a much higher prevalence of oil and a higher uninsured population," says Edelmann.
For Alyssa Christian '17 (Cedar Rapids, Iowa), double major in international studies and geography, this course was "one of the more challenging courses I've taken, but it was also one of the most rewarding."
Health GIS allows students to apply their GIS skills in a practical and real-world way. "This course has piqued my interest in health-related fields, and after taking it I am definitely considering future plans involving GIS and health," says Christian.
The tools and skills learned in this course prepare students for future internships and jobs, which helped draw geography major Olivia Thorp '17 (Ann Arbor, Mich.) to this course. "I'd like to use GIS in future jobs, and it is a useful skill that a lot of companies look for," she says.  
The ability to choose topics for the final project was important to Thorp. Her poster looked at the spatial pattern of bicycle and car crashes in her hometown of Ann Arbor.
"I chose this because [the city is] trying to build a Greenway in Ann Arbor right now, and they are trying to figure out the best route for it," she says.  "That's something that I've been following because…it is fairly important to me and my life personally."
A complete list of the final independent research projects:
Ellen Albright, "Creating Space for Community Health: Site Suitability Analysis for a New Community Garden in the Twin Cities"
____________________________________________________________________
Sarah Aldama, "Birth Complication Incidence in Relation to Oil & Natural Gas Extraction Activity: An Exploratory Spatio-Temporal Analysis of Texas between 2005-2007 and 2012-2014"
____________________________________________________________________
Isabelle Ballet, "The New Epidemic? Prescription Opioid Deaths: An Analysis of Ohio (2014)"
____________________________________________________________________
Isabel Beck-Roe, "Alzheimer's Disease and Socioeconomic Disparity in Chicago Communities"
____________________________________________________________________
Alyssa Christian, "Evaluating Spatial Accessibility to HIV Testing Centers in Miami-Dade County"
____________________________________________________________________
Jonathan Eber, "A Spatial Analysis of Traffic Accidents in Ulaanbaatar, Mongolia"
____________________________________________________________________
Alex Edelmann, "Health Access and Oil: Spatial Accessibility in North Dakota"
____________________________________________________________________
Regan Fruh, "Health Implications of Wildfire Smoke in California"
____________________________________________________________________
Emily Fule, "Uranium Mining and Lung Cancer Incidence, Western United States, 2009-2013"
____________________________________________________________________
Kathrene Garcia, "Spatial Proximity to Mental Health Clinics: Examining Violent Crime and Socioeconomic Indicators in Chicago"
____________________________________________________________________
Lisa Levoir, "Domestic Violence in Chicago: Exploring Campus Data and Economic Variables"
____________________________________________________________________
Alex Lewanski, "Investigating Potential Primary Healthcare Accessibility in Future Bay Area Residential Developments"
____________________________________________________________________
Olivia Thorp, "Bicycle-Car Crash Patterns in Ann Arbor, MI, 2011-2015: A Safety Analysis in Preparation for the Proposed Allen Creek Greenway Bike Path"
____________________________________________________________________
Nathaniel Yackel, "Firearm Homicides and Licensed Vendors"
____________________________________________________________________
Shuyi Zhang (St. Thomas), "Assessment of Vulnerability of Native Americans to Toxic Release in Alaska, 2006-2010"