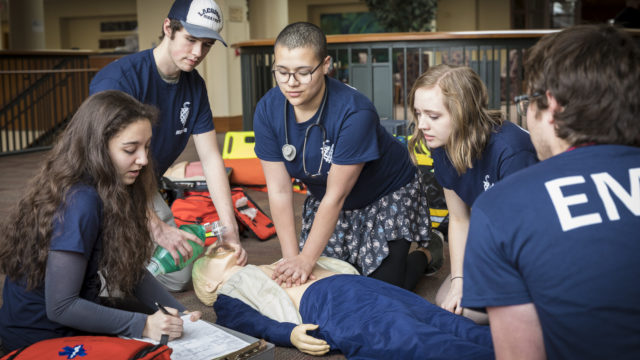 One group of Mac students is out until 3 every weekend night and  attends every campus event from Winter Ball to Founders Day. Yet these students are not big partiers. Instead, they belong to Macalester First Aid (MFA)."A lot of thrill seekers," jokes computer science and neuroscience major Eloise Terry '17 (Needham, Mass.) of her peers.
MFA was originally  intended simply to educate students about first aid and provide them with basic training, such as CPR classes. But about five years ago, MFA members decided to also provide medical services on campus, and so a second student organization was formed: Macalester College Emergency Medical Service (MCEMS).
To train those students, the college began offering a January term Emergency Medical Technician (EMT) course. When students complete that class, they are eligible to take an exam to become a nationally certified EMT.
"I signed up for the J term course as soon as I could my freshman year," says Clara Motiño '19 (Ann Arbor, Mich.), an Arabic and biology major. This was Motiño's first step towards eventually  attending medical school. "I have been working toward building up skills and exposing myself to the healthcare field as much as possible," she says. "Having a background in emergency medicine, even at the level of an EMT, is beneficial for this kind of work."
Today Motiño serves as the education director for MFA. She is responsible for much of the planning and logistics that go into offering the annual EMT course, including organizing the instructors and lectures, planning field trips, and holding review sessions.
Nineteen students took the most recent EMT course; they have now joined the 40 other members of  the campus emergency medical team. Each student EMT agrees to serve for at least three semesters. Past MFA members have gone on to medical school,  the Peace Corps, and work for various nonprofits.
On weekend nights, campus EMTs stay in the Campus Center, waiting for calls from security. At campus events, such as Winter Ball, they are stationed in a separate area."We're acting in the background to make sure things go smoothly and to address problems before they get serious," says Terry, president of MFA.
MCEMS also acts as a filter for the school, handling medical situations that don't require  further assistance from paramedics—a service appreciated by both the college and the city, says Terry.